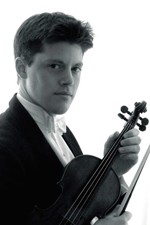 pjpovey@sewanee.edu
Guerry Hall 04/Ext 1423

65 Georgia Av
Sewanee, TN 37383

Dr. Peter Povey​ began his violin studies at the age of 3 and piano at the age of 5 in England. He studied at the Yehudi Menuhin School of Music, and later at Eton for high school. Dr. Povey received his Bachelor of Music with First Class Honours from the Royal College of Music in London where he studied with the Hungarian pedagogue Bela Katona. During his studies at the Royal College, Dr. Povey performed in orchestras such as the City of Birmingham Symphony and the London Philharmonic Orchestra. He also played in orchestras on the soundtracks for movies and TV shows, as well as touring with rock artists such as Massive Attack. Dr. Povey has also performed solo on Nickelodeon, BBC television, ITV, BBC radio, and more, as well as performing solo recitals all over Europe and the United States. In addition, he has won many awards, including the Kent Young Concert Artists Award, and the Withers Foundation Award.
In 2005, Dr. Povey founded the McAlester Institute of Music, a summer music program for students of music ages 5-18 in Oklahoma for which he received an NEA Award from Washington DC. Dr. Povey was also the Education and Music Director of the Montgomery Music Project, a social-educational high-impact city music program, which was the recipient of many high profile grants.
After moving from London to the United States in 2006, Dr. Povey graduated with a Master of Music degree from Yale University, studying with Ani Kavafian, and completed his Doctor of Music at Northwestern University with Gerardo Ribeiro.
Currently, Dr. Povey is Teaching Assistant Professor of Music at Sewanee: The University of the South where he teaches violin, viola, chamber music, fiddle and folk music, commercial music and Logic Pro X. He also founded Live Music Sound Nation© - a new performing multimedia music ensemble that merges the worlds of classical, movie and rock music with high-end software and hardware for live arena-style performances. As well as teaching, Dr. Povey continues his busy performing, masterclass, and recording schedule.
Areas of Expertise
Violin, Viola, Strings, Chamber Music, Fiddle and Folk Music, Logic Pro X and Pro Tools, Commercial Music Ensembles, Orchestra, Live Music Sound Nation.