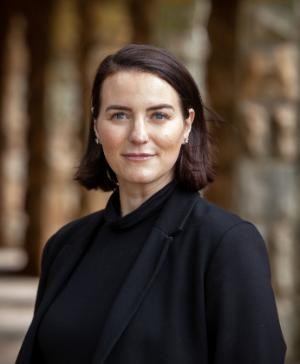 hrward@sewanee.edu
75 Georgia Avenue
Sewanee, TN 37383
931-598-1543
Originally from Eureka, Kansas, her education began at a small, neighborhood elementary school just blocks from her home, and matriculated to a large, high school community with a notorious fine arts program located 65 miles one way from home. Hilary has traveled long and far to be part of schools that offer high quality learning experiences and an environment enhanced by culture and diversity in all its many forms.
Following graduation from Emporia High School, Hilary entered The University of Kansas (KU) School of Music, Lawrence, KS, where she studied Voice and Piano Performance. While at KU, Hilary was a choral scholar at Grace Episcopal Cathedral in Topeka, KS, and later at St. Mary's Episcopal Church in Kansas City, Missouri.
While in Lawrence, Hilary also experienced her first teaching job at Raintree Montessori School where she taught classroom/general music to boys and girls grades 1-6. In the summer of 2006, Hilary and her husband, Geoffrey, moved to Memphis as he was called to be the Organist/Choirmaster at St. John's Episcopal Church, and Artistic Director of The Memphis Boychoir, Memphis Girlchoir and Memphis Chamber Choir. In Memphis, Hilary had the opportunity to teach Orff Music at Hickory Ridge Elementary School (former Memphis City Schools), and also to serve as the Youth Minister and School Chaplain at Grace-St. Luke's Episcopal School and Church.
In the spring of 2011, Hilary graduated from Memphis Theological Seminary with a Masters of Arts in Religion. During her time at MTS, Hilary served 2 terms on the Student Senate and also as a Formation for Ministry Leader. Following her studies at MTS, Hilary graduated from Union University in the spring of 2013 with a Masters degree in Education. Hilary's graduate studies continue at The University of Memphis as a doctoral candidate studying education administration, leadership and policy (EdD). In December 2013, she was awarded The University of Memphis, Dr. R. Eugene Smith Doctoral Fellowship/Scholarship GA for Higher and Adult Education. Also, while in Memphis, Hilary taught elementary and early childhood music at St. Mary's Episcopal School for girls and maintained a private studio of over 50 voice and piano students. In addition to her time teaching and studying in the classroom, Hilary experienced her largest "classroom" yet as an on air classical music host for NPR, WKNO/WKNP.
Before moving to Sewanee, Hilary worked and taught for Uncommon Charter Schools in New York City, a leading Charter Network in the United States that pioneered the "Teach Like a Champion" methodology. Hilary has completed over 200 hours of Teaching Artist Training through Lincoln Center Education at The Juilliard School in New York City.
She is a member of Sigma Alpha Iota International Music Fraternity and Kappa Delta Pi International Honor Society in Education. In Sewanee, Hilary is a Visiting Assistant Professor in the Department of Music and in the School of Theology and the Managing Director of Sewanee Summer Music Festival.
Hilary and her husband, Dr. Geoffrey Ward, and their son reside in Sewanee.
Areas of Expertise
Music Education
Teaching Artist
Radio Broadcasting
Arts Administration
Curriculum Education
Education Leadership
Education Policy
Curriculum Development
Teacher Professional Development