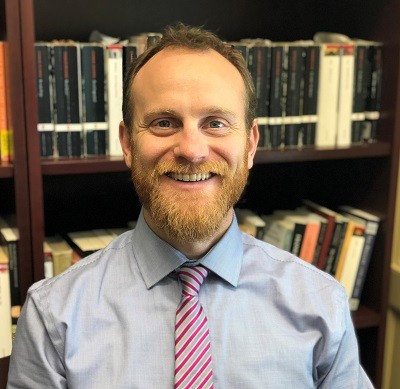 Visiting Assistant Professor
Darin teaches introductory Literature and Composition courses and a two-semester sequence of Victorian Literature courses. His current Victorian Prose and Poetry course focuses on Literature's reactions to, and roles in, a culture typified by rapid environmental degradation, urban industrialization, and scientific insights into earth's and humanity's pasts and potential futures.
Darin's research examines the rise of modern hydrology and its influence on artistic, economic, and social practices in nineteenth-century England. His current research focus is his monograph, Flow Dynamics in Nineteenth-Century British Literature and Culture—and a map-based project that utilizes archival materials from the Museum of London: Docklands and London Metropolitan Archive via GIS software. Beginning by plotting interactions between historical, tidal problems in London's River Thames and narrative movements in Dickens's Great Expectations, the project seeks to interrogate literature's role in critiquing administrative practices of population and watershed management that developed through industrialization.
Previous critical work has appeared in Studies in Romanticism (2016), Woolf Studies Annual (2018), and Dickens Studies Annual (2018).

PhD, English, University of Colorado Boulder
MA, Comparative Literature, University of Colorado Boulder
MFA, Creative Writing, University of Notre Dame
BA, English and German, Wabash College