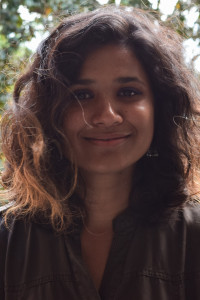 Visiting Assistant Professor of English and Creative Writing (Assistant Professor, starting July, 2023)
B.A., Delhi College of Arts and Commerce, University of Delhi, M.F.A., Bowling Green State University, Ph.D., Florida State University
Misha Rai is a Shirley Jackson Award nominated writer whose novel-in-progress has received support from the Kenyon Review Fellowship Program, the Whiting Foundation, the Ucross Foundation, MacDowell, the Virginia Center for the Creative Arts and the Dana Award in the Novel Category. Her short story, "Twenty Years Ago" is a Distinguished story in the 2021 Best American Short Story anthology. She is the first-ever and only fiction writer to be awarded a Woodrow Wilson Dissertation Fellowship in Women's Studies for creative work. An Edward H. and Mary C. Kingsbury Fellow, she is the recipient of the George M. Harper Award. Her essay, "To Learn About Smoke One Must First Light a Fire," winner of the Dogwood Literary Prize in Nonfiction is listed as a Notable Essay in the 2019 Best American Essays anthology. She was born in Sonipat, Haryana and brought up in India where she first worked as a journalist, and then, later, in human rights for the National Human Rights Commission, The International Labour Organization and on projects run by the Ministry of Women & Child, India, and the UNICEF.
A graduate of Delhi College of Arts and Commerce, University of Delhi, she earned an MFA from Bowling Green State University and a Ph. D. from Florida State University.
She currently edits for the Kenyon Review, where she curated Art and The Moment and co-curated On Books and Their Harbors as well as Proof Casts a Shadow.
You can find her on www.misharai.com
Twitter: @RaiMisha
Instagram: @misharaiofficial