The Center for Leadership is for Sewanee faculty and staff. Its mission is 1) to elevate the leader within through professional and personal development programs, and 2) to promote communication and collaboration among colleagues to build strength and trust.
Sewanee Colleagues
One of the best parts of working at Sewanee is getting to work alongside devoted and gifted colleagues. In order for us to stay connected while many of us work remotely, the Center for Leadership is providing venues for improved internal communication to promote unity, collaboration, and trust. A bird's nest is a metaphor for us as colleagues (faculty, staff, administrators). We are the ones who work to build a strong nest together in order to support our students as they grow intellectually, socially, and emotionally so that they can someday successfully launch from it. We need to continue to strengthen ourselves as a team so that Sewanee will be a strong, safe, and welcoming place for our students when they return.
See featured posts from current Sewanee employees on the "Sewanee Colleagues" Facebook group, even if you are not on Facebook. Lots of good things are being posted!
Give Public Recognition ("PR") to a Sewanee colleague who works either behind the scenes or in the spotlight by filling out this PRaising Up Colleagues form. Let's shine the spotlight on the many people who make a difference at Sewanee! These praises will be posted on the Sewanee Colleagues Facebook group AND this Center for Leadership webpage.
Learn more about the work, lives, and motivations of our colleagues through these interviews.
---
---
Professional & Personal Development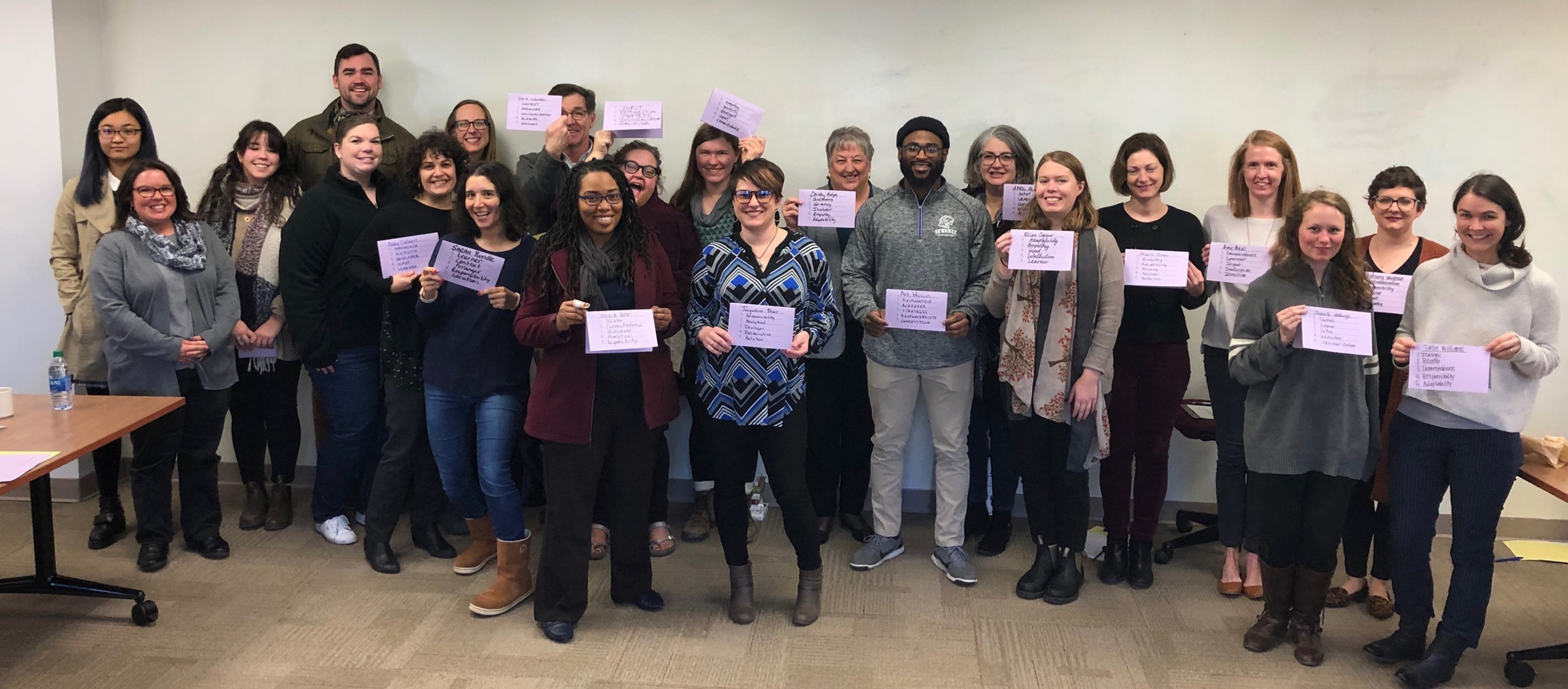 Free online assessments to learn more about yourself and your abilities (CliftonStrengths, Conflict Styles, Personal Values Inventory, Myers-Briggs, Enneagram, Interest Profiler, etc.)
Professional Growth Opportunities
BURNOUT: How to Identify and Address It
Symptoms of burnout include low energy, a loss of interest in your work, and irritability with colleagues or students. As such, it can cause low productivity, high absenteeism, low creativity, and even health problems. If you are feeling any of these, you are not alone.
Join Sewanee's Counseling and Psychological Service (CAPS) director, Ashley Liston-Avnaim, and our Associate Dean of Health & Wellness, Nicole Noffsinger-Frazier, to learn more about the clinical symptoms of burnout for the first half of this session, then break into groups with colleagues to discuss ways to address it.
Co-sponsored by CAPS, the Center for Teaching, and the Center for Leadership.
"How to Foster Flexible Leadership in Times of Instability" (webinar)
In today's ever-evolving business world, the complexity and pace of change can be daunting. Flexible leadership – especially during times of crisis and instability – is critical for the success and longevity of your organization. How flexible and adaptable are your leaders? Are they equipped to effectively guide team members through change and transition, even in highly uncertain times?
In this webinar you'll learn:
* How change and transition differ, and why the distinction is important to understand.
* The 3 stages of transition, and ways to effectively guide team members to "the new beginning."
* The advantages of adaptability and flexibility in a leadership role, and how they contribute to meeting business objectives.
* The 4 fundamental skills flexible leaders must develop regardless of role, industry, or location.
---
"Building Resilience and Leadership in the Context of Crisis & Telework" (WEBINAR)
In the face of dramatically changing circumstances, stress is a growing problem leading to increased accidents, absenteeism, turnover, lower quality of work, and ultimately revenue loss. Specific contexts (such as telework) and crises (such as the current COVID-19 pandemic) can exacerbate or contribute additional unique stressors above and beyond those already present in an individual's daily work life. Low levels of resilience take a toll on leaders' health, mood, cognitive capacity, and productivity. This webinar will dive into the importance of resilience and leadership and explore practical ways to enhance both personal and team effectiveness.
In this webinar you'll learn:
* The 4 areas of resilience: physical, mental, emotional, and social.
* How to enhance personal resilience and leadership with proven practices including exercise, sleep, mindfulness, reappraisal, positivity, gratitude, connections, and contact.
* Specific ways you and your team can apply resiliency practices in a telework/crisis context.
---
"50 Free Professional Development Resources" (WEBINARs, Online Courses )
Here are 50 of the best (and free) professional development resources for employees (from Entrepreneur magazine):
Free online courses are available in the following areas:
* Career Development
* Communications Development
* Technology Skills Development
* Leadership Development
* Analytical Skills Development
---
Questions? Contact Elizabeth Wilson at the Center for Leadership at elwilson@sewanee.edu.