The Center for Leadership is for Sewanee colleagues (faculty and staff) and students. Its mission is 1) to elevate the leader within through professional and personal development programs, and 2) to promote communication and collaboration to build strength and trust.
Sewanee Colleagues
One of the best parts of working at Sewanee is getting to work alongside devoted and gifted colleagues. In order for us to stay connected during this pandemic, the Center for Leadership is providing venues for improved internal communication to promote unity, collaboration, and trust. A bird's nest is a metaphor for us as colleagues (faculty, staff, administrators). We are the ones who work to build a strong culture/nest together in order to support our students as they grow intellectually, socially, and emotionally so that they can someday successfully launch from it. We need to continue to strengthen ourselves as a team so that Sewanee will be a strong, safe, and welcoming place for all our students.
See featured posts from current Sewanee employees on the "Sewanee Colleagues" Facebook group, even if you are not on Facebook. Lots of good things are being posted!
Give Public Recognition ("PR") to a Sewanee colleague who works either behind the scenes or in the spotlight by filling out this PRaising Up Colleagues form. Let's shine the spotlight on the many people who make a difference at Sewanee! These praises will be posted on the Sewanee Colleagues Facebook group AND this Center for Leadership webpage.
Learn more about the work, lives, and motivations of our colleagues through these interviews.
---
---
Professional & Personal Development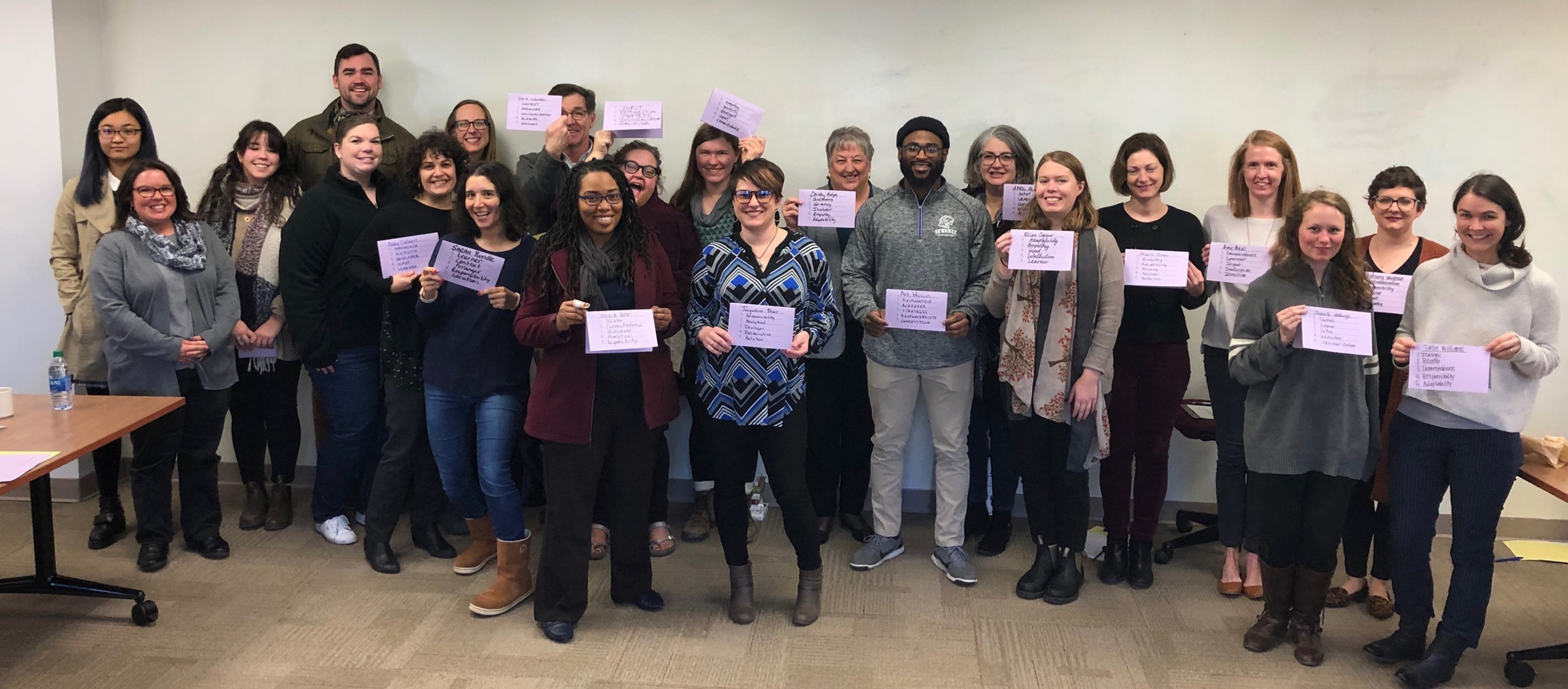 Free online assessments to learn more about yourself and your abilities (CliftonStrengths, Conflict Styles, Personal Values Inventory, Myers-Briggs, Enneagram, Interest Profiler, etc.)
Professional Growth Opportunities
"Virtual Liberating Structures: An Introduction to Online Interactions" (Virtual Session)
January Session Time: Tuesday, January 12th, 7:00 pm - 9:00 p.m. CST
February Session Time: Tuesday, February 23rd, 11:00 am - 1:00 p.m. CST
Free
These little 2-hour virtual sessions to help folks get some experience gathering people across geographies. We will gently, playfully, and imaginatively start to experience what it can be like to work online with interactive practices like Liberating Structures. This is meant for people who may be new to, or downright cynical about, online interactions. They've proven to be sweet times to connect with people from across geographies as they learn to bring Liberating Structures into their own work.
---
"Move Into 2021 With Awareness" (with Liberating Structures!)
Wednesday, January 13, 2021, from 5:00 p.m.-6:30 p.m. Central
Free: Join via Zoom here (Meeting ID: 849 9183 9443, passcode: 625165)
Do you need a breath? A moment to just pause and hear your heartbeat? This informal online DC Liberating Structures Practice Group will look into 2021 with hope and optimism, using Liberating Structures facilitation techniques (inc. Spiral Journal, Tiny Demons, and Talking Pixies). Guest facilitator Isabella Bruno is an experience/exhibition designer at Smithsonian's National Museum of American History.

You don't need to have experience in facilitation or using Liberating Structures. This practice group is hands-on, uses active learning, and is designed to be appropriate for beginners and veterans. Don't worry if you're new or don't know anyone in the group yet -- you will :-)
---
"CliftonStrengths Course for Colleagues"
January 19, 21, 26, and 28 @ 12:30 p.m.-1:30 p.m.
More info and sign-up here by January 15
For any/all faculty and staff colleagues
Help others to know their value: participate in this 4-hour course to expand your ability to assist others in discovering and using their strengths for greater productivity and wellbeing.
This online course is ideal for supervisors, academic advisors, department chairs, coaches, and any/all colleagues who want to lead others to perform better individually and on teams, regardless of their roles and responsibilities.
As part of the course, all participants will receive a special code to learn all 34 of their Strengths (not just the top 5; a $50 value), paid for by the University. Rachel Champagne, Director of Community Standards in our Student Life division, is a Gallup-certified CliftonStrengths coach and will lead this course via Zoom. Limited to 12 participants.
---
"All-Colleagues Gathering: Pulling Together to Re-energize for Spring Semester"
Wednesday, January 20, 12:00-1:15 p.m. Central
For all faculty and staff colleagues
Zoom: https://sewanee-edu.zoom.us/j/89683751840
Purpose: To notice and savor what we have done as a team since the pandemic started, and to create a sense of the power of our collective work. To inspire hope, focus, and energy as we begin the new semester.
Goals: Leave everyone with a sense of energy and confidence moving forward into the next semester; learn new facilitation methods that can be used in teaching and leading.
---
"How to Develop Your Leadership Style"
Monday, January 25, 2021, 11:‌0‌0‌ a.m. - 12:00 p.m Central
Online; Free: Register HERE
Bosses often sense something is missing in an employee's tool kit but can't put a finger on what it is. They say things like, "You need certain intangibles," or, "You don't have enough gravitas," but they fail to provide advice or guidance. What they're talking about is leadership style. In every interaction, people send signals about their leadership style that fall into two categories: power and attractiveness. In this live Harvard Business Review webinar, Suzanne Peterson, professor of leadership at Thunderbird School of Global Management, will share findings from her research on different leadership styles and will provide practical insights on how to develop a dynamic and effective leadership style—that draws from both power and attractiveness—for maximum impact. Peterson—who has studied thousands of leaders— will also present:
- The five categories of natural leadership styles
- The markers and signals associated with power and attractiveness
- Why the best leadership styles are dynamic, and shift based on the situation
- How actions and behaviors are the keys to leadership style
- Examples of a blended leadership style
---
"Mindfulness Daily" Course
This 40-day online guided training will help you to establish a mindfulness meditation practice led by well-known mindfulness authors Tara Brach and Jack Kornfield. It offers short daily sessions in mindfulness and compassion that include both a guided meditation and a teaching on a key point of practice. In each lesson, there is guidance on integrating mindfulness into all facets of your day. And by the end of 40 days, you will have the grounds for a practice that can bring increasing clarity and wisdom, resilience and love to your life (key ingredients to effective leadership!)
---
---
Questions? Contact Elizabeth Wilson at the Center for Leadership at elwilson@sewanee.edu.