Leadership Lab: Invest in yourself to lead positive change at Sewanee and beyond.
What is the Leadership Lab?
Sewanee is invested in supporting and strengthening faculty and staff who want to lead positive social change. The Leadership Lab, a nine-month leadership development program through Sewanee's Center for Leadership, is designed for up to 12 staff and faculty who care deeply about our campus community.
Participants are provided with books, personal coaching, professional assessments, and other resources, all free of charge. The key learning objectives for Leadership Lab participants are 1) greater self-knowledge: the understanding of one's talents, values, and interests, especially as these relate to one's capacity to provide effective leadership; 2) leadership competence: the capacity to mobilize oneself and others to serve and to work collaboratively; and 3) to facilitate positive social change at the institution and in the community.
This blog is written by Leadership Lab participants who take turns reflecting on each class and what was discussed.
Why do it?
It is an investment in yourself (and Sewanee invests in you!)
It encourages you to find your voice and empowers you to act.
It is a chance to develop close relationships with colleagues across the institution, both faculty and staff, across the institution.
It is an opportunity to collaborate with others to address Sewanee's institutional challenges.
Those who have completed the Leadership Lab report that they feel more empowered, engaged, and confident, as well as have a stronger sense of responsibility and ability to make things better on campus. They also report an enhanced sense of belonging due to their stronger and deeper relationships with colleagues across the University.
Who is invited to participate?
Full-time (9+ months/year), permanent Sewanee employees-- faculty and staff-- are given priority. Part-time and term colleagues will be considered when there is an opening. To be eligible to apply, an employee must have worked for a minimum of one year at Sewanee at the time of application. People from across the institution and at all levels are warmly invited to submit an application. The more diversity of levels and departments in the Leadership Lab, the better for all!
When is the Leadership Lab held?
The Leadership Lab usually begins in September and ends in April. Participation includes sessions twice a month on Wednesdays from 1-3 p.m. Additional meetings may occur between formal sessions, as the participants work together on specific initiatives. There is also reading and preparation work required as part of the class; the expected time investment is around 2 hours per week in addition to class time. Sessions for the 2022-23 Leadership Lab will be coordinated by Elizabeth Wilson.
What is required to apply?
This online application and the approval of your supervisor/department chair.
When is the deadline to apply?
Tuesday, March 15, 2022
When can I expect to hear back about my application for the Leadership Lab?
On or around April 10.
Who has participated in previous Leadership Labs?
So far, the following colleagues have completed or are participating in the Leadership Lab:
Cohort 1 (2018):
(Not pictured: Andrea Del Balso)
Andrea Del Balso - Office of Global Citizenship
Rachel Petropoulos* - Facilities Management
Betsy Sandlin - Office of the Dean of the College / Faculty (Spanish)
Romulus Stefanut - Library and Information Technology Services / Faculty (School of Theology)
Amy Turner* - Office of Environmental Stewardship and Sustainability
Bess Turner - Office of University Advancement; School of Theology
Elizabeth Wilson - Center for Leadership (previously with the Career Center)
Rick Wright* - Dining
Cohort 2 (2019-20):

April Alvarez - School of Letters
Heather Brewer - Alumni Relations
Sandy Carr - Office of the Dean of the College
Sylvia Gray - Title IX
Colin Nelson-Pinkston* - Student Life
William Shealy - Facilities Management
Heidi Syler - Library and Information Technology Services
Brittany Vaughan - Student Life
Jessica Welch - Human Resources
Cohort 3 (2020-21/current):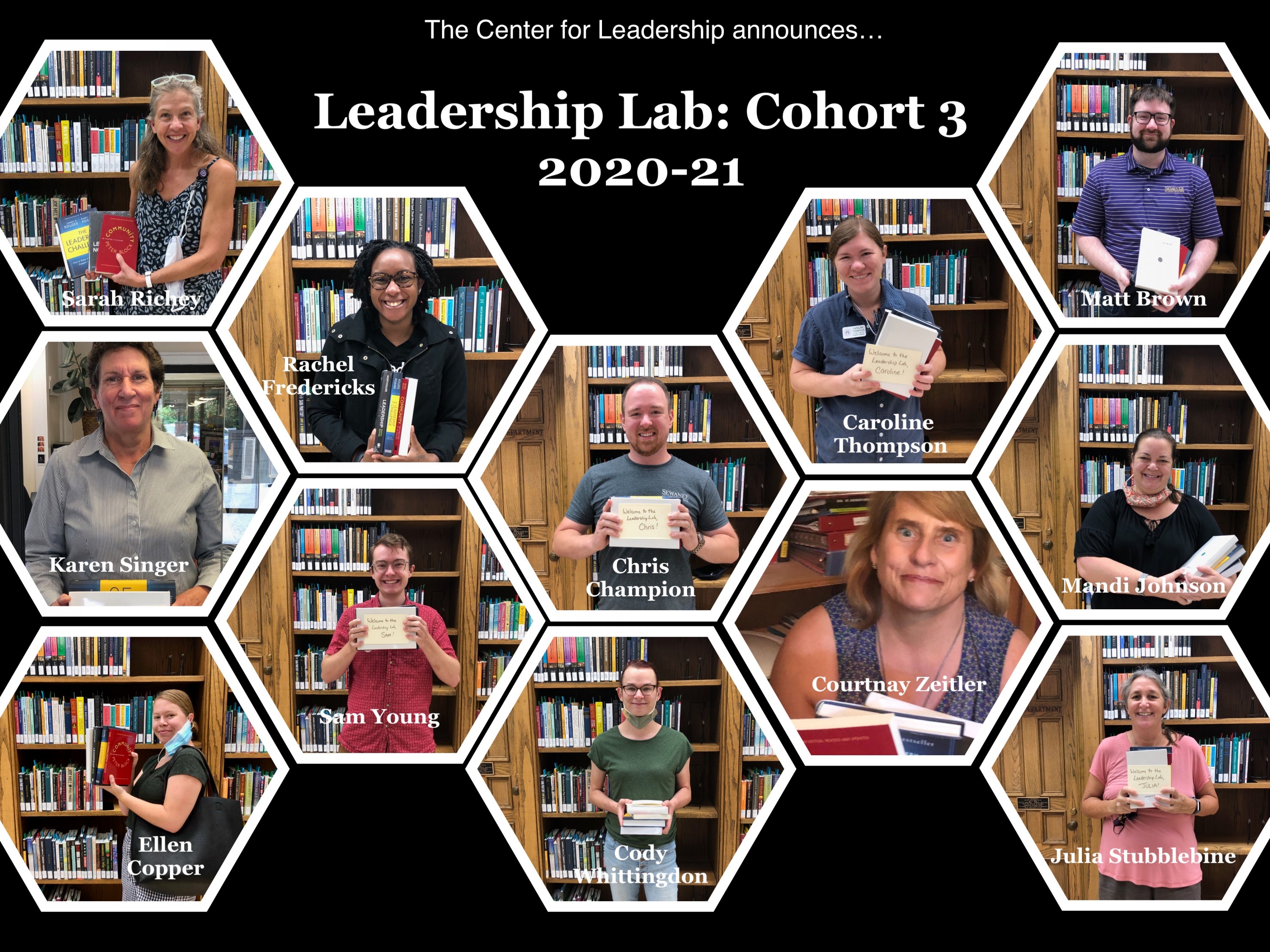 Matt Brown - Student Life/Student Accessibility Services
Chris Champion - Human Resources
Ellen Copper* - University Relations/The Sewanee Fund
Rachel Fredericks - Multicultural Center (previously with the Career Center)
Mandi Johnson - LITS/Archives & Special Collections
Sarah Richey - Babson Center for Global Commerce
Karen Singer* - Facilities Management
Julia Stubblebine - Dining (Stirling's)
Caroline Thompson - Dining (McClurg)
Codi Whittington - Student Life/Residential Life
Sam Young - Student Life/Campus Activities
Courtnay Zeitler* - LITS
Cohort 4 (2022-current)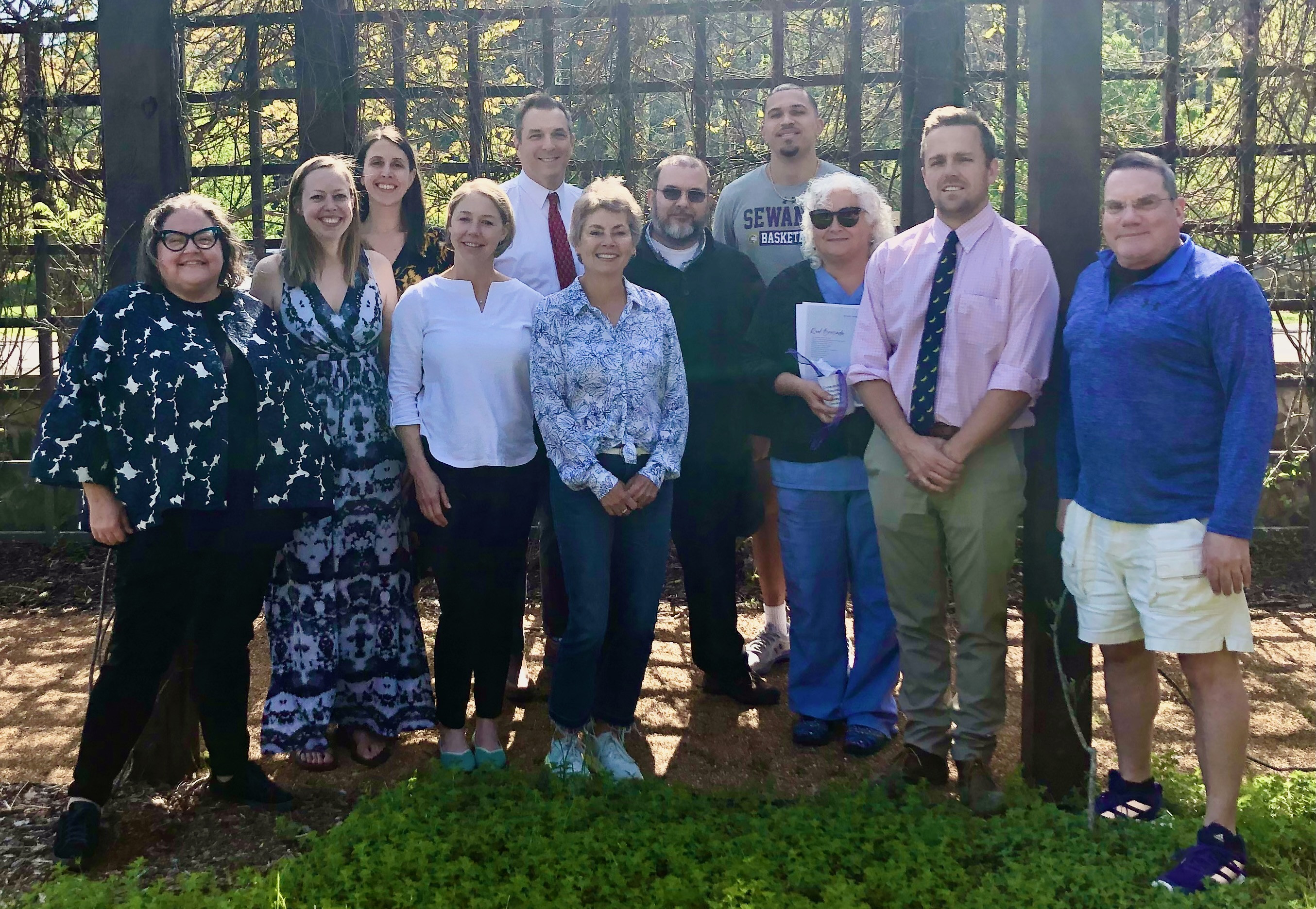 Joshua Booher - School of Theology
Alex Bruce - Office of the Dean of the College / Faculty (English)
Cynthia Gray - Office of Medical & Health Programs / Faculty (Biology)
Georgia Hewitt- Office of Global Citizenship
Cassie Meyer - Integrated Advising and Career Readiness (previously with the Office of Civil Engagement)
Marcus Murphy - Office of Global Citizenship
Max Obermiller - Athletics (Swimming and Diving)
Stacey O'Sullivan - Babson Center for Global Commerce / Public Health
Cari Reynolds - LITS (duPont Library)
Angie Riley - Vice Chancellor Residence
Brody Stone - Athletics (Basketball)
Karen Tharp - University Health Service
Cohort 5 (2022-current)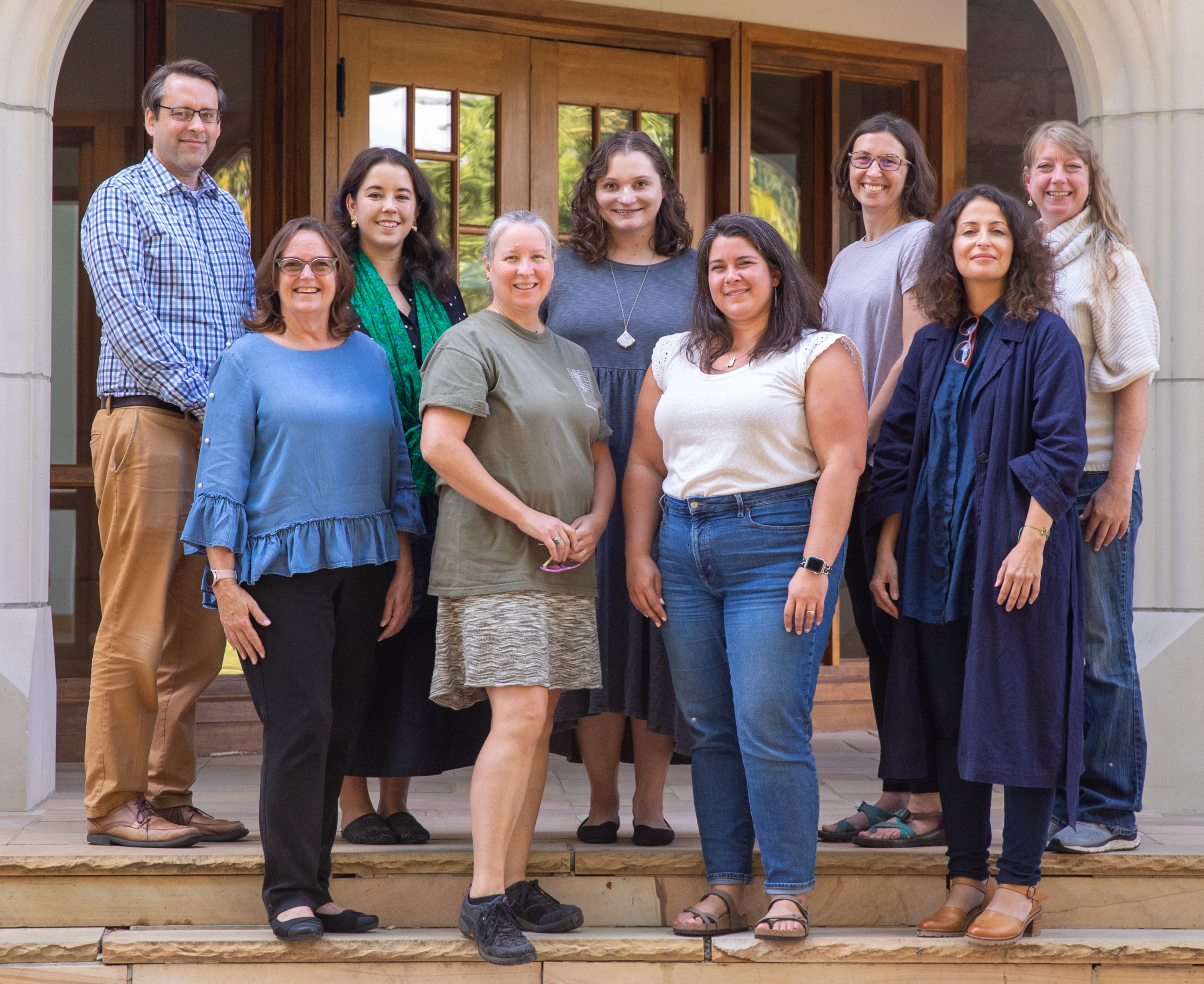 Kristen Cecala - Faculty (Biology)
Lucia Garcia-Santana - Faculty (Spanish)
Elise Anderson - Counseling & Psychological Services
Katie Goforth - Office of Civic Engagement
Adam Hawkins - Library and Information Technology Services
Tanya Ingvoldstad-Otero - Dining
Sara McIntyre - Environmental Stewardship & Sustainability
Amber Smith - Executive Office
Kristy Turner - Facilities Management
*now leading elsewhere
Questions?
If you have any questions, please contact Elizabeth Wilson, Center for Leadership director, at elwilson@sewanee.edu.
THANK YOU for considering this important opportunity!
---
"There should always be time in one's life for growth, and my participation in the Center for Leadership Cohort 2018 was just that – a true investment in my personal and professional self. That investment was evident with reflection, new relationships, and a rebooting of career goals and direction. And the University invested in me too, with the time and instruction offered with my participation. It was time well spent!" - Rachel Petropoulos
"If you want to learn how to be a more courageous and authentic leader; develop a deeper understanding of community, and the University community in particular; uncover your life purpose and activate it; and connect with fellow employees from all parts of the University, then apply to be in the next Leadership Lab cohort. It is a significant commitment of time and effort, but it was one of the most important things I've done, both professionally and personally." - Elizabeth Wilson
"One of the best aspects of the program was getting to know colleagues from all across the University, including people I don't normally have the opportunity to interact with. To realize that we all have similar goals and similar struggles, and to have a new group of people with whom I can share challenges and successes, was very powerful for me. I gained empathy, understanding, support, and new friendships that I will carry with me." - Betsy Sandlin