What do we offer our participants?

‌A remarkable faculty, who love to write and teach. Our workshops are led by writers of significant accomplishment and promise: our former workshop leaders have won the Roerich poetry prize, had their books

named "Notable Books of the Year" by the New York Times, been recognized by The New Yorker as among the twenty best young American novelists, and been featured by "Oprah's Book Club." And they are not just good at their craft: they are writers who love to teach and have experience working with teenagers in the classroom.
‌Small workshops. The workshops have no more than twelve students, and we enroll a total of about eighty young writers. Because we ‌keep our numbers low, our teachers really get to know their students, and vice-versa. We also make space in the schedule for one-on-one conferences between students and teachers, so that individual needs can be addressed outside the group setting.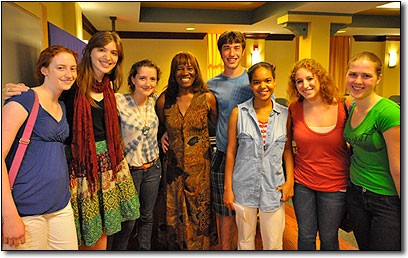 ‌‌Rigorous workshops. We offer workshops in fiction, poetry, playwriting; this year we will also offer three workshops with a special focus: (1) two fiction workshops entitled "Fantasy, Science Fiction, Fabulism: Short Fiction through a Fantastic Lens," (2) a hybrid workshop in poetry and nonfiction called "Digging Deep: Writing and Discovery," and (3) a revision workshop entitled "Re-Visioning Your Revisions." (Course descriptions may be found both on the FAQ and Faculty pages, as well as on the application.) Our conference offers a serious course in creative writing, not just a "get-your-feet-wet" introduction.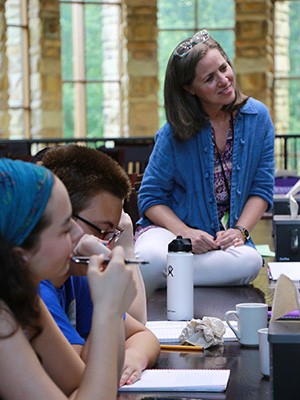 In workshop, students will read and discuss the works of great authors and try to apply their lessons, free-write and write from prompts, and, above all, read and respond to the work of their peers. Though workshops meet most often in Gailor Hall, which houses the English department, they often visit the University Farm, the Archives, the Fourth of July Dog Show, and other events and places on campus where they can write not only what they know, but also what they don't know yet.‌Workshop leaders strive to meet students where they are as writers but take them to new "places" as well, so they go home with the tools to continue writing about their favorite subjects and the tools to research new ones. Young writers arrive with varying levels of experience, but nearly all of them leave with a portfolio of which they can be proud and we encourage them to read to the group at the end of the conference. Also, and not surprisingly, they report that their two weeks of intensive reading and writing at Sewanee have made them better readers and expository writers in high school and college.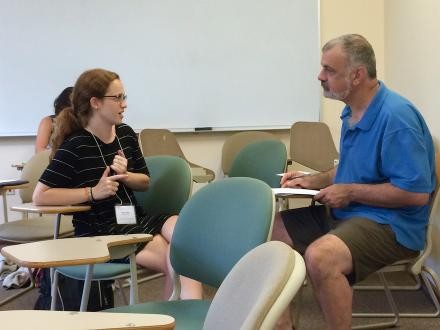 Playwriting. We're one of the only high school programs to offer workshops in this important genre. It's natural for us to do so: after all, one of America's greatest playwrights, Tennessee Williams, bequeathed his estate and copyrights to Sewanee, a gift that sustains many of our literary programs. But we also consider playwriting integral to the whole curriculum: playwrights, with their command of scene and dialogue, have a lot to teach the rest of us whatever our genre. The playwriting workshop welcomes both those who have written plays before and those ready to experiment in a new genre. Playwrights will each write a short play to be performed by a cast of their choosing like Classics Professor Chris McDonough (Photo left).
‌Enrichment outside the classroom. ‌A young writer's day doesn't end when workshop does. Participants tell us they are hungry for opportunities to engage in a literary life, so at the heart of the SYWC is the chance for participants to meet a few special guests authors. To make sure students get the most out of these occasions, we ask them to do a little reading before they come to Sewanee and, if time, participate in a lively literary discussion about the author's work. Participants will thus be primed to have a real conversation with our guests. Some years, students have enjoyed meeting the staff of The Sewanee Review, the nation's oldest continuously published literary quarterly, to learn about this remarkable journal and the contemporary work published there. We want students to learn about the road to publication.
We want students to have opportunities to write across genres, to get to know all the faculty members well, and to have class with teens outside their morning workshop, so SYWC faculty members offer craft classes on subjects as varied as dialogue, similes and extended metaphors, form and lineation, writing a sonnet, creative writing and social change, and much, much more. The SYWC Summer Director and the Head of Residential Life will also offer extra writing classes on subjects like "Gothic Fabulism" and "Writing through Relaxation."

Good writers need to be good readers, so in addition to these classes, we call on our colleagues in the Sewanee English department to offer optional short classes on their own favorite literary topics: a few poems by George Herbert, a scene from Hamlet, or a classic Roman myth, for example. These mini-classes, which end with a suggested writing prompt that may be completed on the spot or taken home, allow students to mingle with participants outside their morning workshops.
Most summers we are also able to offer an optional mini-workshop in songwriting.
Though readings by special guests like Kevin Wilson and David Haskell are a signature of our program, we also enjoy hearing our own faculty and staff read from their work. And the highlight of every summer comes on the last day of the conference, when all young writers read some of the writing on which they have worked so hard. These readings give us time to celebrate one another's accomplishments and, often, marvel at how far our young writers have come in two short, intense weeks on the Mountain.
---
---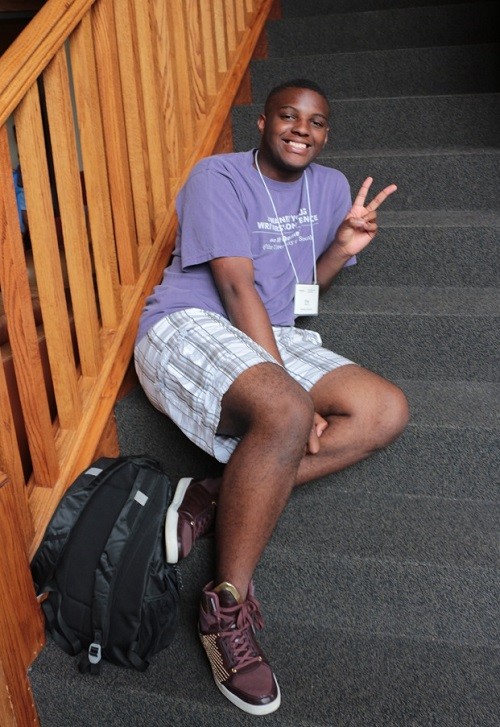 Recreation. Though there are homework assignments to complete each day and plenty of enrichment activities, we leave time for students to have fun and to make new friends. The Fowler Sports and Recreation Center offers a weight room, exercise machines, squash, racquetball and basketball courts, swimming pool, and indoor track. There are also outdoor tennis courts, an outdoor track, and a Gil Hanse-designed golf course.

But we also like to have fun as a group, so we make time for optional activities like hiking on the perimeter trail (which winds around the domain, offering a number of beautiful bluff views); hiking and swimming in nearby Fiery Gizzard; catching fireflies (and letting them go); taking a yoga class with the Summer Director Robie Jackson. There's a talent show during which we get to see what else, in addition to writing, our new friends can do: rapping, stand-up comedy, playing guitar, dancing. There's a dance with a d.j. on the last night. And then there's the director's favorite, Karaoke Night, in which a few brave and talented folks sing their favorite songs solo, many others team up with friends and teachers to perform, and almost everyone dances. And did we mention cake? We always eat cake on Karaoke Night to celebrate birthdays. On rainy days we relax in‌ the dorm—playing board and word ‌games, working jigsaw puzzles in the living room, reading in the rocking chairs on the front porch, baking brownies in the kitchen. All these extracurricular activities allow the eighty young writers to get to know each other well, to make friends quickly, and to enable the important work of sharing one's literary endeavors (and literary struggles) to come more easily.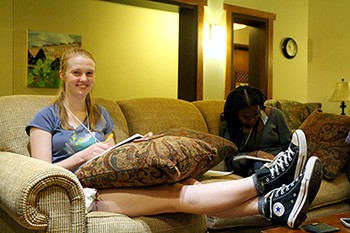 What else? Young writers are housed in a new dorm, Humphreys, which has double rooms and suites and is ideally located near Gailor Hall (where classes meet), the Women's Center (where we meet for large discussions and readings), the dining hall, duPont Library (where the computer center is located), and the athletic center. Boys will live on the first floor and girls on the top two floors. Students are supervised by five to six dorm counselors—college students or recent graduates—and one adult in charge. The director and the assistant director are in their office each morning to answer questions (from students, teachers and parents), solve problems, and finalize events; they are out and about every afternoon and evening to ensure the conference runs smoothly and participants are thriving academically and socially. Please see the Staff page for information about us and see the FAQ page where we have attempted to anticipate and answer many of your questions.