To expedite your search, the Frequent Asked Questions pages are divided into two categories, one with general questions and answers about the program and the process of applying and the other with questions and answers primarily of interest for persons who have been admitted to the program, though all applicants might find this second set of FAQs helpful as they consider the program. These pages are designed to help students, teachers, and parents.
For additional questions, please feel free to email sywc@sewanee.edu
---

---
General Program Questions and Answers for Parents, Participants, and Teachers
Q: How much does the program cost? A: Tuition, room, and board are $2400. If you need transportation to and from the Nashville airport, that is $150.
Q: How old are Conference participants? A: We accept students currently enrolled in 9th, 10th and 11th grade. We do not accept rising 9th graders or students who will have completed the 12th grade at the time of the Conference.
Q: When should I submit my application? A: Though review of applications begins in late February, we encourage you to apply as soon as possible. The program is selective, and we receive many more applications from talented writers than we have space to accept. We do have rolling admissions, and so we will continue to read applications that arrive in March, but your chances of being accepted are better if you apply early.
Q: Why do you have rolling admissions? A: Over the years we've found that some of the best students don't hear about us until later in the school year. We keep reading applications until we're sure we've got the most talented and enthusiastic group of teen writers, who really want to spend two weeks of the summer reading, writing, reflecting, and revising—transforming their literary aspirations into art—on our campus away from the busyness of life.
When and how will we know we've been accepted? A: We begin reading applications as soon as they arrive, and we begin making decisions in late February.Offers of admission are made on a rolling basis until all spaces are filled; after that point strong applicants will be placed on a waiting list. Spaces often do become available later in the spring. Applicants will be notified by mail (not email) by early April, though occasionally we use email to request more information from students or inform them of their place on the waiting list.Timely applicants who have not heard from us by mid April should email to inquire about the status of their applications.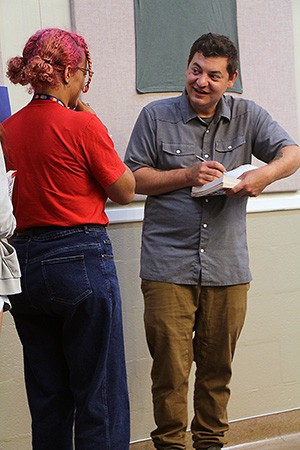 Q: How and what do I need to apply? ‌Please go to the HOW TO APPLY page to learn more about the application.
Q: My teacher can't find the recommendation form in his or her email account, what do I do? A: If teachers can't find the email linking them to the recommendation form in their inbox, please have them check their spam or junk mailbox. If they still cannot locate the email, you can direct them to the Recommendation Form link here, but they will need to have the exact name you provided on your application and the email address you used for your teacher, so please make sure they have that information.
(Photo left: Professor Kevin Wilson signing books for a young writer.)
Q: How are workshops structured? A: The morning workshop, which typically lasts from 9:30 a.m. to 12:30 p.m., is the cornerstone of our Conference. Each workshop consists of ten to twelve participants taught by a member of our faculty, a singular group of professional writers who are both accomplished in their genres and passionate about teaching. Participants spend workshop time sharing their own writing and responding to the writing of their peers, as well as writing from prompts, free writing and discussing readings assigned by the teachers. Workshops are not simply classes; they are close-knit microcosms of our larger creative community. They are designed to make sure you leave Sewanee with a portfolio of new writing of which you can be proud.
Q: Who teaches the workshops? A: Well-published writers, who have a commitment to teaching a rigorous workshop, especially to young writers. You may read about them on the faculty page.
Q: Are students allowed to workshop in multiple genres? A: Our workshops are dedicated to the serious study of fiction, poetry, and playwriting, and we never want to offer a class that just jumps lightly across the board. We want participants' literary labors to lead to a level of expertise they never thought they would achieve. We do, however, believe that a poetry workshop can have a specific focus, a hybrid workshop in poetry and nonfiction can engage participants in serious matters of form, and a workshop devoted to elements of the fantastic in short fiction—which we see in fantasy, science fiction, fairy tales, and magical realism—is at the heart of much good contemporary literary fiction.

Q: What workshops are offered? A: Fiction, Poetry, Playwriting, and the following three hybrid or theme-based workshops:
Fantasy, Science Fiction, Fabulism: Short Fiction through a Fantastic Lens
For some folks, this type of fiction is brushed off as light entertainment and escapism. But did you know that zombie stories are more popular during times of economic upheaval? Or that Vampires frequently represent repressed desires? Or that a lot of science fiction draws on classic mythology? In this class, we'll study craft elements in short stories about the creepy, the crawly, the terrifying, electrifying, and inspiring. Learn to make monsters into metaphors, robots into protagonists, and create magical worlds that parallel the best – and worst – parts of our own.
Digging Deep: Writing and Discovery in Poetry and Creative Nonfiction
This workshop will emphasize discovering new and surprising sources of inspiration—in the natural world, the library, the Ralston Listening Room, and even in what Christina Olson calls "weird science." Inspired by close observation and reading, students will experiment with both poetry and prose forms and will consider the ways any chosen form both enables and limits discovery, determining what can and cannot be said. Forms are lenses, and each one brings certain subjects into sharp focus. Though the reading and writing exercises will focus on poetry and creative nonfiction, the craft and techniques covered in this course will be applicable to every genre.
Re-Visioning Your Revisions
This will be a cross-genre course focusing on revision: if you have a novel-in-progress, a collection of poetry, a set of short stories, or other writing project but are looking for a community of inquisitive, generous writers to help revise it, this workshop is for you. Unlike most other courses at SYWC, students in this course will have substantial drafts ready at the beginning of the workshop and will spend the bulk of their time considering principles of revision and strategies for re-seeing your work. Poets, fiction writers, non-fictionists, and playwrights will work side by side, learning from each others' genres as well as offering insights from their own. It is open to all but may be particularly attractive to juniors who wish to have a polished portfolio during the college application process.
Q: Okay, but will I learn about other genres at Sewanee? A: Ours is a varied literary world; all participants hear and read work of all sorts, enjoy exposure to an accessible and enthusiastic faculty, and meet some of the most successful writers working today. No matter what workshop constitutes the focus of your time here, you will discuss works in other genres as a group and with your peers, and you will have many opportunities to take optional classes offered by our faculty, staff, and members of the University faculty that will allow you to experiment with other genres. (See the Program and Faculty Pages for more information.)
Q: What does the rhythm of the SYWC look like? ‌‌‌
Q: When applying, should I select only my favorite workshop or list a second and third choice? A: Because we receive a large number of applications, you will increase your chances of admission by indicating more than one workshop preference. Though not getting your first choice may be disappointing, recall that many of the elements of successful writing (character, dialogue, plotting, imagery, diction) are important in every genre.
Q: Do you offer a workshop in songwriting? A: We do not offer songwriting, but many songwriters have attended the conference. Often they enroll in the poetry section, but whichever workshop they choose, they have almost always found that the serious attention to language and form that our workshops encourage makes them better songwriters. Often we have a dorm counselor who will offer songwriting as an enrichment activity.
Q: Do participants fly to the Conference? A: Yes. Many of the students travel from as far away as California, Massachusetts, and China. We send shuttles to the Nashville airport (BNA) on arrival and departure days. Counselors meet all flights and accompany all shuttles to make sure students find their way in the airport.
Q: May participants bring their own cars to the Conference? A: Participants may use their own cars to arrive and depart, but they must turn over their keys to the director for the duration of the Conference.
Q: How do participants spend their recreational time at the Conference? A: Participants spend three hours each morning in workshop. When not in class or completing assignments for workshop, students have many options for fun and relaxation: they might take guided hikes somewhere on the University Domain of 13,000 acres or in the South Cumberland State Park, explore a cave with a park ranger, enjoy the University's athletic facilities, sing karaoke, participate in a talent show, attend Sewanee's Fourth of July festivities, play games on a rainy day, hang out with new friends in the dorm or enjoy a fruit smoothie with them at the local coffee shop, which is conveniently located near Humphreys dorm.
Q: While at Sewanee, will there be time to discuss work I've already written? A: We have hired a creative writer with experience in all genres and a particular interest in revision; he will be available, daily, to help students revise old and new work and, significantly, to understand the revision process, which involves much more than fixing grammar or developing an image pattern: it means learning how to ask the right questions about your work, about what you want it to convey to your readers. Learn more on our faculty page.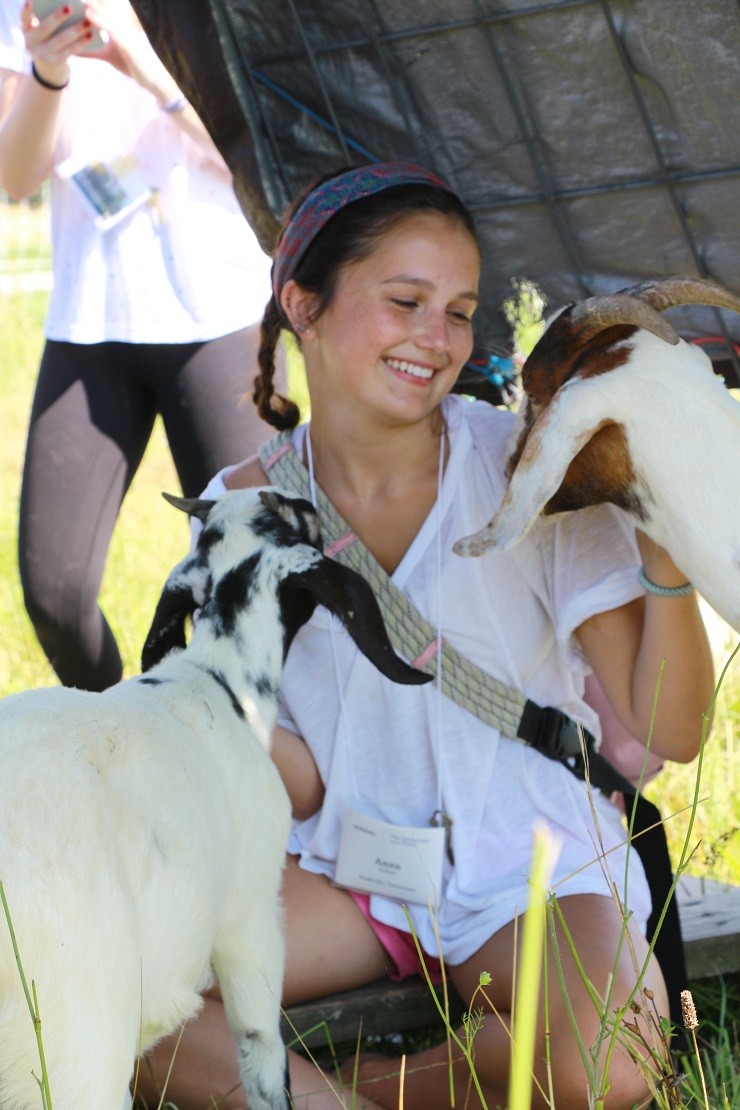 Q: What Enrichment Activities do you offer? A: Participants will enjoy readings by faculty, special guests, and their peers. They have the opportunity to take extra writing classes offered daily by faculty, staff, and members of the University faculty. Participants may visit the University Farm, where they might hold a chicken or goat, view the bees from a safe distance, and learn about organic farming from the University Farmer, all of which they might then write about in the University Chapel. They will take a hike into the wilderness area known as Shake Rag Hollow, where special guest Biology Professor David Haskell spent a year researching The Forest Unseen, and where Haskell will teach them the truth of Flannery O'Connor's advice: "never be ashamed of staring." They may attend the Fourth of July Dog Show, where they will learn the art of eavesdropping, and visit the University Library and Archives, where they will learn, to quote Ralph Waldo Emerson, "to read creatively," so they will have the material to write creatively. All of these activities, along with the instruction in the classroom, are meant to teach teenagers that in addition to writing what they know, they have the power to write what they don't know yet, the ability to do research in a library, forest, or farm at home. Please see the Program page for a more complete answer.
Q: Where do participants dine? A: Participants, faculty, and staff eat together in McClurg Hall, an extensive dining facility on central campus. Vegetarian, vegan, and gluten-free options are readily available.
Q: Where do participants live during the Conference? A: All Conference participants live in Humphreys Hall, a popular, air-conditioned, dormitory on central campus. Men live on the ground floor; women live on the top two floors. Participants live in double rooms, where they share a room with one person and a bathroom with two others, or in suites, where they have a single bedroom, but share a bath and common space with four to five others.

Q: I am a transgender student. Will I be welcome at the conference? How will my housing situation be handled? A: We are an inclusive community and a safe space where individuals treat each other with tolerance and respect. The director will work with you and your parents or guardians to house you according to your preferences and our dorm options.
Q: How are participants supervised? A: Humphreys Hall is also home to five counselors (a mix of college students, recent graduates, and M.F.A. students) and a Head of Residential Life, who participate in all activities except morning workshops. Participants have the freedom to explore our beautiful (and relatively small) main campus with other young writers, but we count heads at each conference event, at 10:30 p.m. each evening, when all participants are required to be in the dorm, and again at Lights Out (11 p.m.). We live in a remarkably safe community, and our staff pays careful and constant attention.
---
I've Been Accepted, What Now?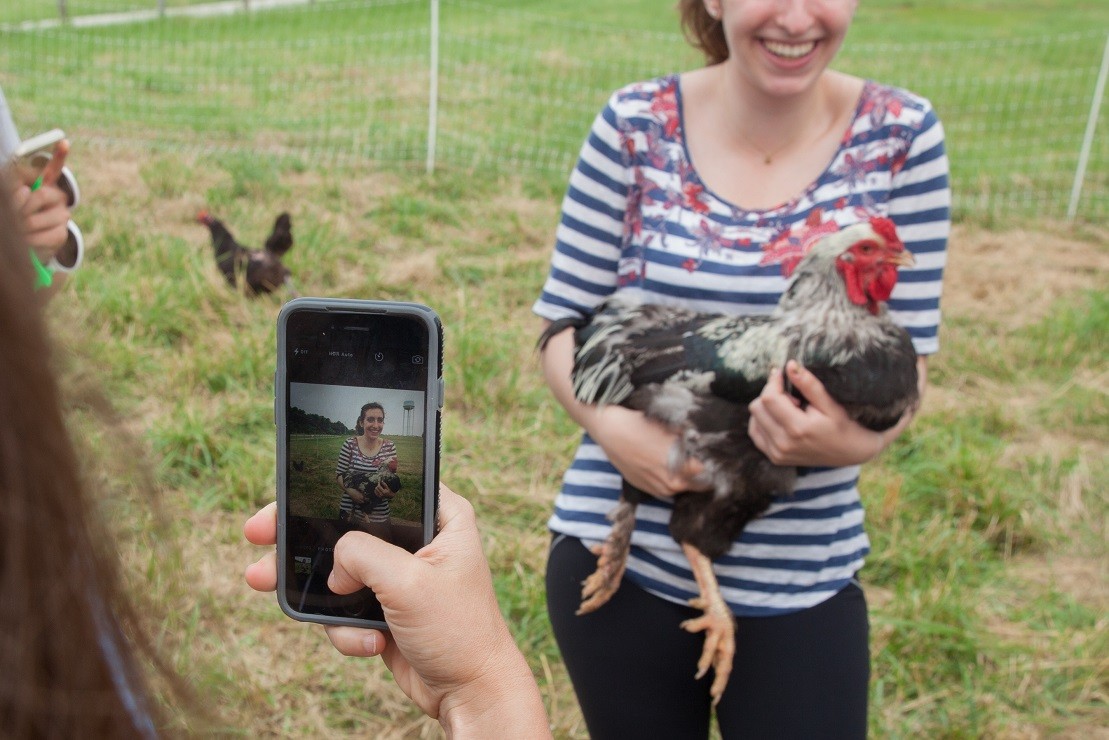 Q: If I am accepted, what do my parents/guardians and I do to reserve my spot? A: (1) You need to call the office (931-598-1541) to let us know if you intend to come to the program. (2) You need to go online to the payment link and pay a deposit of $750.00.
Q: How do participants prepare for the Conference? A: You will receive a list of books to obtain and read before coming to Sewanee. The authors of these books, our special guests, visit campus to give a reading and meet with participants to discuss writing. We believe that reading the books in advance, and then discussing some of them with your peers and Sewanee professors, is the best way to get the most out of your time with the guest writers, so that the hour or so you spend with them isn't just another "reading," but a reading at which you have a basic understanding of the writer's work and the confidence to ask questions or stick around after the reading for a longer conversation with the author.
Q: Are there any required forms to fill out? A: After you have been accepted, we will mail your parent or guardian a packet, which will contain an invoice, directions, various release forms as well as health, travel, and Code of Responsibility forms to fill out and return.
Q: What time should I plan to arrive in Nashville if I am flying to the conference? A: When planning the flight here, you should book flights that put you in Nashville by 1:00 p.m. (Central Time), so you can arrive in Sewanee in time to register and settle in the dorm before dinner. I recommend flights that arrive around noon; the earlier participants land at the airport, the longer they might have to wait for the departure bus or van, though we will have staff ready and waiting to meet students at any time.
Q: If I am flying out of Nashville, what time should I schedule my departing flight? A: Participants will be free to leave Sewanee at 8 a.m. on the last day; all departing flights should leave no earlier than 11 a.m. from Nashville.
Q: What do I do if I cannot find a flight that works with these instructions? A: If the airlines' schedules fail to adhere to ours—and they often do, particularly if you are traveling from the west coast—please feel free to call the director to discuss the possibilities. Remember to check Southwest Airlines whose flights do not appear on Expedia or other such travel sites.
Q: Is there orientation when I arrive on campus? A: Yes. We have a brief orientation at 12:30 p.m., 1:30 p.m., and 3:00 p.m. in Gailor Auditorium, where you will receive an information packet, a key/meal card, and a tee-shirt. You may attend the one that works with your travel plans. Those who are flying will have orientation in the dorm.
Q: What time should I plan to arrive on campus if I am traveling by car? A: In time for one of the three short orientation sessions in Gailor Auditorium: 12:30 p.m., 1:30 p.m., and 3 p.m. That will give you time to unpack and settle in the dorm before dinner at 5 p.m.
Q: When must I leave campus on the last day if I am leaving by car? A: Everyone must be out of the dorm by 10 a.m. on the last day.
Q: What will we do that first day? A: Students will meet the dorm counselors, who will help them move into their rooms and get to know each other. At about 5 p.m. heads will be counted, and the group will walk together to McClurg, where they will have a brief tour of the dining options and enjoy dinner. After that, students, faculty and staff will gather together for introductions and a name game or two. Participants will then meet their workshop teachers and have a brief class before heading back to the dorm. Most teachers give students a short assignment—something to read or write—to be completed in the dorm. The evening will end with a dorm meeting, where we discuss the rules of the program, the schedule, and take questions. By then, everyone is usually ready to go to bed, some having traveled a long way to get to Sewanee.
Q: If I am interested in attending Sewanee for college, may I schedule an interview while on campus? A: Absolutely. You should just let the director, assistant director or one of the dorm counselors know. Many participants visit Admissions each summer.
Q: Is the campus wireless? A: Yes.
Q: Do I need a laptop computer? A: No. Students have access to the computer center in the library, which is not far from their dorm. Most students, however, do bring a laptop so they may work in the dorm, in the coffee shop, or anywhere on campus, most of which is wireless, even outside the buildings.
Q: What should I pack? A: You should bring mostly casual clothing. It will probably be hot here, especially during the day. Evenings (and some classrooms) can be cool, so bring a jacket, sweater, or sweatshirt. There will be opportunities to dress up occasionally (the banquet and dance). Participants will want to bring a dress, skirt, or dress pants or some version of the traditional coat and tie (coat and tie; coat and no tie; shirt and tie). You should bring a swimsuit, good walking shoes or lightweight hiking boots, water bottle, flashlight, and other equipment you might want (tennis racquet, day pack, goggles) for extra-curricular activities. Insect repellent and an umbrella (or other rain gear) are also recommended. We do not provide linens for bed or bath, so leave room in your luggage for these necessary items.
Q: Can I do laundry in the dorm? A: There are washers and dryers in the dorm for your use at no cost.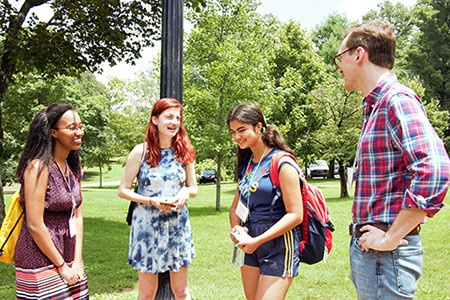 Q: How much spending money should I bring? A: Participants typically want to have some spending money for snacks, souvenirs, books, lunch at one of the local eateries, and other incidentals. There is no way to cash a personal check in Sewanee, unless you have an account at Regions Bank. You might consider bringing a pre-paid Visa Card, or one to which your parent or guardian can add funds in the event you need/want more money. I would recommend a minimum of $75, though you can easily do with less and can just as easily spend more, particularly if you go to the local coffee house—where you can purchase smoothies, sandwiches and salads. There are also two ATMs in town, one in the Bishop's Common (near the dorm) and one downtown at Region's Bank, but many students find that it is simply easier to bring as much cash to the program as they think they will need.
Q: I hope my friends will send me lots of snail mail while I'm at the conference. What address should I give them? A: Students who wish to receive mail during the conference should have the mail sent to the following address:
Participant's Full Name
C/O Elizabeth Grammer, Director
Sewanee Young Writers' Conference
University of the South
735 University Avenue
Sewanee, TN 37383
---