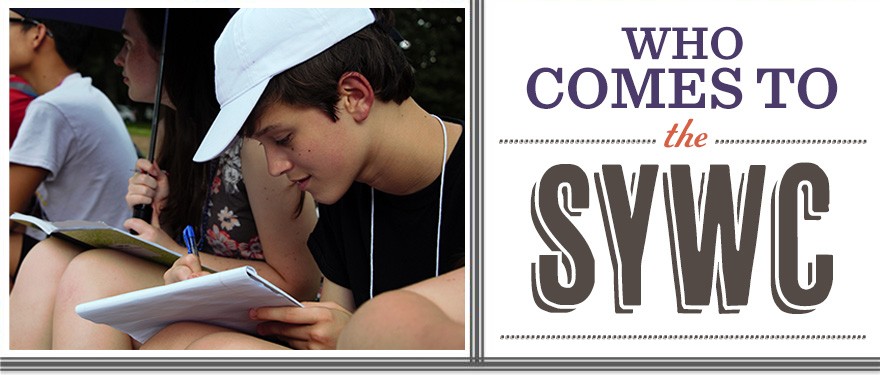 ---
Students come from almost every part of the U.S. and a few foreign countries, from both public and private high schools. Some have had extensive training in creative writing and some have not. What they have in common is a passion for writing and a willingness to work hard at it for two weeks, refining their craft and helping others do the same. And where do they go from here? Back to their high schools, where they almost always find themselves more confident and committed writers and students. And then they go on to colleges like Columbia, Sarah Lawrence, Middlebury, and Yale. Many matriculate at Sewanee, where they are eligible for the Dakin Scholarship, awarded to a participant in the SYWC. Some have gone on to publish their work in regional and national magazines, to work as Hollywood screenwriters, magazine editors, and Ph.D. students in literature. Some are doing other things entirely, but nearly all seem to look back at their experience in Sewanee as valuable and transforming, both in the classroom and out, where they make friends who share their love of writing, friends with whom they stay in touch long after the conference ends.
---
hear from sywc faculty, staff, and guests
---
Kevin Wilson
Associate Professor of English and Coordinator of the Certificate in Creative Writing at the University of the South, and author of Tunneling to the Center of the Earth, The Family Fang, and Perfect Little World.
My relationship with the Sewanee Young Writers' Conference began in 1999, when I served as a counselor, and my immediate response was the same as it is now, when I'm lucky enough to be a guest reader for the conference: I so badly wish there had been something like this when I was a teenager. I cannot overstate how amazing the conference is, the way it challenges and encourages young writers to develop their own voice, to learn the craft of writing, and to be surrounded by other young people who truly love the creative process. Every year that I've read at the conference, a Q&A follows with the students, and I'm struck by how thoughtful these kids are, how dedicated to writing and reading. When I've been lucky enough to work with students from the conference after they've enrolled at Sewanee, they have consistently been some of the very best students in the class. I believe that the Sewanee Young Writers' Conference prepares these kids for what comes next, and it allows them to develop the skills that they'll continue in college.

---

David George Haskell

Professor of Biology and Environmental Studies at the University of the South, and author of The Forest Unseen and The Songs of Trees.

What a delight is it to gather with other lovers of narrative, aficionados of metaphor, and sommeliers of verbs. Here is a community that welcomes those of us that revel, puzzle, and toil amid the tangle and thrum of words. At the Sewanee Young Writers' Conference, we do this both in the lecture hall and in the woods, in the human community and in the wider community of life. I know of no other place where an intense, joyful focus on the craft of writing takes place in such ecologically rich and diverse environs.

---

Lucy Alibar

Screenwriter and Playwright, best known for the Oscar-nominated screenplay of the movie Beasts of the Southern Wild.

The Sewanee Young Writer's Conference gave me the idea of what a writer's life could be. I got to see first hand the hard work that it takes to better your craft, the difference a community makes as you develop your first drafts, the joy that comes from surrounding yourself with talented peers. It was an incredible opportunity that I was so fortunate to have.

---

Amy Arthur

Development Manager at Rebuilding Together, San Francisco

When I arrived in Sewanee in 2004, a shy teenager with a deep love for words, I had no idea how big a role the Sewanee Young Writers' Conference would play in my life. Those two weeks were fun, challenging, and inspiring. More importantly, they set me on a path that led to an undergraduate degree in English from Sewanee. Over the years I experienced the conference from many perspectives: as a student, then dorm counselor, then conference coordinator, and finally as the conference summer director. In each role, I always felt so lucky to be surrounded by people who loved writing as much as I, who challenged me to continue growing and reminded me that ours is a big, crazy, beautiful community. When you attend the Young Writers' Conference, you become a part of something much bigger than yourself—a long tradition of writers gathering on the Mountain to share their love of all things literary. I can't think of any better way to spend a summer.

---

Justin Quarry

Former Teacher at SYWC

The students in my workshop at the Sewanee Young Writers' Conference possessed a commitment to, a passion for the written word that is rare to find even among undergraduates at colleges and universities. Over the course of our two weeks together, we played a number of writing-related games, but we spent most of our time reading and discussing contemporary short stories in conjunction with essays on the craft of fiction, as well as completing warm-up exercises and writing assignments meant either to spur the completed story with which every student left the conference or to equip him or her with an arsenal of writing strategies for the year to come. In addition, my students skillfully analyzed and conscientiously critiqued each other's fiction, both aloud and in writing, and as a group we created an atmosphere hospitable to a variety of writing styles and a wide range of subject matter—from the exotic (a girl who wakes up to discover she has wings) to the familiar (a girl whose life is destroyed by a Facebook post)—the only demand being that student stories, as all literary fiction, first and foremost should be driven by the longings of the human heart. It is easy to say that its lush, mountainous setting is what sets this conference apart from the rest—and there is truth to that—but what I think makes it most special is the convivial, inspirational, supportive environment first fostered by the faculty and staff and soon generated by the students themselves. Here, young writers find the kind of artistic peer community that most writers don't come upon—that I didn't come upon—until much later in life.

---

Elizabeth Wetmore

Current Teacher at SYWC

There is so much to commend the Sewanee Young Writers Conference to young writers--a faculty of committed writers and playwrights, dedicated dorm counselors, starry nights and lovely sunsets atop the Cumberland Plateau. But what really sets Sewanee apart are the enormously gifted young writers who find their way to the conference. At Sewanee, writers from all over the country forge communities of their peers that they will carry with them long after the summer is over. Here is a place where a writer can challenge her assumptions about the world and her place in it, where making art matters more than just about anything else, and where a community of young writers work together to become practicing, dedicated artists and thinkers.

---

Chris Hale

Former Teacher at SYWC

Teaching at the Sewanee Young Writers' Conference is a uniquely rewarding experience. The students, from all over the country (and some far-flung places around the globe) bring a heady mix of energy, concentration and curiosity into the classroom. We read and wrote every day; we laughed at each other's jokes, cheered the insights we discovered together, and challenged each other to exceed what seemed barely possible the day before. The other faculty and guest readers are fantastic writers and dedicated teachers—I found new colleagues and learned things I needed to know. The conference staff works constantly—really, their efforts seem non-stop—to keep the learning and the fun flowing smoothly. And Sewanee itself—the land with its the venerable trees and lush lawns; the elegant architecture; and the compact, convenient and friendly town—is a gem. Sewanee Young Writers' Conference is a place to work hard and play hard, at the craft of writing, the life of the mind, and the recreation of the spirit.

---

Claire Vaye Watkins

Former Teacher at SYWC

I had a blast teaching fiction on the mountain. My whip-smart young writers worked their artistic little tails off reading, writing and critiquing literary fiction. We dipped our collective toe in the pool with stories by canonical and contemporary luminaries like Joyce Carol Oates, Tim O'Brien, Flannery O'Connor, Frederick Busch, Jamaica Kincaid, Junot Díaz, Aimee Bender, Christopher Coake and Daniel Orozco. Then my gang wrote their own stories, with which I was bowled over. Would I had written so well at their age! Workshops were intelligent, articulate, sometimes a little raucous, always a lot of love. It was a pleasure to witness these young people in the classroom, making art, then making it better, and a thrill to watch them coalesce into an honest-to-God community of writers. The community's the thing at the SYWC, from one-on-one conferences to writing expeditions, incredible hikes, brilliant readings and late-night coffee shop chats. I was ever more impressed with the caliber and character of this bunch, ever more glad I got to meet them. Sewanee is a very special place, and it seems the Young Writers' Conference has bottled a bit of its juju.

---

HEAR from Former SYWC students

---

Andrew, from Alabama

The Sewanee Young Writers' Conference was one of the most enriching and formative experiences of my youth. As a student interested in creative writing, I found a home at the Young Writers' Conference. I was surrounded by like-minded students, who wanted to spend two weeks in the summer improving their craft, workshopping their stories or poems, and collaborating on new ideas. Even though the program lasted only 14 days, I grew more as a writer during that short time than I did all four years of high school. As a result of my experience at the Young Writers' Conference, I eventually attended the University of the South and majored in English. During my time at Sewanee, I discovered a love of teaching and went on to become an English teacher. I attribute my passion for teaching literature and writing to my professors in college, many of whom I worked with during my time at the Young Writers' Conference. My father used to joke that if I hadn't attended the Young Writers' Conference and simply stayed at home, doing God knows what, my whole life's trajectory would have changed. I couldn't agree more. I am deeply indebted to the Young Writers' Conference for not only giving me a place to learn, but for providing a safe place for me to grow as well.

---

Bota, from Maryland

It is something so magical
to be surrounded
by writers
who share your
passion for
good work.

---

Benjamin, from Ohio

I came to the Young Writers' Conference with grand ideas of how to write poetry and left with the shattered remnants of those ideas. I am a better poet because of it.

---

Chris, from New York

The best part of my experience was the wonderful and supportive community I found at Sewanee. Here I found that writing wasn't a competition, but an activity where everyone wins because it is all about self-improvement.

---

Jonah, from Tennessee

I learned that I love to write. I learned how to stimulate my creativity and how to have a writer's eye. I've become observant of elements of the real world that I can use in my stories because fiction is nothing more than using pieces of reality to convey something in a new way.

---

Clara, from New York

This is the most beautiful, magical, and enlightening place. This is a place where you will grow and change as a writer in ways you've never imagined. This is a place where you will find friends and make memories that will you will have for a lifetime.

---

Emily, from Tennessee

I have not only learned how to write in a new genre, creative nonfiction, but I have also met a diverse group of creative individuals, some of whom I will keep in touch with away from Sewanee. Sewanee was a great learning environment, a friendly getaway from the stress and distractions of city life.

---

Caroline, from Maryland

I came to Sewanee this summer as an English student who enjoyed her classes, and I left as a writer. I learned so much and found a support system that I can turn to for input about anything I write either in school or independently.

---

Lillie, from Tennessee

Among helpful peers and fun instructors, one really discovers how sacred Sewanee really is. It becomes a community, and in this community confidence is gained, ideas are shared, and skills are improved.

---

Daniel, from Louisiana

When you're here at the conference, you can leave all of your troubles, worries, and duties at home. For two weeks, you can concentrate fully on writing and developing your creative voice. You'll meet great people and have fun in the process.

---

Lindsay, from Louisiana

I left here knowing how to employ every tool in writing and how to employ them in such a way that the story they created was more than you had hoped it would be. It was also amazing to meet so many different people who all cared about the same thing and didn't think you were strange for wanting to read and write. Even when I was doing the homework, I was having fun. These were easily the best two weeks of my life.

---

Annie, from Texas

The teachers here are wonderful, and who would not love being able to write in such a magical place?

---

Krishna, from Arizona

The Sewanee Young Writers' Conference helped me become confident in my poetry while allowing me to stretch the scope of my mind and write about experiences I hadn't thought of before!

---

Joanna, from Pennsylvania

I didn't know what to expect coming in, but the conference was beyond what I could have wanted. For the first time in my life, I was writing everyday-and I was writing pieces I was proud of. I was surrounded by people who loved writing as much as I did and made friends who know more about me than most people, friends whom I trust and hope will edit my work for years to come.

---

Jordan, from Florida

There is something unexplainably incredible about sitting together with close friends and making art. Every writer should experience this camp.

---

Keiona, from Florida

The overall experience is eye-opening, and you gain a new sense of community. You go in knowing everyone is there for the same reason, and they all care and that alone is amazing. You learn more about your writing and yourself by the end.

---

Sahit, from Texas

The Sewanee Young Writers' Conference was a truly transformative experience. I learned how to better appreciate and observe my surroundings, and also learned how to better understand the world through writing. I am so grateful for the experience!

---

Julia, from Massachusetts

I found a home on the plateau,
Deep in the trees
With windy nights and rainy days
Laughter and love.

---