CASUAL PEDALS TO LAKE CHESTON - ROCKS AND ROOTS - ROLLING VALLEY RIDES - SINGLE-TRACK FLOW - MULTI-DAY ROAD TOURS
Whether you're a mountain biker, road cyclist, or occasional two-wheeled explorer, Sewanee has you covered. With 45+ miles of rideable trails and endless gorgeous valley riding , it's a bicycling playground.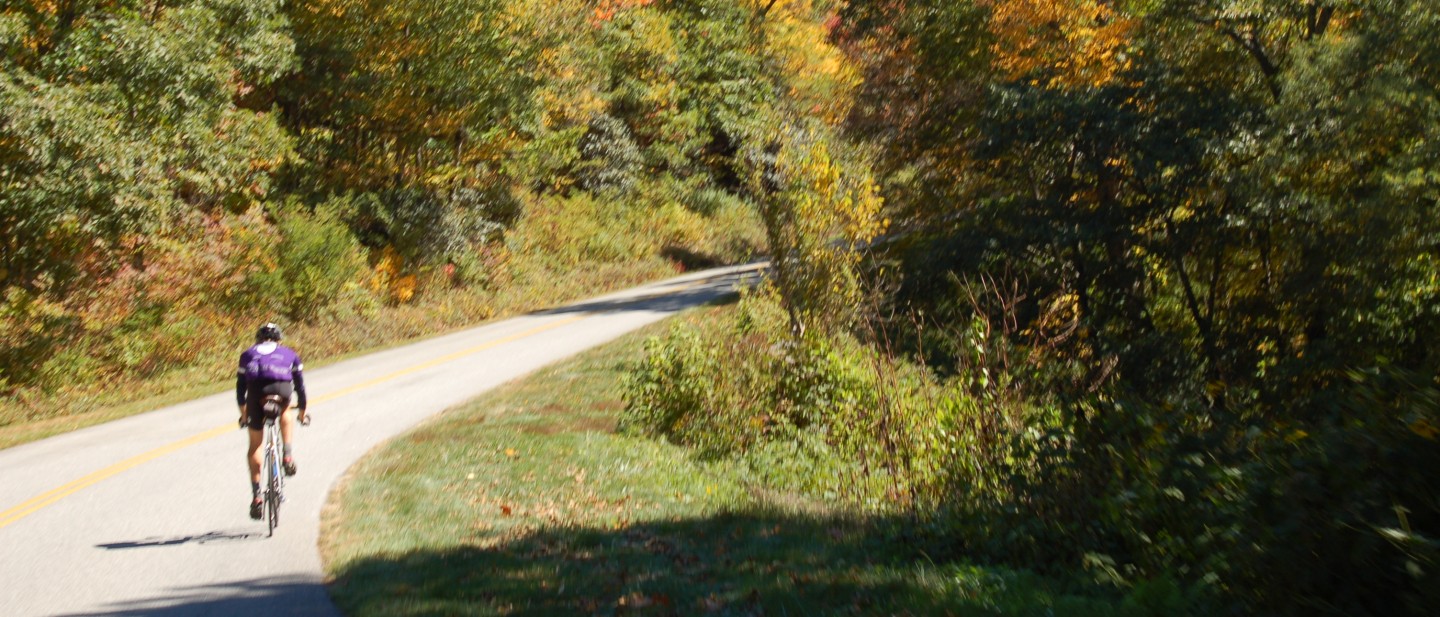 Road cycling
The SOP makes it easy for cyclists of all ability levels to get out and ride. Beginning road cyclists are encouraged, for instance, to join the outing program for introductory 25-mile loops down (and back up!) the Cumberland Plateau. Sewanee's proximity to extensive stunning farmland, though, makes it easy to plan out considerably lengthier rides along small rural highways and side roads. Newer riders also will have the chance to learn basic bicycle maintenance skills from SOP leaders, and riders can even access basic repairs at the on-campus, student-run bike shop.
Looking for a more casual ride? Students can always hop on the paved Mountain Goat Trail, which follows a retired railroad bed through lovely forest, for a peaceful six-mile pedal into Monteagle.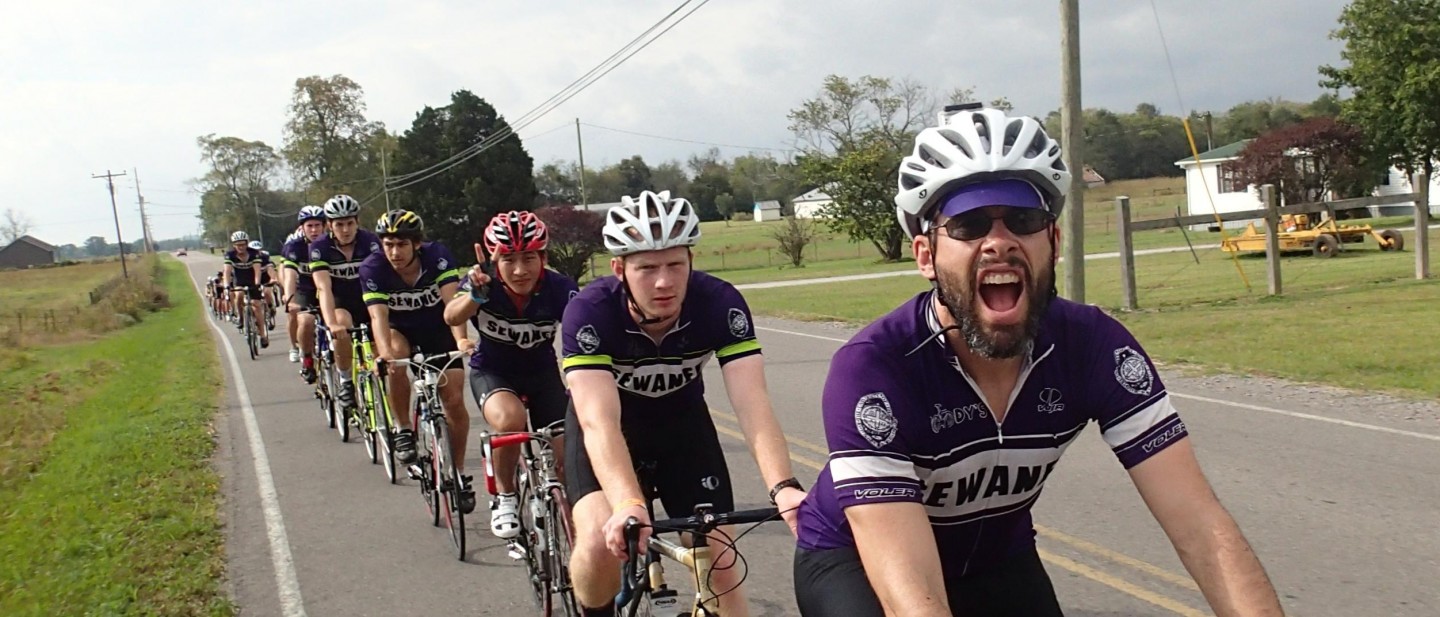 MS150 RIDE TO JACK AND BACK: a Two-day, 150-mile Road ride
Each fall, Sewanee cyclists ride some of Tennessee's finest country roads while raising money to help fight multiple sclerosis. For more than a decade, the "Sewanee Conglomerate" has had a motley crew of 20+ riders! Brand-new cyclists as well as seasoned veterans train for five weeks prior to the event. A number of beginning Sewanee cyclists find during each MS150 that with a bit of teamwork and some determined preparation, 150 miles is an entirely obtainable goal!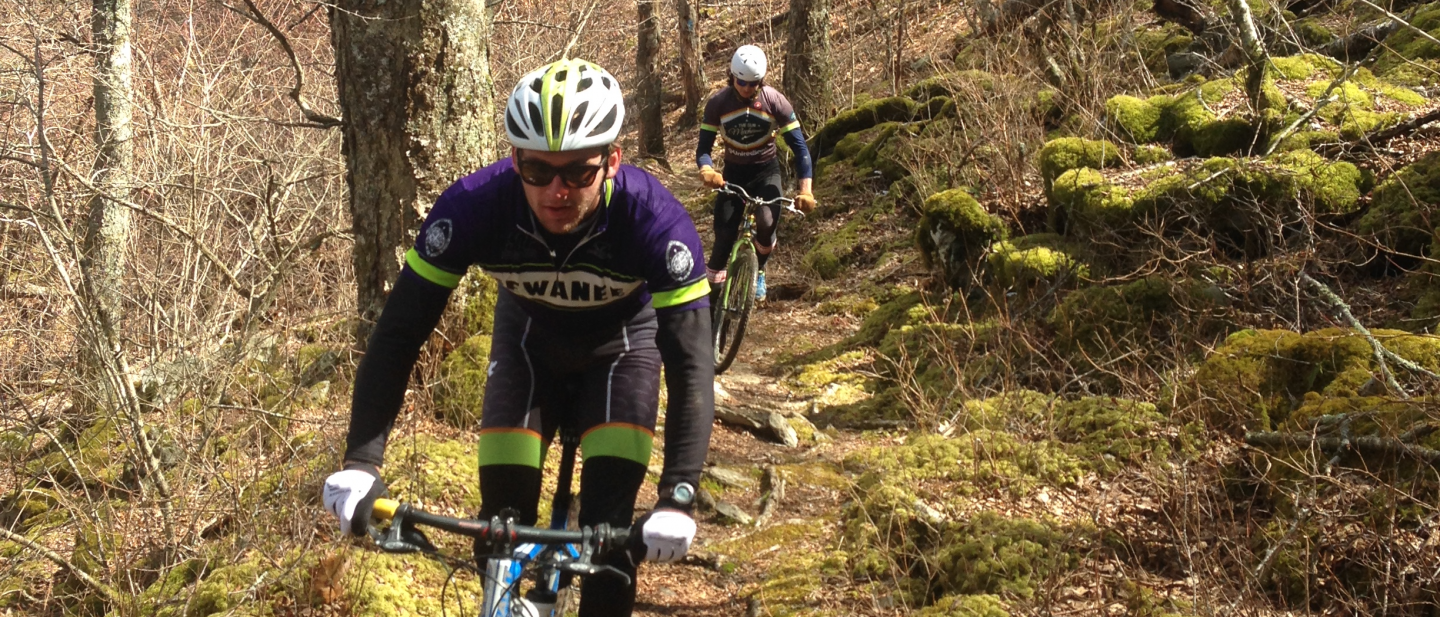 Mountain biking
Sewanee's many miles of on-campus trails make it easy to access excellent mountain biking within minutes of your dorm! A quick pedal down Brakefield Road through the heart of the Domain opens up endless options for comparatively flat rides through lovely hardwood and oak along maintained fire lanes. Alternatively, bikers can easily access an extensive single-track network characterized by consistent rolling climbs and a healthy serving of rocks and roots to keep things interesting. Ambitious riders will find additional excellent trail riding slightly further afield!
Riders can consult the Domain's mountain biking trail map for more detailed directions to on-campus options.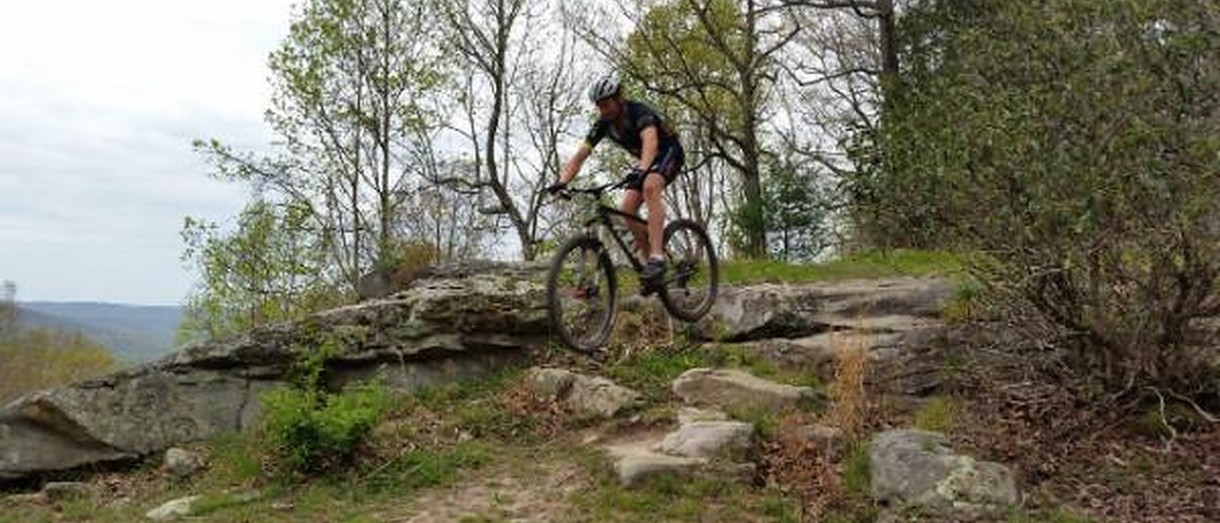 Extended off-campus biking trips
SOP cyclists are encouraged to strike out beyond the Domain on road- and mountain-biking adventures. Riders have organized fall and spring break outings to destinations within the Southeast and across the country. Historic SOP-sponsored cycling expeditions include, among others:
A two-week, 1,000-mile western journey along some of the most stunning roads in Wyoming, Colorado, and New Mexico.
A five-day, 450-mile road tour along the historic Natchez Trace from Nashville, TN, to Natchez, MS.
A multi-destination spring break trip to the awe-inspiring slickrock trails of Moab, UT, and Fruita, CO.