Built in the late 1950s by the Forestry Club, the Forestry Cabin is a 500 square foot structure situated on the bluff along the Perimeter Trail near Cherry Point Lake. It is available for use by students, faculty, staff, and alums throughout the year. It is equipped with picnic tables, grills, fireplace and fire ring, and a sleeping platform that can accommodate at least 10 people. The cabin is available for overnight use by reservation only.
PLEASE NOTE: YOU MUST HAVE AN ACTIVE UNIVERSITY ID OR RECREATIONAL ACCESS CARD TO RESERVE CABINS OR CAMPSITES.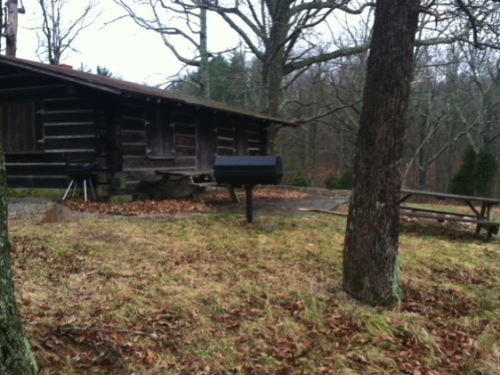 Please abide by the following when using the forestry cabin:
The cabin is for the benefit and use of students, alumni, and current and retired faculty and staff. Use by other groups is by permission only.
Leave the cabin and the grounds around it clean when you leave. Pack out all trash. Leave the campsite at noon on your last reserved day.
Fires are only permitted in the fireplace and within fire rings. Only dead and down wood may be used as firewood. All other firewood must be brought in. All fires must be completely extinguished before leaving the cabin.
The person reserving the cabin is responsible for the cabin and its care and should be on site when others are present.
Parking is only allowed in the parking area above the dam. No motor vehicles are allowed on the dam or around the cabin. All food and supplies must be carried to the cabin.
Maximum group size is 10 without prior permission.
Please report any maintenance issues with cabin, outhouse, or surrounding area to Domain Management.
Reservation confirmation will automatically grant 24 hour access to the Breakfield Road gate for the duration of the reservation. Once the reservation has expired gate access will revert to the standard 6 AM to 8 PM access window.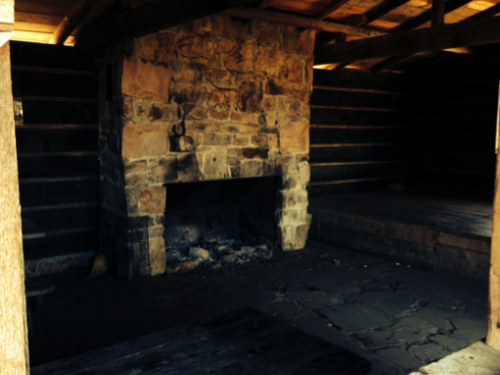 ---