The Cheston Cabin is located off the Lake Dimmick Trail in the eastern portion of the Domain. It offers a secluded getaway for students, employees, and alumni. Cheston Cabin is the perfect place to escape for the weekend or even a weeknight. The cabin does not always have firewood stocked so, if you have a hatchet or axe, come prepared. Reservations can be made at the bottom of this page.
The cabin is only accessible by foot or bicycle, and hiking is the best way to get there. You can start at main campus or get dropped off at the Lake Dimmick gate. From the Lake Dimmick gate, walk down the road approximately a half-mile, take the first right, walk the trail until it meets a road, and then keep left on the road. Then, wind up the hill until you see the cabin. From main campus, pick up the Perimeter Trail or the Mountain Goat Trail to the Lake Dimmick Trail. The Cheston Cabin is 2.4 miles from the intersection of the Mountain Goat Trail and the Lake Dimmick Trail. The exact location can be found on the Domain Trail Map.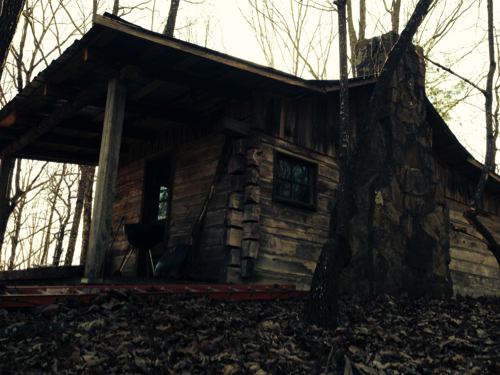 Lake Dimmick lies just below the cabin for swimming and fishing. So set up your hammocks and enjoy the best kept secret cabin on the Domain!
Please abide by the following when using the Cheston cabin:
The cabin is for the benefit and use of students, alumni, and current and retired faculty and staff. Use by other groups is by permission only.
Hiking or biking in to use the cabin is mandatory. No vehicles are allowed at the cabin.
Leave the cabin and the grounds around it clean when you leave. Pack out all trash. Leave the campsite at noon on your last reserved day.
Fires are only permitted in the fireplace and within fire rings. Only dead and down wood may be used as firewood. All other firewood must be brought in. All fires must be completely extinguished before leaving the cabin.
Maximum group size is 10 without prior permission.
Please report any maintenance issues with cabin, outhouse, or surrounding area to Domain Management.