The Sewanee Headwaters Initiative seeks to improve our ecological understanding of headwater systems and promote stewardship-driven management that benefits present and future communities.‌‌
Sewanee Headwaters Initiative
Why?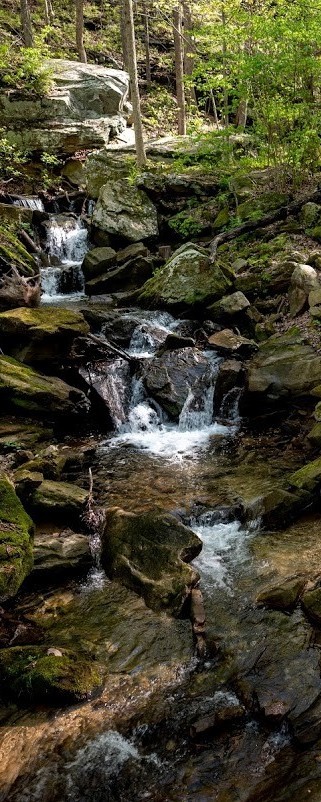 Sewanee's position atop four subwatersheds offers unique research opportunities for both research and stewardship. A thorough ecological understanding of these headwater systems is essential for informed management that benefits local communities and those downstream. The University's 13,000 acre land holding also provides avenues to contribute insight on more far-reaching issues, such as climate change and urbanization, on a more localized scale. The Sewanee Headwaters Initiative was developed to support projects that will assist local communities in better understanding our aquatic systems and to help secure a healthy future for all affected–because what happens here matters elsewhere.
Research Opportunities
All University of the South faculty conducting research consistent with the goals of the Sewanee Headwaters Initiative are eligible to apply for funding of up $7,000 per fiscal year by submitting a proposal and itemized budget via the grant application. These collaborative partnerships serve to strengthen the relationship between the Office of Environmental Stewardship and Sustainability (OESS) and faculty, as well as provide opportunities for students to engage in meaningful research on local systems. Investigations focused on general water quality, climatic effects, ecosystem services, and public education/outreach will be given priority—particularly those promoting community ownership of science by connecting scientifically-derived insights with readily identifiable community needs. However, all water-related projects with a focus in the watersheds surrounding Sewanee (see HUC 12 map below) are eligible for funding.
For questions or more information please contact OESS Research Manager Kevin Fouts
Focal Subwatersheds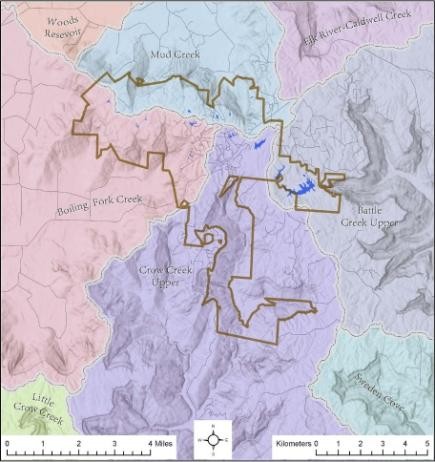 Domain boundary outlined in brown.