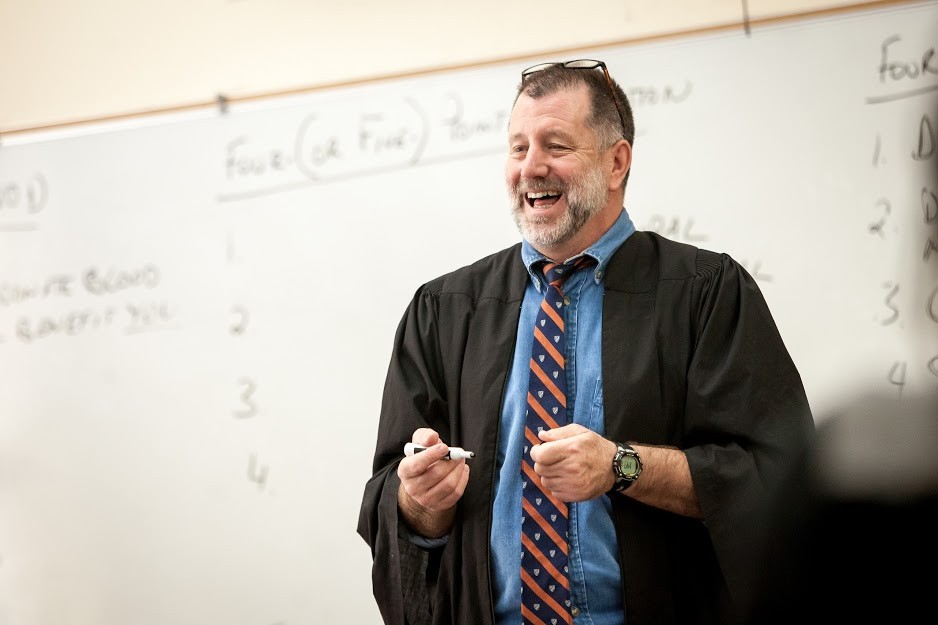 The Southern States Communication Association has awarded Dr. Sean Patrick O'Rourke, Professor of Rhetoric and American Studies and Director of the Center for Speaking & Listening, the 2020 J. Donald Ragsdale Award for Mentoring. The award honors SSCA members for demonstrating outstanding achievement in mentoring students and junior colleagues.
O'Rourke joined the Sewanee faculty in Advent 2016 after serving as a Brown Fellow and Distinguished Visiting Professor of Rhetoric during the Advent 2015 semester. Prior to his arrival on the mountain, O'Rourke taught at Furman University, Vanderbilt University, Oregon State University, and Whitman College. Students, alumni, and colleagues from across these institutions nominated O'Rourke for this honor.
At Sewanee, O'Rourke wears many mentoring hats in addition to teaching courses such as Public Speaking, Introduction to Rhetoric, U.S. Public Address II: 1865-present, Speakers' Rights and Responsibilities, and Rhetoric in the Age of Protest. In addition to directing the CS&L, he coordinates the Rhetoric program, founded the university-wide annual Festival of Speaking & Listening, advises the Sewanee Debate Union, serves as the Faculty Mentor for Posse 11, and supports student athletes as the NCAA Faculty Athletics Representative. Throughout his career, he has mentored some 114 undergraduate students in writing, revising, defending, presenting, and/or publishing undergraduate honors papers, theses, and public commentary. Among those from Sewanee are two SSCA "Clevenger Scholars"—Margaret Dupree (C'19) and William Merriman (C'19), winner of the highly competitive 2018 Franklin Shirley Award for Top Undergraduate Paper—along with Will Rankin (C'19), who published a recent article in the undergraduate journal Young Scholars in Writing.
One Sewanee alum put it well in his nomination: "It is not often that people have the privilege to attend a school like Sewanee, and thus it is not often that people get to experience the incredible care and attention that Dr. O'Rourke provides his students. The world needs more agents of change and mentorship like Dr. O'Rourke."
More information on Dr. O'Rourke's life and work can be found here.