Sewanee Debate Union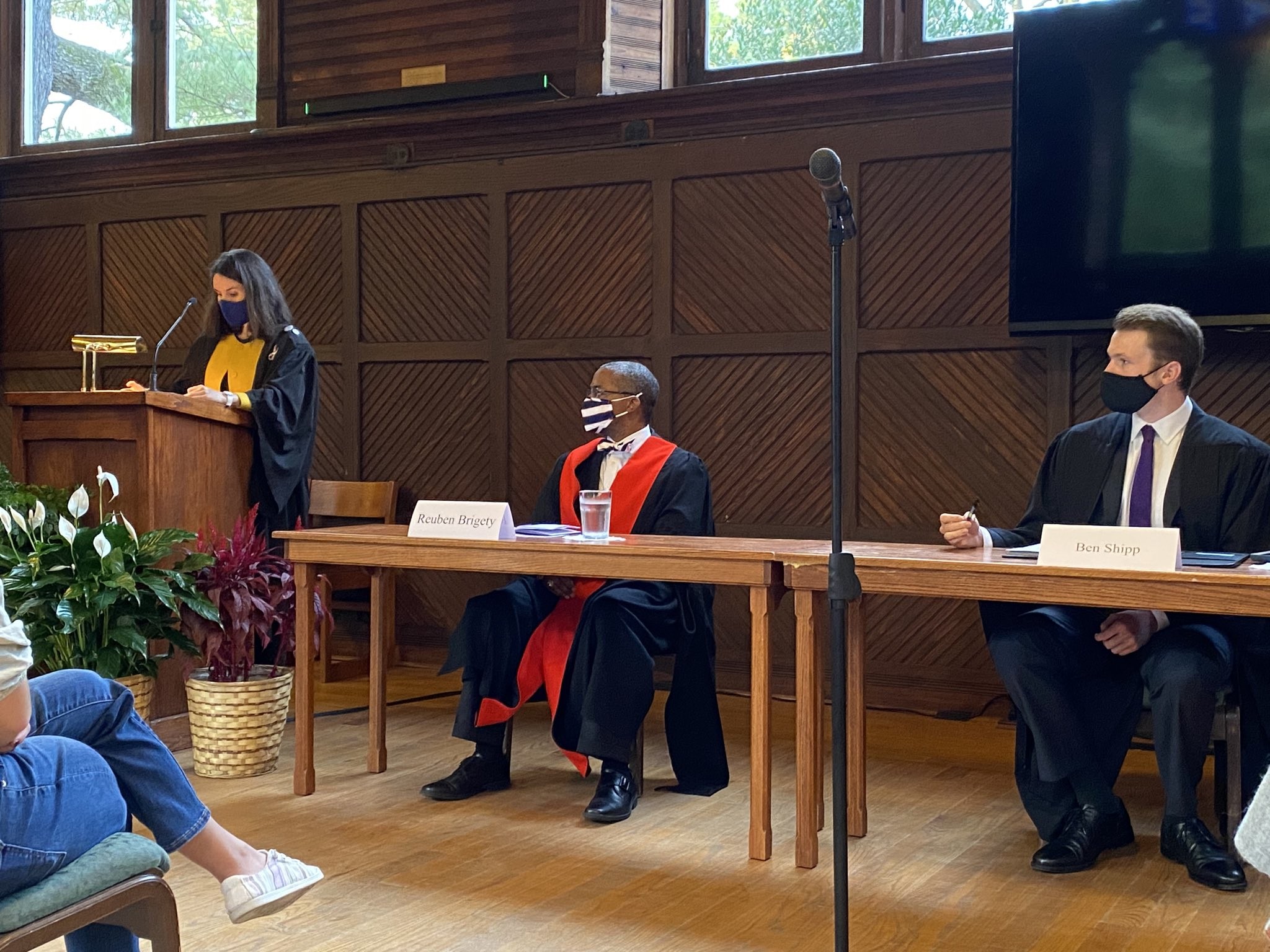 In Fall 2017, with the encouragement and under the direction of Dr. Sean O'Rourke, a small group of students formed the Sewanee Debate Union (SDU). Modeled on the Oxford and Cambridge Union Debates, SDU offers students and faculty a forum for investigating, researching, and debating public controversies on and beyond the Sewanee campus. Dr. O'Rourke advises SDU and faculty and students across the university have participated in campus-wide debates on a host of campus, local, national, and global issues.
In past years, SDU has held successful tournament-style policy debates, debates for Student Government Association (SGA) presidential candidates, debates for Order of the Gown candidates, and a U.S. Global Leadership Debate with the topic "This House Believes the United States Should Act as the Predominant World Leader." Vice-Chancellor Reuben Brigety, Alexa Fults (C'21), and Ben Shipp (C'22) affirmed the proposition and Dr. Scott Wilson, Jared Williams (C'21), and Kate Cheever (C'23) opposed the proposition.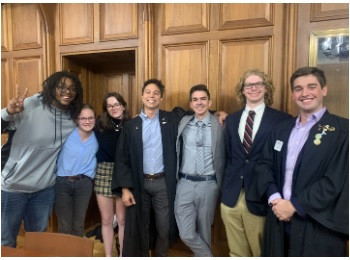 Most recently, SDU held a debate on mandatory voting in conjunction with Sewanee Votes! where attendees were able to change their physical positionality to match their agreement with the speakers at hand and then registered to vote. In the fall of 2023, the Union plans to host a forum with a panel of administrators, faculty, and students to discuss the use of AI at the University, a debate (held partially in Russian!) on Gorbachev's legacy, and a public safety forum.
Students interested in joining SDU should contact Dr. O'Rourke via email at sporourk@sewanee.edu or visit SewaneeEngage.
Debate Watches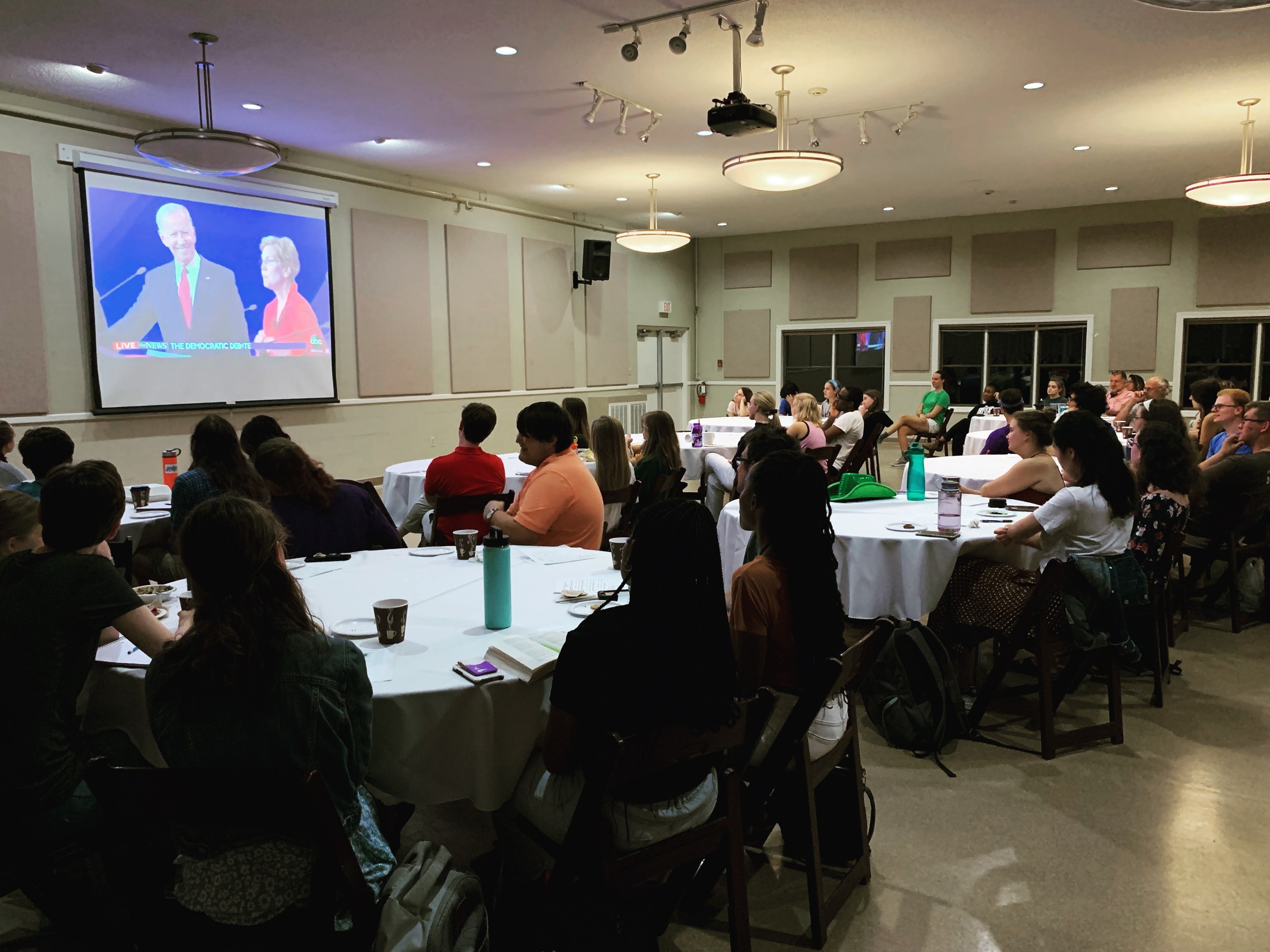 With the Office of Civic Engagement, the Dialogue Across Difference program, Sewanee Votes!, and various other campus groups and initiatives, the rhetoric program regularly hosts on-campus DebateWatch events during presidential election years and midterm election years. Our DebateWatch events offer an interactive way for attendees to hear what candidates have to say and form their own opinions‒no talking heads or commentators. After listening to debates together, attendees engage in robust discussion about what they heard. Rhetoric faculty and Speaking & Listening tutors moderate the conversation. All are welcome, regardless of political affiliation. Read more about past DebateWatch events during the 2020 presidential election here and here, and the 2016 presidential election here.
Summa debate
Sewanee's School of Theology annually hosts the SUMMA Theological Debate Summer Camp, which brings together high school debaters from around the country. Through researching and developing original arguments, SUMMA debaters engage life's biggest questions through theological debate concerned with values, ethics, and morals. The rhetoric program and the Center for Speaking & Listening collaborate with SUMMA, and our students and Center for Speaking & Listening tutors serve as camp counselors each summer.