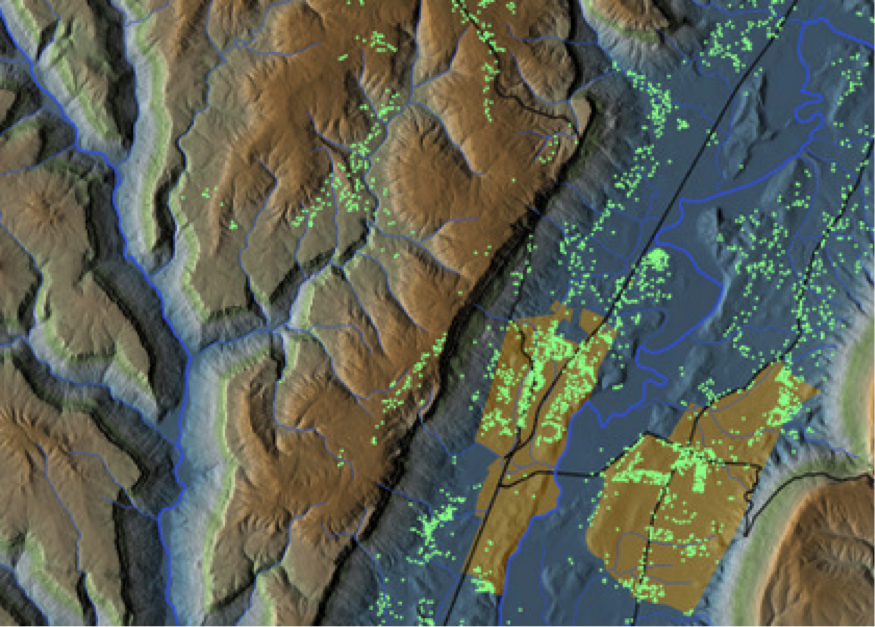 To support undergraduate research on the University of the South's 13,000 acres, the Landscape Analysis Lab develops geospatial data resources that are accessible to all faculty, staff, and undergraduate researchers. The Digital Domain is the LAL's effort to document and describe the natural, cultural, historical, and economic and other aspects of the Sewanee landscape, providing researchers and instructors with a unique tool for exploring the environment and our role in environmental change
Geospatial Data Resources
Faculty and students from across all disciplines use the LAL as a resource for learning geospatial science and developing geospatial datasets. Please contact the Lab Manager if you require access.
Explore the Domain - 360x180 Virtual Domain Map
The University of the South is located on the western edge of the Cumberland Plateau in southeastern Tennessee. Due to an exceptionally wide range of environmental conditions, the Cumberland Plateau is one of the most ecologically diverse areas in the world. The best way to experience the Plateau is to visit. However, you can get a glimpse by exploring the Domain360 map page where 360x180 panoramas virtually immerse you in the natural beauty of the University of the South's natural areas
Project Map Gallery
The LAL produces print maps for faculty, students, departments, and our partner organizations which require our assistance. Faculty and students also come to the LAL to learn to create maps for their own projects.