Maggie Blake Bailey, L'17, operates from the philanthropic theory that donors should find causes they believe in and organizations that are doing their work well and then help them "do what they do but with less stress." Read more about how this accomplished poet and budding novelist thinks about the Sewanee School of Letters, the life of a poet, and the aims of philanthropy.
A Gift from Maggie Blake Bailey, L'17 Bolsters School of Letters
Last December, School of Letters graduate and accomplished poet, Maggie Blake Bailey, L'17, called up April Alvarez, associate director of the program, to share some news. "We can't give what we have been giving," Bailey told an initially crestfallen Alvarez. "Because we're going to give more!"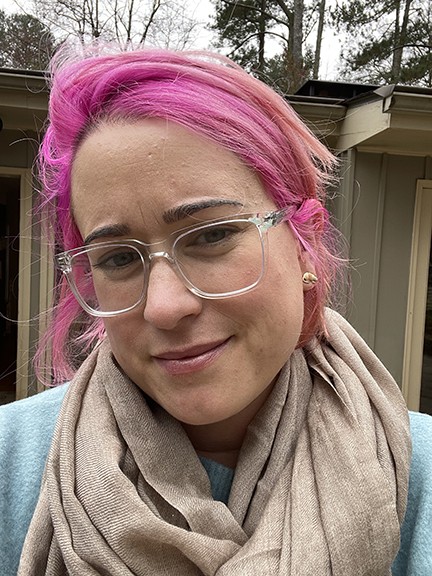 Earlier, Bailey had identified the School of Letters as a beneficiary of the Blake and Bailey Fund, a family foundation that makes grants as directed by Maggie and her husband Andrew Bailey along with her brother, Frank Blake, and his wife, Jennifer. Thanks to Maggie's advocacy, the fund had made several transformative gifts to the School of Letters, including establishing the John Grammer Fellowship, which brought in distinguished speakers during the summer session of the program.
The new gift, made at the end of 2020, fits into the giving philosophy of the Blake and Bailey families. "A lot of charitable giving is ego-driven," Maggie explains. "We want the emphasis in our giving to be on supporting organizations that are doing a great job. We don't want to be too prescriptive in our giving, and we are inclined to make fewer and bigger gifts that can make a difference. A big question for me is who do I trust that has their own vision and are moving toward realizing that vision. For me, that was Sewanee and the School of Letters. We just wanted to empower Sewanee to do what you do, but with less stress."
Part of what made the difference to Bailey was her own experience at Sewanee that helped her hone her craft while being part of a vibrant learning community. "The program allowed me to think of myself as a writer and prioritize that part of myself. You know, understanding that identity is understanding something that is amorphous. What does it mean to be a poet? The book I just published was my thesis for the program, so the program helped me not only to answer the question about being a poet, but also hone the craft of poetry. The program was essentially a five-year apprenticeship that I was able to complete in the company of others on similar explorations."
As far as community goes, Bailey calls herself one of the "downtown house girls." The sprawling house, which was recently demolished to make way for Sewanee's new bookstore, was the summer home for several School of Letters students. One of Bailey's classmates was Amanda Shires, the breakout member of the Grammy Award-winning supergroup, "The Highwomen." One day, Bailey opened a text from another classmate, Darby Lyons, L'15, who told her to check out the Amanda Shires interview in Rolling Stone. "She was asked to identify the bests of 2021, and there it was in Rolling Stone. Amanda Shires said the best book of 2021 was Visitation by Maggie Blake Bailey. That is the power of community that is built at Sewanee. The Sewanee community extends forever. It was as important to my growth and well-being as anything that happened in the classroom." [Click this link, if you want to read this powerful book.]
While the Blake and Bailey gift comes unrestricted, the School of Letters will initially work to solve a staffing issue by hiring a post-baccalaureate fellow, Carlos Zayas-Pons, C'20. Zayas-Pons recently finished an internship with the Paris Review. At the School of Letters, he will be maintaining and running the website and social media, while providing day-to-day assistance to April Alvarez.
Bailey is pleased with that initial outcome. "April is just the best thing, and the School always wants to do better. It's always growing and always stretching. Literature is so important, and April is on the front lines. It is great that she is able to use our gift to support those efforts."
Part of Bailey's love of Sewanee has to do with connecting the School of Letters to a broader need. "As a country, we have shorted the arts, but we really rely on the arts at the same time. I need Sewanee to thrive, and I just want to enable Sewanee to do what it needs to do. If that means making a hire they need to make or providing a bigger scholarship in order to advance the program, then that's what I want to happen."
Gifts to the School of Letters can ensure that this graduate program will continue to develop great writers like Maggie Blake Bailey. To make such a gift click here. It will be greatly appreciated and help nurture a superb learning community.
Story by Tom Sanders with reports from Victor Esparza, C'24.