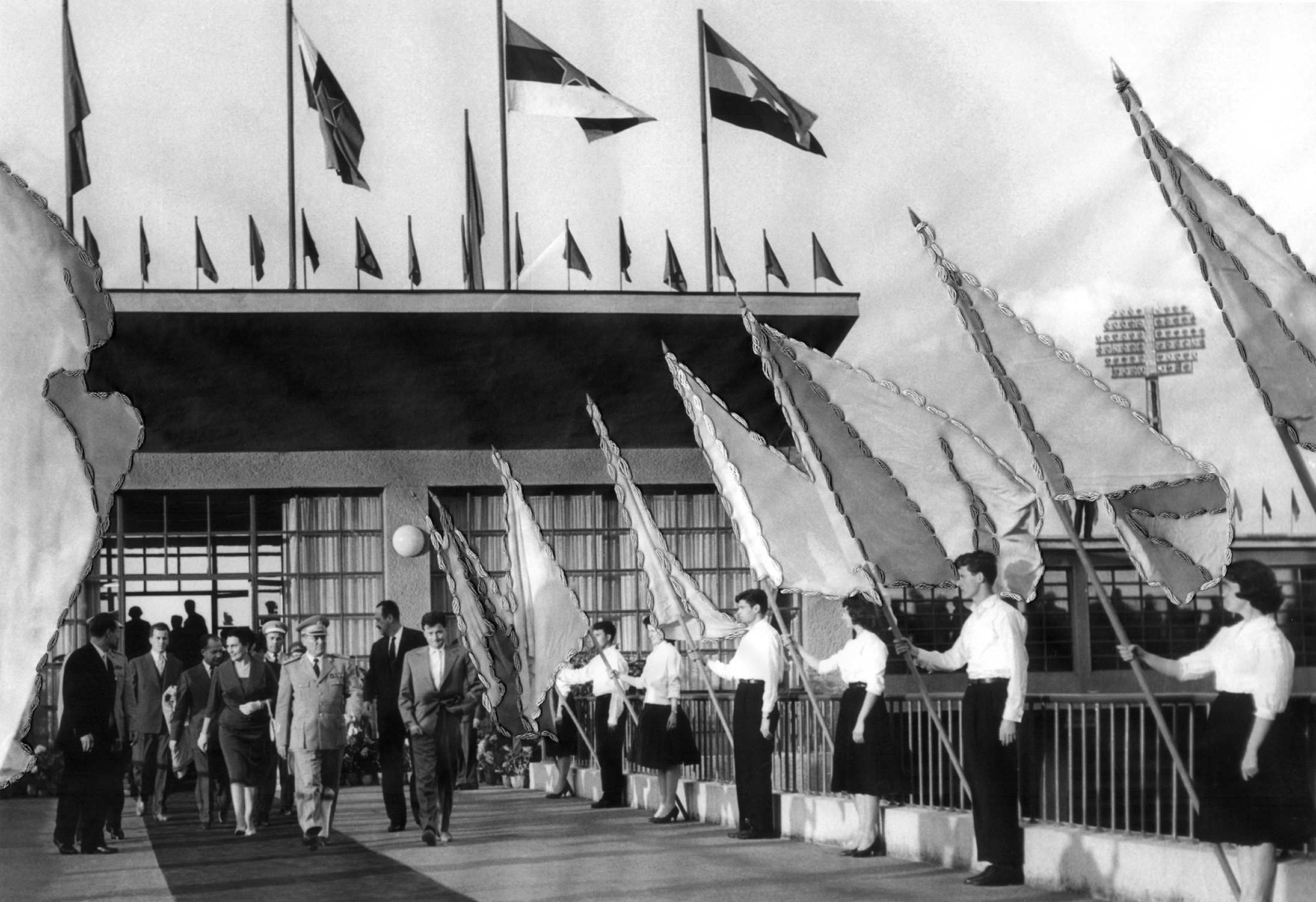 The University Art Gallery proudly presents Vesna Pavlović's Fabrics of Socialism, on view from August 29 – October 14, 2018. Pavlović mines the archive of the former Yugoslavia to explore propaganda and collective memory, the medium of photography and the life and obsolescence of media. Offering "a psychological portrait of an era burdened with photographic representation of socialist propaganda," Pavlović invites visitors to consider the role of photography in the fabrication and remembrance of communal identity.
As a nine year-old growing up in the former Yugoslavia, Pavlović participated alongside thousands of others in the spectacular and carefully recorded Youth Day celebration held in 1979 in honor of President Josip Broz Tito's 87th birthday. Her participation is captured in a film of the event housed in Tito's official archive, held in the Museum of Yugoslavia. Individual recollection and official state record meet in the photographic image and in the archive, for Pavlović invoking "the friction between personal and political narratives."
In Fabrics of Socialism, photographs and footage of state events and celebrations - propagandistic images of political unity from the former Yugoslavia, a country which disintegrated into brutal sectarian violence in the early 1990s - are exposed as manufactured. Viewers are asked to consider the photographic image as a physical object, in the words of art historian Morna O'Neill "to think about not only what they see, but how they see…." Photographs, and the archives in which they are housed, are fragile. They have lives, as do the memories and official records and ideologies invested in them. For Pavlović, "political obsolescence becomes legible as such through technological obsolescence." Visions of state propaganda, in all their monumentality and performance of unity, are revealed to be fragile, distorted and obscured by time.
Please join us at 5 p.m. on September 14 in Convocation Hall for Pavlović's presentation of Fabrics of Socialism and a reception. The event is free and open to the public.
On October 14, Pavlović, Dr. Woody Register and students from History 328: Slavery, Race and the University will host a Community Screening Event in Convocation Hall. This Community Screening will be dedicated to the presentation and interpretation of materials from the Lovell Family Papers housed in University Archives and Special Collections. The event will begin at 4 p.m. and is free and open to the public.
Born in Kladovo, Serbia, Pavlović now makes her home in Nashville, TN. She is Associate Professor of Art at Vanderbilt University where she teaches photography and digital media. She earned her BFA in Cinematography from the University of Belgrade in 2002, and her MFA in Visual Arts from Columbia University, New York, NY in 2007. She has exhibited widely, including recent solo exhibitions at the Hanes Art Gallery, Wake Forest University, Winston-Salem, NC (2016), at The Contemporary, Atlanta, GA (2017), atZeitgeist Gallery, Nashville, TN (2015), and in Intersections, The Phillips Collection, Washington, DC (2014). She has shown extensively in international group exhibitions, most recently including Travellers, KUMU, Museum of Contemporary Art, Tallinn, Estonia (2017), Titos Bunker, Württembergischer Kunstverein Stuttgart, Germany (2017), Inside Out - Not So White Cube, City Art Gallery, Ljubljana, Slovenia (2015), and Found, The New Art Gallery Walsall, West Midlands, United Kingdom (2015). Recent honors and awards include a Fulbright Scholar Award (2018), a Howard Foundation Fellowship, Brown University, Providence, RI (2017) and a Contemporary Art Foundation Emergency Grant, New York, NY (2014).
This exhibition has been made possible with the support of Art, Art History and Visual Studies, Politics, the Project on Slavery, Race and Reconciliation, the Friends of the University Art Gallery, the University Lectures Committee, Vanderbilt University Chancellor Faculty Fellow Program, and the Museum of Yugoslavia. Thank you!
Wednesday, August 29, 2018, 10:00 AM–Sunday, October 14, 2018, 6:00 PM
University Art Gallery