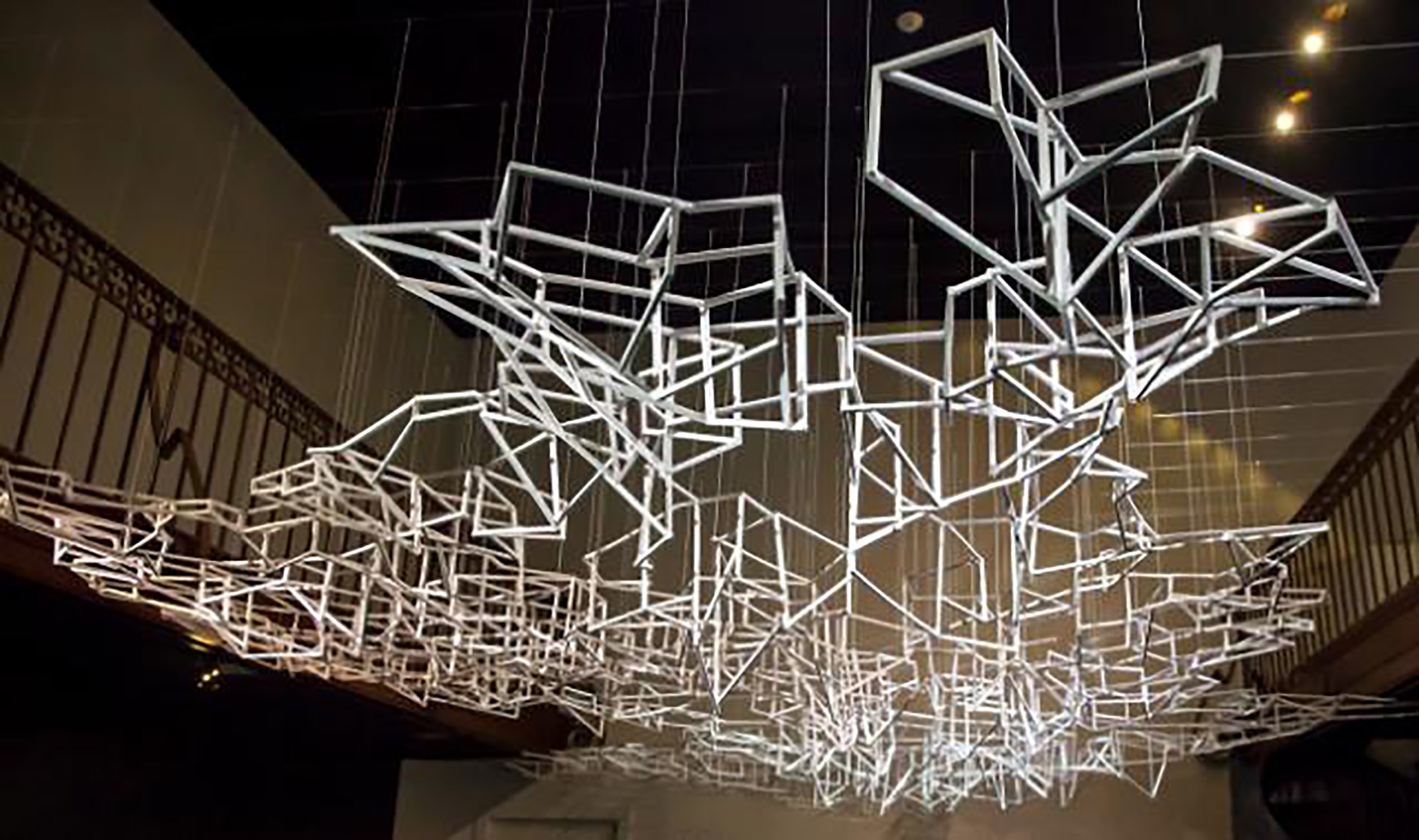 Invoking the units used to organize EPA cleanup sites, Operable Units explores the connections between industry, communities and the environment along the Kalamazoo River in Michigan. The installation juxtaposes two fragile constructs: the suspended structure Exposure Pathways, fabricated from an abandoned ream of paper found in the former Plainwell Paper Mill, and Superfund Areas 1-5, built of brittle clay saturated by stains and oxides. Exposure Pathways references the layout of the Kalamazoo Watershed, while Superfund Areas 1-5 models the stretch of the Kalamazoo river currently under remediation by the EPA. Creating referential and imagined landscapes, Lindley performs the roles of researcher, geographer, architect, project supervisor and laborer. While Lindley's project was created in response to the challenges faced by a specific place, the Kalamazoo Watershed, it explores compelling questions important to all places about industry and the environment.
Please join us! The artist will speak about her work on Friday, September 23, at 4:30 p.m. in Convocation Hall. Reception to follow. Free and open to the public.
Sarah Lindley is sculptor and installation artist whose work addresses the power dynamics between American Industry and surrounding communities. Her work has been recognized by numerous grants and exhibitions, including biennales in France, Korea and Taiwan. She holds degrees from the New York State College of Ceramics at Alfred University, BFA, and the University of Washington, MFA. She has thrice been an Arts-Industry Resident in Kohler, Wisconsin and was one of two inaugural Faculty Fellows in the Arcus Center for Social Justice Leadership. She is currently a Professor of Art at Kalamazoo College, where she has taught sculpture and ceramics since 2001. She resides in Plainwell, MI, less than one mile from the former Plainwell Paper Mill and Kalamazoo River Superfund Site.
Tuesday, August 30, 2016, 10 a.m.–Friday, October 14, 2016, 5 p.m.
University Art Gallery