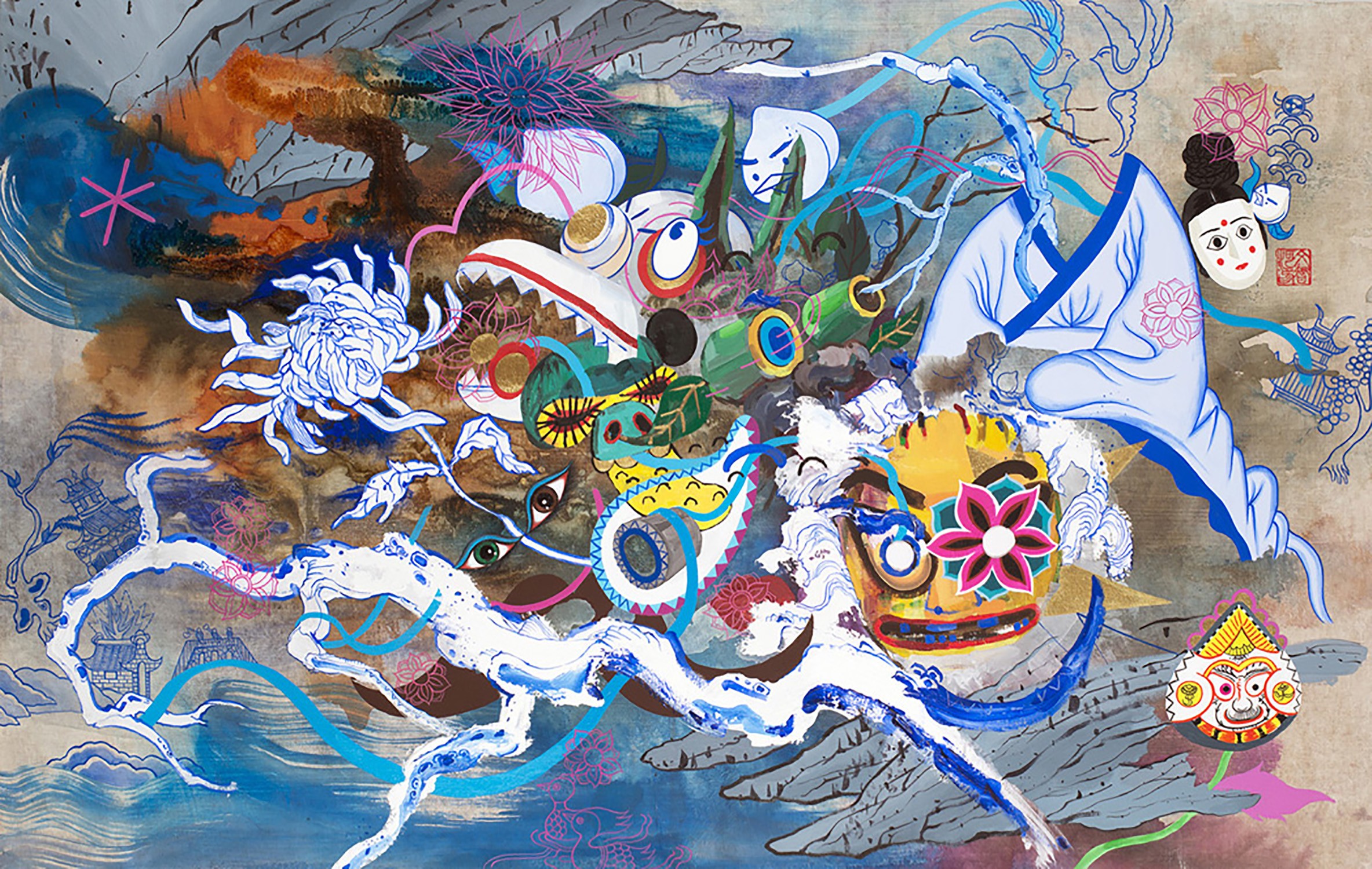 The University Art Gallery presents Familiar Faces, an exhibition by Atlanta-based artist Jiha Moon. Freely combining imagery, techniques and materials from disparate places and cultural registers, Moon questions the value of origins. As she writes, "The world is so interconnected nowadays, how can one even tell where someone or something "comes from" anymore?" She draws pictorial references from sources as seemingly distinct as Korean temple paintings and Walt Disney cartoons, synthesizing them into a visual language that is both strange and familiar. Her materials are equally synthetic and hard to pin down, acrylic paint applied to traditional Korean mulberry paper Hanji, or ceramic masks that reference multiple world traditions. Self-described as a "cartographer of cultures and an icon maker of fictive worlds," Moon "purposefully create(s) images whose origins are hard to identify." Identity is treated as slippery and shifting, impossible to pin to geographic location, citizenship, ethnicity, or race.
Please join us! On Jan. 25 at 5 p.m. in Convocation Hall, Jiha Moon will speak about her work. Dr. Alison Miller of the department of art, art history and visual studies will lead the conversation to follow. The event is free and open to the public.
Jiha Moon (b. 1973) was born in DaeGu, Korea and lives and works in Atlanta, GA. She received an M.A. and M.F.A. from the University of Iowa, Iowa City in 2001 and 2002, and an M.F.A. from Ewha University, Seoul, Korea in 1999. Her awards include The MOCA GA Working Artist Project, The Museum of Contemporary Art of Georgia, Atlanta, GA (2012-2013) and the Joan Mitchell Foundation's painter and sculptor's award (2011). Moon exhibits widely across the United States. Selected group exhibitions include Chaos and Awe: Painting for the 21st Century, Frist Art Museum, Nashville, TN (2018), Organic Matters, National Museum of Women in the Arts, Washington, DC (2015), The Hunter Invitational III, the Hunter Art Museum, Chattanooga, TN (2014) and Past Traditions/New Voices in Asian Art, Hoftra University Museum, Hempstead, NY (2014). Moon's mid-career survey exhibition, Double Welcome: Most Everyone's Mad Here, organized by Halsey Institute of Contemporary Art and the Taubman Museum, toured multiple museum venues around the United States from 2015 to 2018.
Tuesday, January 15, 2019, 10:00 AM–Monday, March 11, 2019, 5:00 PM
University Art Gallery