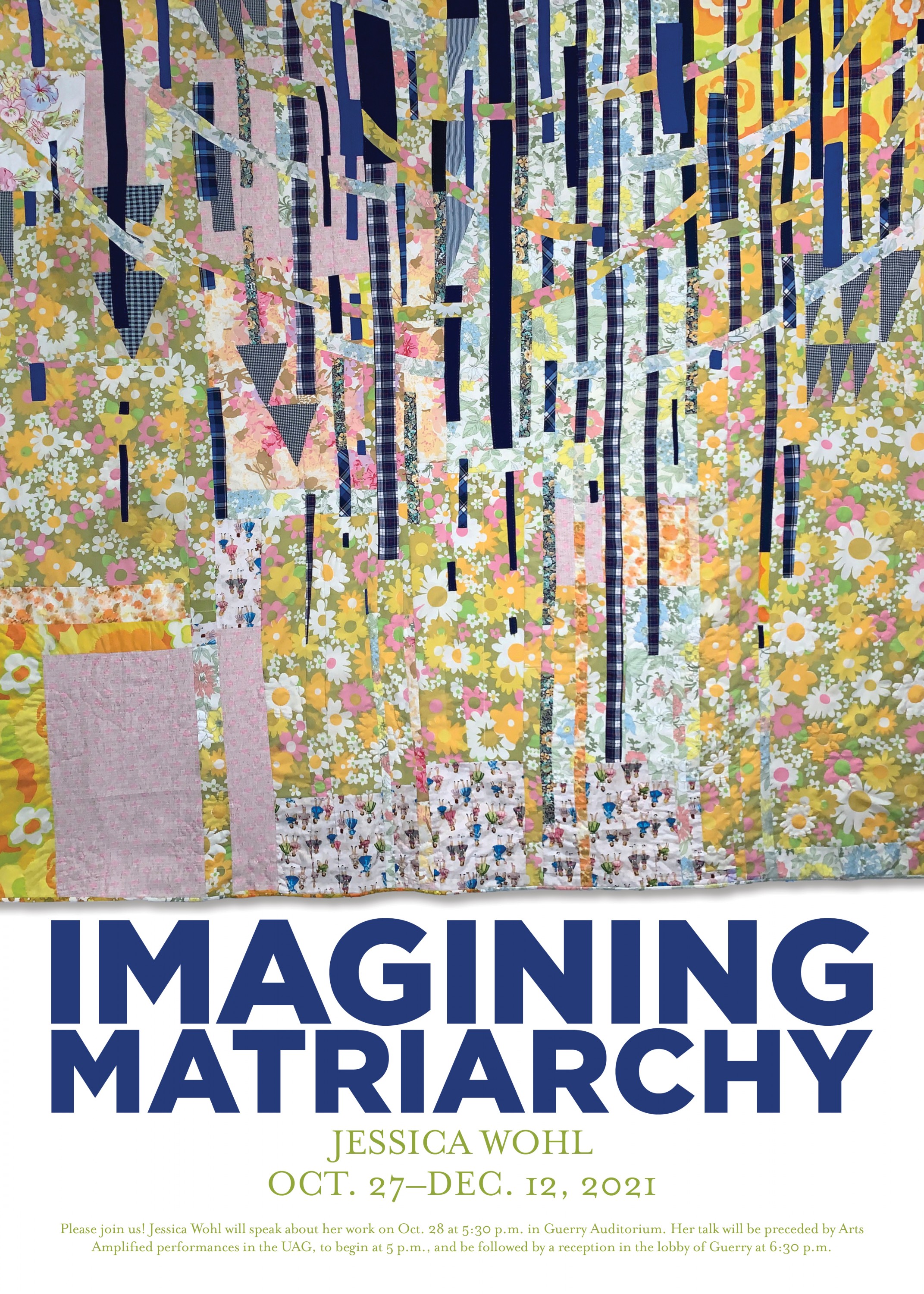 The University Art Gallery of the University of the South is delighted to present Imagining Matriarchy, an exhibition of vibrant, dazzling quilts by artist and associate professor of art Jessica Wohl.
In Imagining Matriarchy, Wohl works with brilliantly colored found fabrics to build complex, celebratory compositions. Her quilts evoke suns, seeds, dense forests and flags. Found fabrics with past lives are carefully and painstakingly hand quilted, hundreds of hours of labor made visible in pieces of cloth and thread. Contrasting colors and tones – pinks, reds and blues, yellows and black – are combined in compositions that reimagine established associations. With these quilts, associated with comfort and women's labor, Wohl "envision(s) what a matriarchal society might feel like."
---
Experience the exhibition from afar!
The UAG is pleased to offer a video tour of Imagining Matriarchy for those unable to visit in person. Enjoy!
Imagining Matriarchy Video Tour
Video tour of Jessica Wohl's Imagining Matriarchy in our University Art Gallery.
Jessica Wohl presented her work October 28. Please follow the link below to enjoy a recording of her presentation.
Artist talk with Jessica Wohl
View Jessica Wohl's artist talk on Imagining Matriarchy.
Share your clothing and your stories!
The Free Patch Work Project is an essential piece of Imagining Matriarchy. You are invited to bring garments that need mending to the University Art Gallery. Select a fabric swatch from the wall, a type of patch (exterior, interior with raw or tucked edge), thread color, type of stitching, and leave your garment with us. Your garment will be mended for you, and carry evidence of care out into the world.
Artist Jessica Wohl will be in the UAG at the mending station from noon to 1 p.m. on select Thursdays (Nov. 18, Dec. 2, Dec. 9) and from 3 to 4 p.m. on Wednesdays (Nov. 3, Nov. 10, Nov. 17, Dec. 1, and Dec. 8). Drop by and learn how it's done, and share your stories about your clothes as they're mended.
---
Jessica Wohl is associate professor of art at the University of the South. She received a B.F.A. from the Kansas City Art Institute, and an M.F.A. from the University of Georgia. Wohl's work has been exhibited nationally and internationally, including at the Museum of Design Atlanta, the Knoxville Museum of Art, the Belfast Photo Festival, the Robert Mann Gallery in New York and the Zeitgeist Gallery in Nashville. Her work has also been exhibited at venues in Miami, Atlanta, New Orleans, England, Finland, Norway, Italy, Hong Kong and Korea. Her work is collected by the Nerman Museum of Contemporary Art, the Sprint-Nextel Corporation, the H&R Block World Headquarters, numerous private collectors and is included in the Drawing Center's Viewing Program.