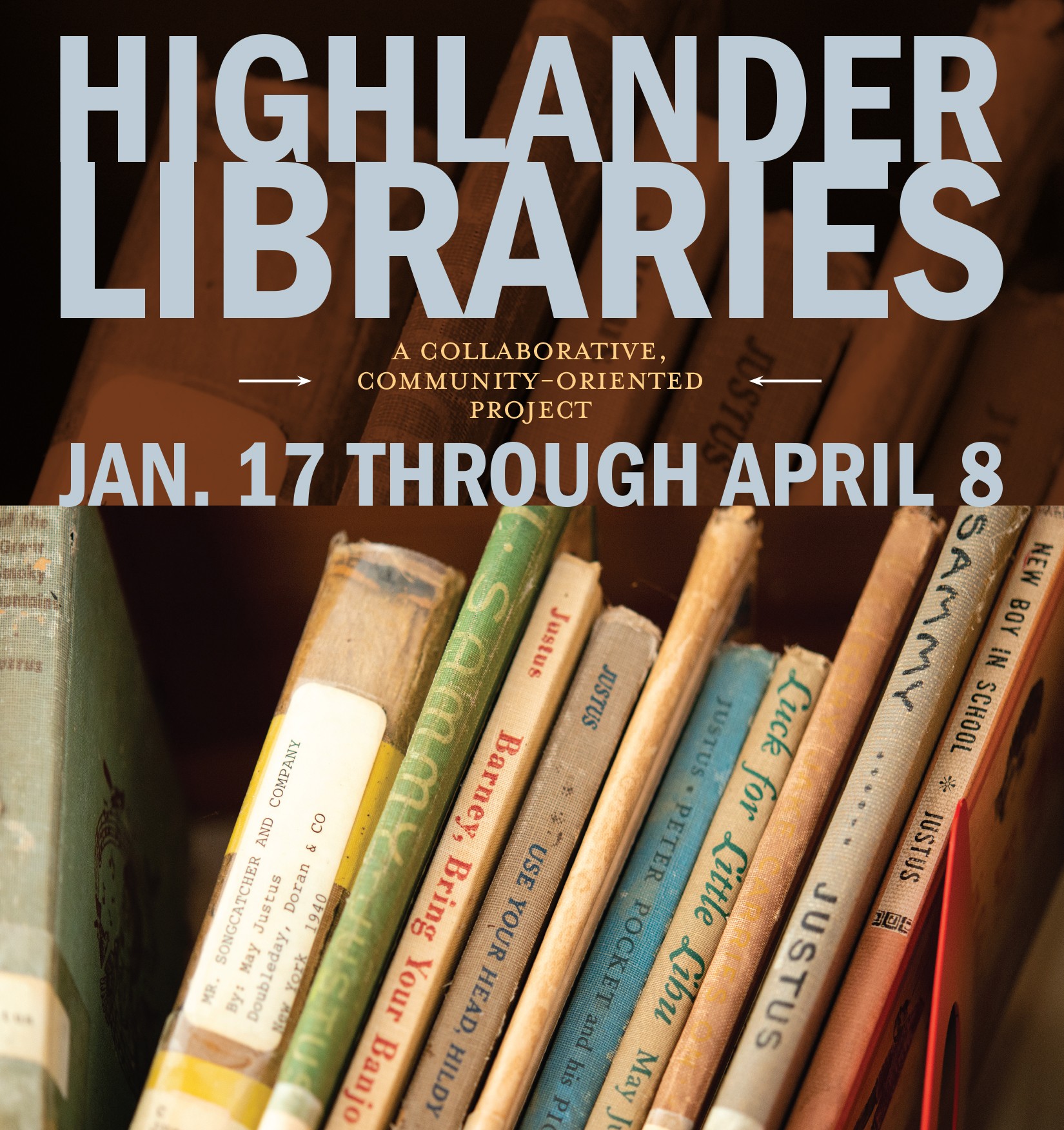 The University Art Gallery (UAG) is proud to have presented Highlander Libraries.
Now that we are home and pursuing connections and solutions in new ways. In the spirit of the Highlander Libraries exhibition and the phrase "You Can't Padlock an Idea," here is a link to a catalogue of books shared on the shelves of the UAG.
May the catalog inspire your reading.
To inspire your screen time, here is a list of films screened (or planned for screening) during Highlander Libraries:
Can I Get a Witness? (2014)
Gessell Fellowship presentation by Katie Bradshaw & Sara Milford. Available on Vimeo.


Harlan County, U.S.A. (1976)
Academy Award-winning documentary by Barbara Kopple about a bitterly fought coal miner's strike.


Highlander and the Local Community (2019)
Documentary film of conversations about Highlander Folk School and its neighbors in Grundy County, created by Paul Mueller, C'19.


Mine 21 (2019)
Documentary about the deadly 1981 coal mine explosion in Whitwell, TN, featuring Kelsey Arbuckle, C'19, and Alexa Fults, C'21, directed by Stephen Garrett, C'01, and produced by Chris McDonough.


My America Too (2015)
Series of guerilla plays commissioned by Baltimore Center Stage to explore the issue of violence against black men in America. Includes the work of Tennessee Williams Playwright in residence, Elyzabeth Gregory Wilder. Available on YouTube.


People of the Cumberland (1937)
Short documentary celebrating the work of Highlander Folk School. Available via the National Film Preservation Foundation.


Suppressed: The Fight to Vote (2019)
Documentary examining voter suppression by Brian Kemp in Georgia in 2018. Available on YouTube.


Testify: Beyond Place (2013)
Marie Cochran, founder of the Affrilachian Artist Project, honors the resilience of the congregation of the Mount Zion African Methodist Episcopal Zion Church.


You Got to Move (1984)
Lucy Massie Phenix's documentary about the Highlander Folk School.