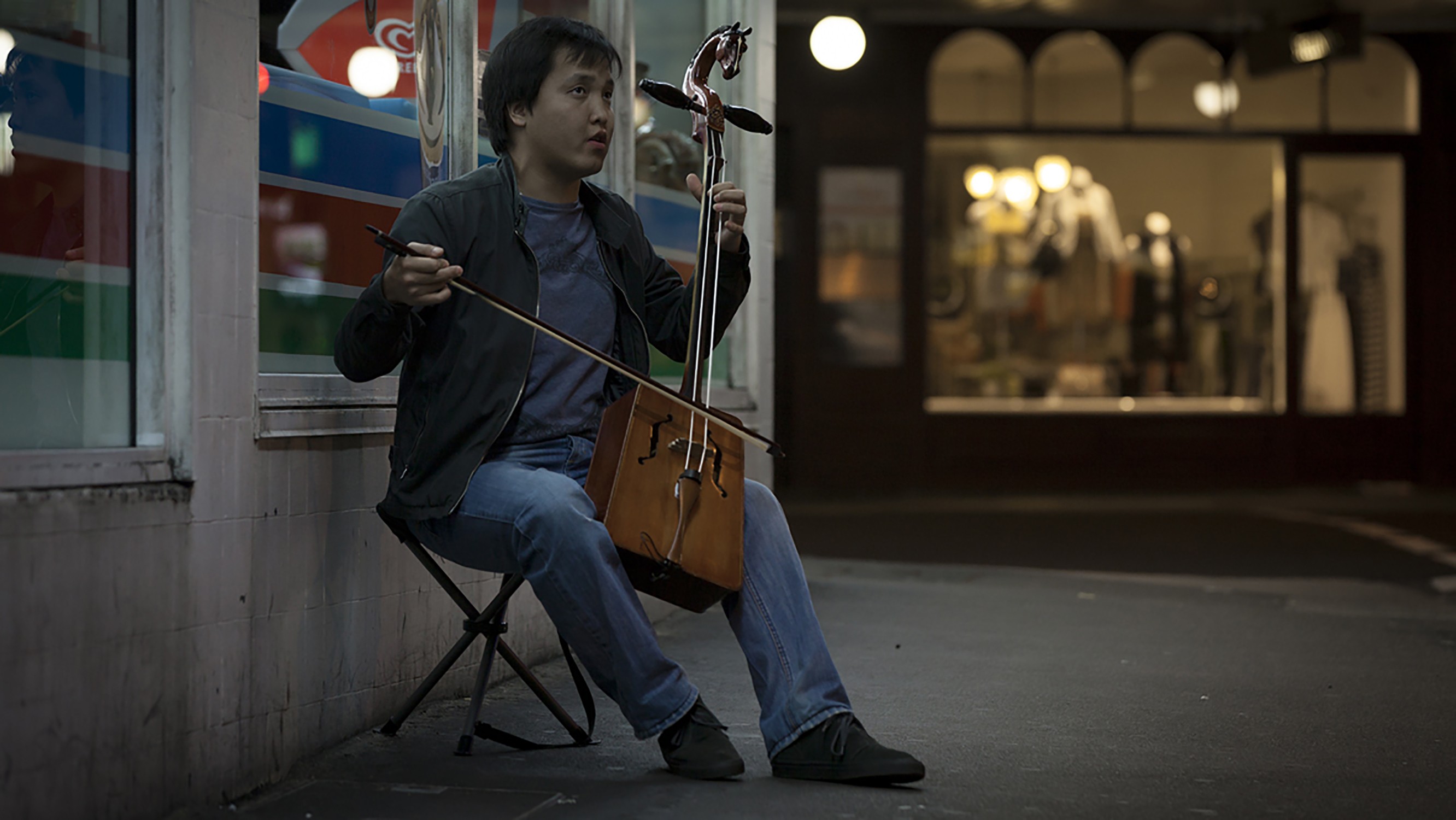 In Citizens Band, Mesiti shares with viewers intimate and dignified musical performances by four separate people. Each, lost in memory, performs music from his or her birthplace in the urban environment of an adopted home. Loïs Geraldine Zongo, born in Cameroon, drums on the water of a public swimming pool in Paris, practicing the akutuk, or water drumming, taught to her by her grandmother. Mohammed Lamourie, an Algerian refugee, sings and plays a song by the assassinated Raï musician Cheb Hasni on the Métro. Bukchuluun Ganburged (Bukhu), a Mongolian throat singer, plays the morin khuur (horse-hair fiddle) on a street corner in a suburb of Sydney, and Sudanese-born Asim Goreshi whistles in the front seat of his Brisbane cab. Their accomplished performances carve out transcendent moments. Musical traditions and their performers find and make new homes while recalling the old. Deeply personal, quiet moments are made universal.
Please join us at 5 p.m. on Jan. 26 in Convocation Hall for a conversation about Citizens Band with faculty members Mila Dragojević (Politics), César Leal (Music), and Shana Minkin (International and Global Studies). Reception to follow. The event is free and open to the public.
Angelica Mesiti explores non-verbal communication and the transformations of cultural expression in video, performance and installation. Bree Richards, Curator of Contemporary Art Practice at the National Gallery of Australia, describes Mesiti's videos as "refined," and writes that she "bears witness to enchanted moments of inner life with her camera." Citizens Band was commissioned for NEW12 at the Australian Centre for Contemporary Art, Melbourne. In North America it has previously been exhibited at the Musée d'Art Contemporain de Montréal, Canada and at the Williams College Museum of Art, Massachusetts USA. It is one of five pieces in the National Gallery of Australia's current exhibition of Mesiti's works. Mesiti received her M.F.A. from the College of Fine Arts, University of New South Wales, Sydney, Australia. She divides her time between Sydney, Australia and Paris, France, and is represented by Anna Schwartz Gallery, Melbourne and Galerie Allen, Paris.
This exhibition has been made possible with the support of the Friends of the University Art Gallery and Art, Art History and Visual Studies. Thank you.
Tuesday, January 16, 2018, 10:00 AM–Friday, April 13, 2018, 5:00 PM
University Art Gallery