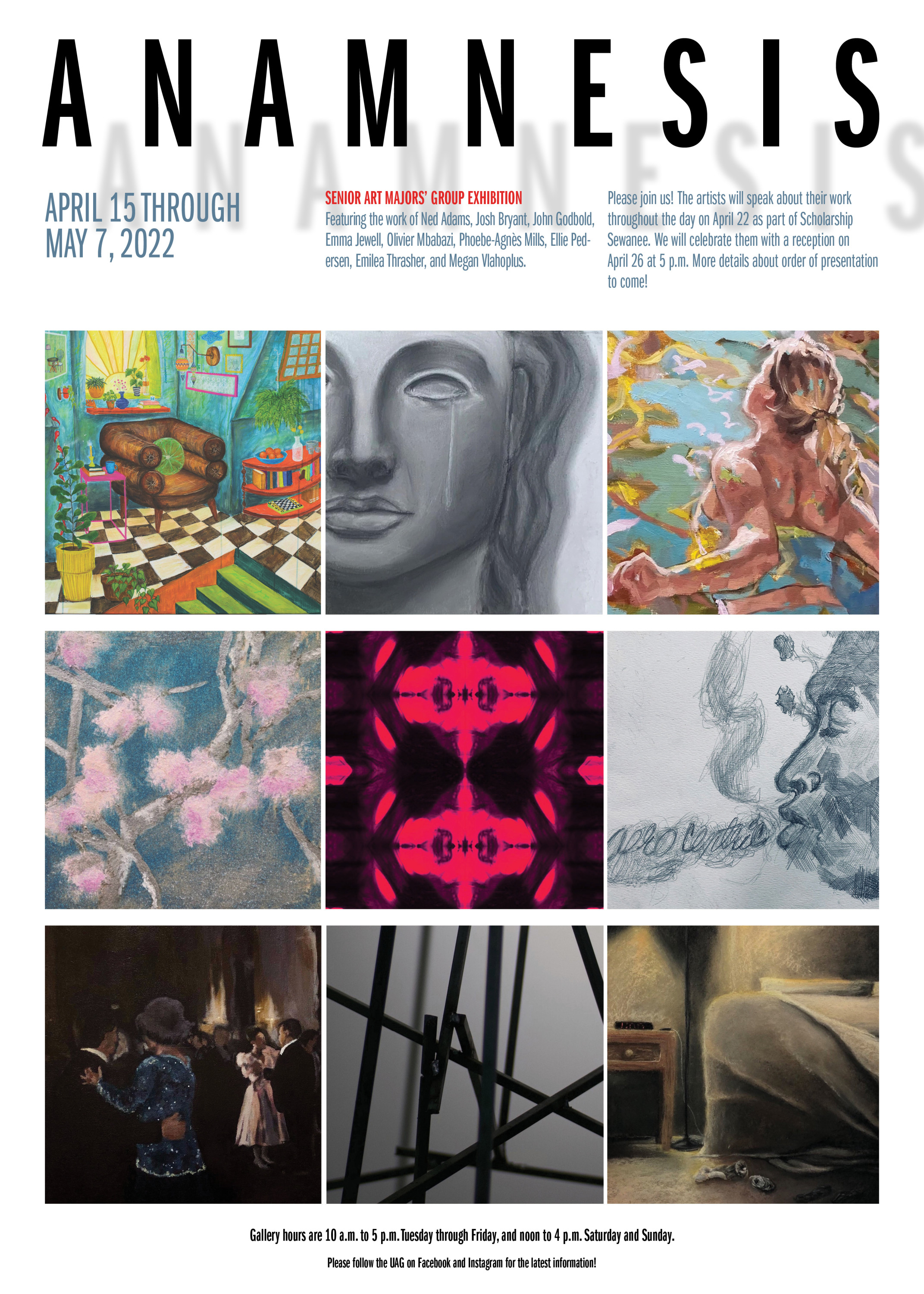 ---
Anamnesis is the introspective process of remembering a past existence. This process uncovers innate truths through the exploration of the mind. In this exhibition, the artists use art as a tool for reflection, and as a way to better understand their experiences and evolving identities. Their works are a product of the juncture between their individual memories and universal notions such as loss, trauma, gender, displacement, environments, narrative and fantasy.
---
Ned Adams' work explores a contrast between images grounded in reality, and images detached from reality. His videos emply a stark contrast between dark and bright colors to shift the viewer from a realistic mindset to a detached state of mind. Many of his videos make use of archival footage to comment on our own time.
Josh Bryant explores the past through portrait drawings rendered in pen and ink with a distinctive crosshatching technique, and by means of cultural references from past decades.
John Godbold's pastel illustrations offer stories of queer culture and gender expression in the male body. Anonymous, intimate, and private moments are crafted from symbols such as socks, open windows, disheveled bed sheets, and figurative gestures. The ephemerality of the loose powder associated with pastels in his work suggests the tenderness of these intimate moments.
Playing with mixed media such as acrylic, spray paint, markers, pens, and collage, Emma Jewell renders energetic and imaginative spaces that bring together natural and manmade components. Layers of gestural marks, vibrant colors, and simple shapes combine to suggest the interconnectedness of the vast world we call home.
Drawing from his childhood experiences in exile, Olivier Mbabazi's work combines sculpture, painting, sound, drawing and moving images to examine multifaceted identity, and the complex implications of displacement and disconnection from one's homeland and history.
Phoebe-Agnès Mills is a figurative oil painter whose painterly and colorful pieces question the relationship between the figure and the environment around them. Through dissolved boundaries, obscured figures, and experimental play with light, she attempts to capture the melancholy joy of existing in a world that changes from one moment to the next.
Ellie Pedersen strives to better understand and express the struggles of mental illness in her drawings. Through markmaking, spacing, and restricted color, Pedersen uses her work as a cathartic practice and reflects on her own experiences and emotions. She attempts to capture the sense of solitude, absence, and chaos that accompany mental struggles.
Emilea Thrasher explores dreamy memories filled with pastel colors and glitter. Her works are small and intimate, prompting viewers to take a closer look into these otherworldly pieces.
Megan Vlahoplus uses her paintings as a way to make moments from the past her own. Elusive and mysterious scenes are rendered from the perspective of a bystander, at a distance.