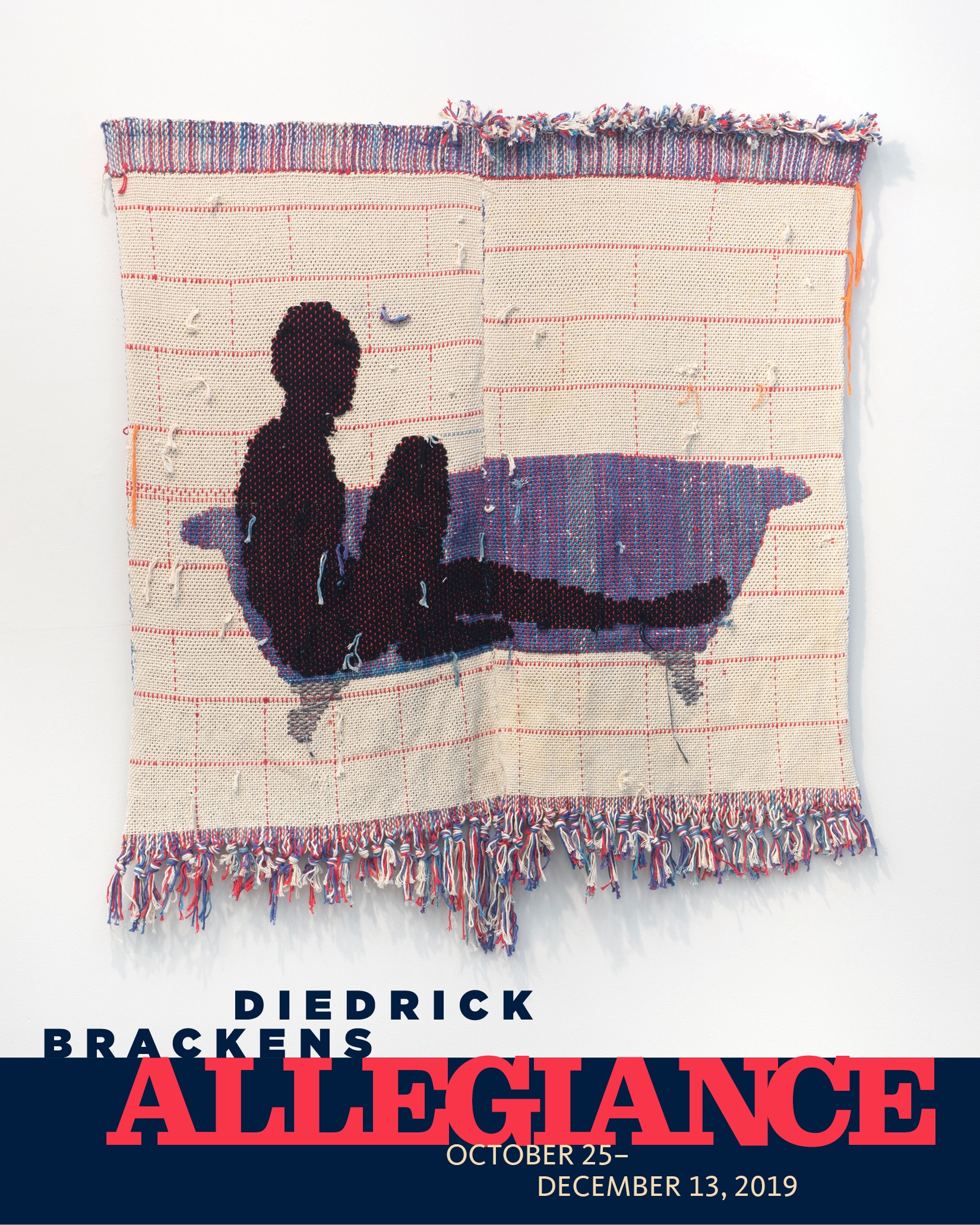 The University Art Gallery is honored to present Allegiance, a quiet and intimate exhibition of complex and beautiful woven textiles by Los Angeles-based artist Diedrick Brackens, on view from Oct. 25 through Dec. 13, 2019.
In Allegiance, Brackens plays with our expectations and associations, turning symbols, lyrics, and materials to new purposes. He refashions American and Confederate flags, he quotes and recasts the lyrics to the minstrel song Dixie and to the hymn Holy, Holy, Holy, he makes the language of advertising both sentimental and subversive, and he - an African American whose antecedents picked cotton in Texas - self-consciously transforms that fraught material into beautiful textiles.
Richly allusive, many of the pieces on view meditate on flags, their uses and their dense networks of associations (Americana, heartland, heritage, freedom). The symbolism of flags is disrupted, teased, and softened, and these abstracted flags are seen as if through a veil. We are invited to adopt a personal, thoughtful, and emotional point of view, and to meditate on the negotiation of belonging. We are invited to inhabit an intimate perspective, and to quietly imagine alternative ways of being and of relating to one another.
Brackens seeks to explore the liberating, redemptive potential of an intersectional perspective and a queer visual language – what possibilities might such a point of view and such a visual language offer all of us?
---
PLEASE JOIN US!
Diedrick Brackens will speak about his work at 5 p.m. on November 8, 2019 in Convocation Hall. Reception to follow.
---
Brackens was awarded the prestigious Joyce Alexander Wein Prize by the Studio Museum in Harlem in 2018, an award honoring individual African American artists who demonstrate "great innovation, promise and creativity." His solo exhibition darling divined, curated by Margot Norton and curatorial assistant Francesca Altamura, was on view at the New Museum, New York from June 4 to Sept. 15, 2019, and will travel to the Marciano Foundation in Los Angeles in January, 2020. Other recent solo exhibitions include a slow reckoning at the Ulrich Museum of Art, Wichita State University (2017); and unholy ghosts at Various Small Fires, Los Angeles (2019). Brackens' work was recently featured in the Hammer Museum biennial exhibition Made in L.A. 2018, and in Ear to the Ground: Earth and Element in Contemporary Art at the New Orleans Museum of Art, also in 2018. He was in residence at the Joan Mitchell Center Artist in Residence Program, New Orleans, LA in 2016. Brackens earned his M.F.A. from the California College of the Arts in San Francisco, and lives and works in Los Angeles.