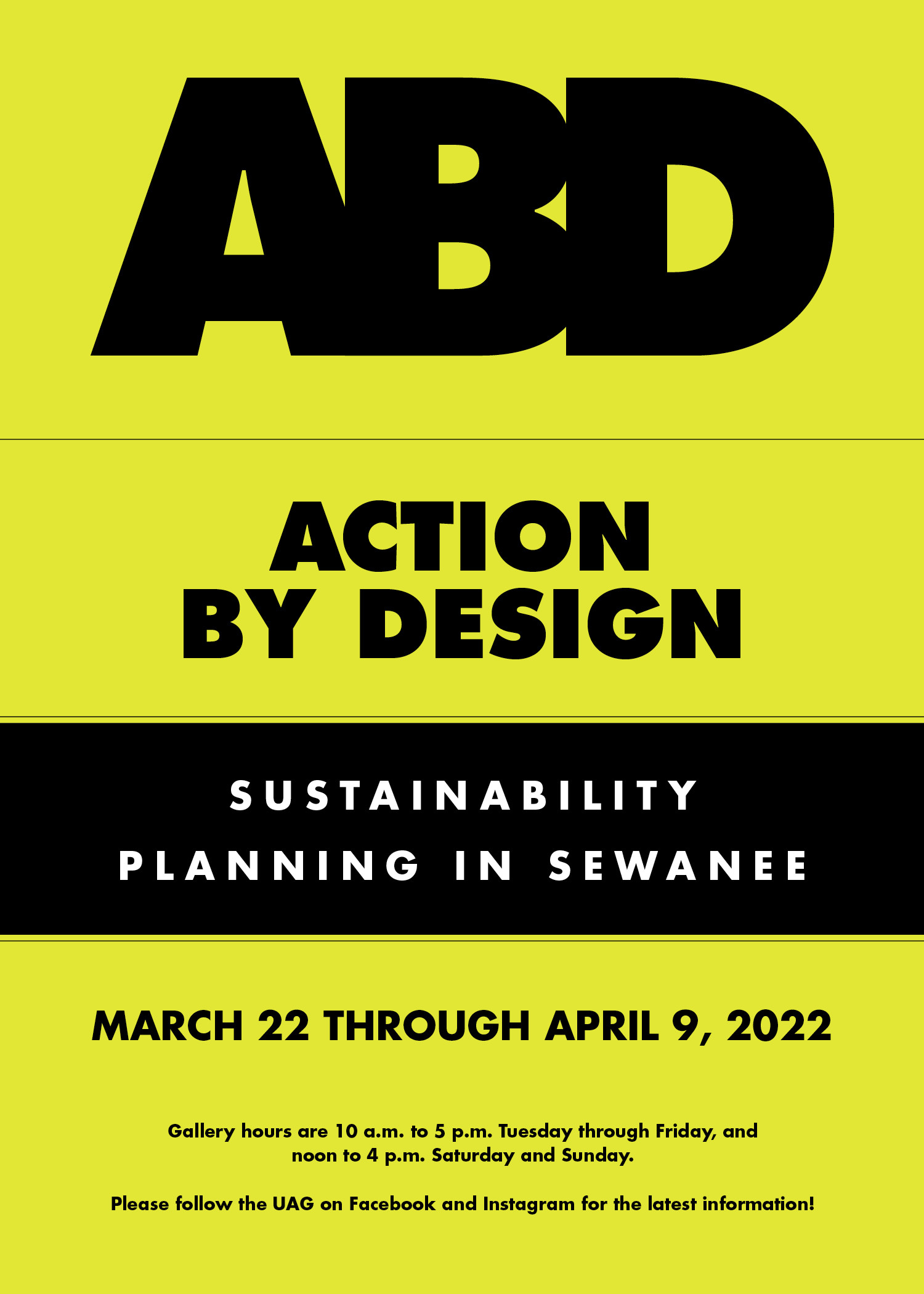 "By design" simply means on purpose, thoughtful, and intentional.
Making ideas visible, inspiring visitors, and bringing people together across areas of study and interest are all essential to the mission of the University Art Gallery.
Action By Design is part exhibition and part workshop. It is intended to share pieces of sustainability planning on our campus and in our community— especially our new Climate Accountability Plan (CAP)—and to invite visitors to participate.
The exhibition is divided into three kinds of stations. "Know Your …" stations offer information about our campus, village, local alternative transportation networks, food, stuff, and the CAP. "Design Your …" stations invite visitors to consider existing plans, and to contribute their own ideas. Stations dedicated to ongoing courses (Art History 336: Earth Art and Eco-Action, Art 228: Sustainable Structures, and Theater 361: Costume Design) display student work. Research by the Babson Center's Carey Fellows in Business 353 will be accessible via QR codes throughout the exhibition.
Sustainable Planning and Design best begins with an integrative workshop (charrette) process that brings everyone along for the conversation. This exhibition is inspired by that process.
Please join us for any and all of the events planned in association with the exhibition:
Thursday, March 24, 5 to 7 p.m. Opening Reception.
Friday, March 25,1:30 to 3:30 p.m. Climate Accountability Plan drop-in information session for students.
Wednesday, March 30, 5 to 6:30 p.m. Design Your Ride: Biking As Action. Come and hear from local cycling advocates Becca Loose (Little Bellas Program Lead), Beth Pride Ford (Tennessee Interscholastic Cycling League GRiT Coordinator), and Patrick Dean (Executive Director, Mountain Goat Trail Alliance), and consider how we might support alternative transportation in and around Sewanee.
Tuesday, April 5, 11 a.m. to 1 p.m. Drop-in Climate Accountability Plan information session.
Thursday, April 7, 5 p.m. in Convocation Hall - Lindsey McCoy, C'97, CEO and co-founder of Plaine Products, will speak about Using Business as a Force for Good: Creating Circular Packaging to Reduce Waste. Co-sponsored by the Babson Center for Global Commerce.
Friday, April 8, 1:30 to 3:30 p.m. Drop-in Climate Accountability Plan information session.