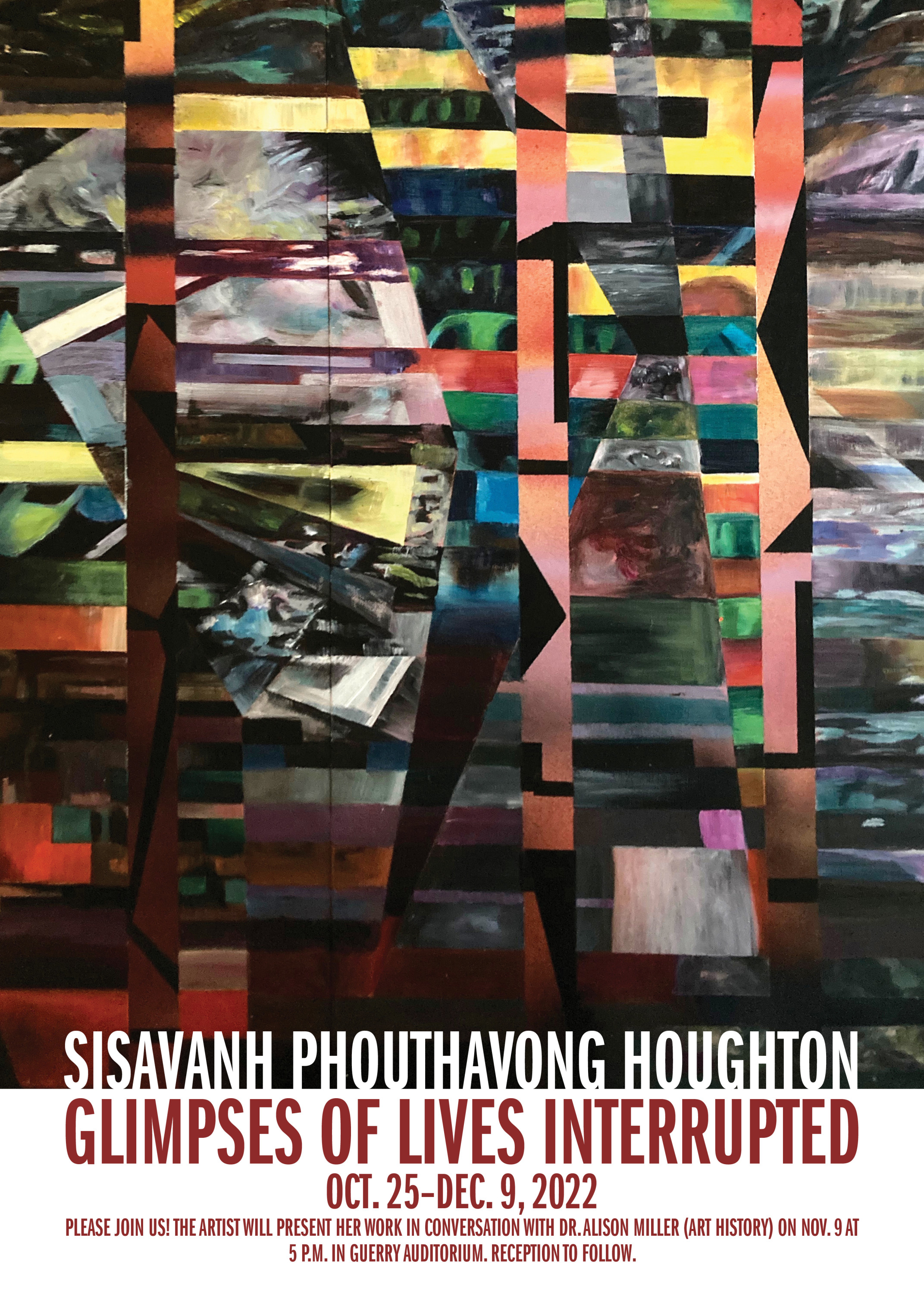 The University Art Gallery is delighted to present Sisavanh Phouthavong Houghton's Glimpses of Lives Interrupted, on view from October 25 through December 9, 2022.
---
Please join us! The artist will present her work in conversation on November 9 at 5 p.m. in Guerry Auditorium. Reception to follow.
---
Houghton explores experiences of war and displacement, and how they are communicated. Experiences of war remembered, war seen from afar, and war's aftermath are offered in abstract paintings and sculptural installation.
"Glitched" and map-based landscape paintings combine fragments of images from the Vietnam War with contemporary photographs from Ukraine and Syria – gathered with the hashtag #LiveWar and translated into paint – to invoke the splinters of information, the digital noise, and the repeating patterns of representations of war. Competing fragments invite viewers to consider "LikeWar," the term P. W. Singer uses to describe the manipulation and conduct of violent conflict by means of social media. Delicate flowers laser-engraved with a bombing data map of Lao People's Democratic Republic catch the light and cast shadows on the wall, inviting contemplation of the monumental ongoing task of disarming the unexploded ordinance left from the millions of cluster bombs dropped on the country by the United States. Pastel-colored circular paintings evoking idyllic landscapes are flooded by converging geometric forms, and speak to displacement and exodus.
In each case, Houghton combines the implacable, overwhelming, and impersonal violence of war with the intimate and personal, and even the sentimental: delicate flowers, teddy bears, memorials that speak of loved ones lost, the unsettling "sickly sweet" emotions that accompany resettlement. Media too are juxtaposed - maps, bombing data, and fragments of photographs and footage are transformed into paint, sculpture, and abstract forms.
A Lao refugee and immigrant whose family fled to the United States following the Vietnam War, Houghton's work speaks to her own lived experience, and the fragments and impressions that have remained with her since childhood. It proceeds too from her conviction that while "the terrain, conflicts, and disputes may vary, … the human war experience does not."
---
Experience the exhibition from afar!