The library's main listening room holds over 15,000 records as well as rare scores and books about music.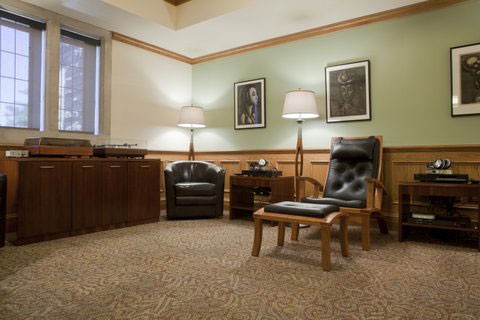 An adjacent room with high-density storage provides access to over 15,000 compact discs. An opera browsing room provides an exhaustive selection of several thousand recordings of opera on vinyl, including many of Father Ralston's favorites. In addition to physical media, the listening room is equipped with TIDAL hi-fidelity streaming, providing access to over 35 million uncompressed recordings. The University's circulating collection of 7,000 audio recordings is also located next door to the loudspeaker listening room. A separate headphone listening room with turntables, CD players, and digital music storage allows students to listen to uncompressed music on high-quality equipment at any time during library hours. Completing the facility, a 3,000 square foot reading room containing duPont Library's music books and scores provides the most popular study space on campus.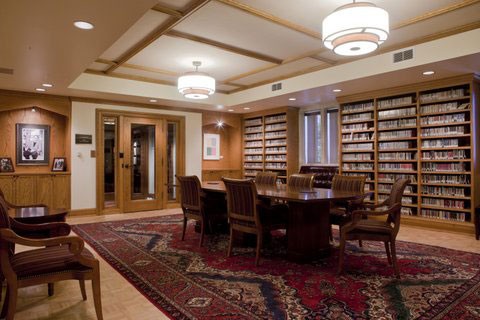 On a normal school day during the semester, the Ralston Library is alive with activity, as students at the University host and attend listening sessions and film showings, professors teach classes, and community members and visitors from all over browse the collection and experience the full impact of the playback system. And year-round, audiophiles and music lovers from around the world find their way to Sewanee to hear music played on state-of-the-art equipment in an elegantly designed, acoustically thrilling space.
"An absolutely seamless soundfield from top to bottom. You simply do not hear the individual drivers. This results in a frighteningly life-like presentation that is absolutely addicting."
Frank Berryman, Ultra High-end Audio Review
"The Ralston Music Listening Library is unique in the United States and perhaps the world."
John Marks, Ultra High-end Audio Review
"I had the uncanny feeling that I was hearing everything at some indefinably high level of resolution. Breathtaking."
Jonathan Scull, Stereophile Magazine
Make a gift to support the operations of the Ralston Listening Library.
‌View our current Audio Equipment List.
The William Ralston Listening Library is free to visit and open every weekday for drop-by visits during listening hours, and listening events are held almost every day. Appointments are also available outside of open listening hours and on weekends.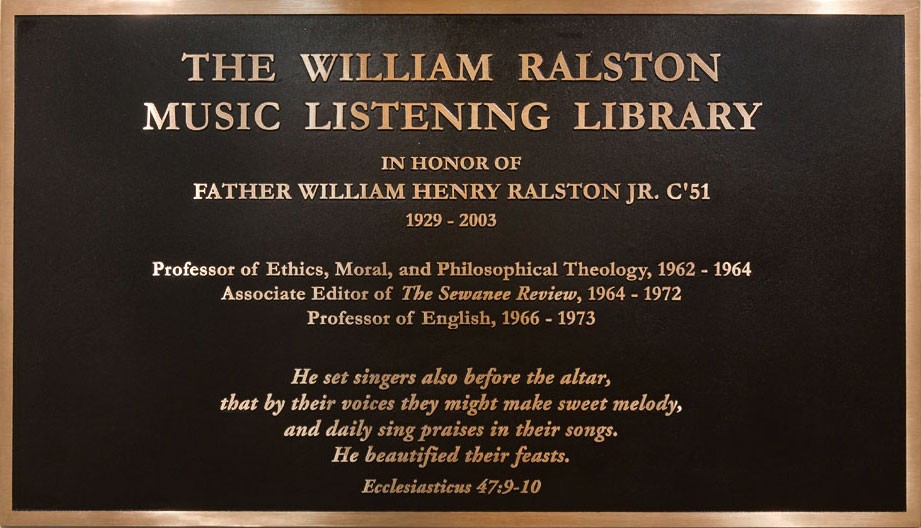 Resources
Read about the project in Stereophile magazine
Read about the project in Sewanee Magazine
Visit our Facebook page
The project was featured as a hidden treasure at OnlineSchoolCenter.com
And featured on Cross Country Songbook's blog
Contact
For appointments and general information, email the curators at ralstonlistening@sewanee.edu.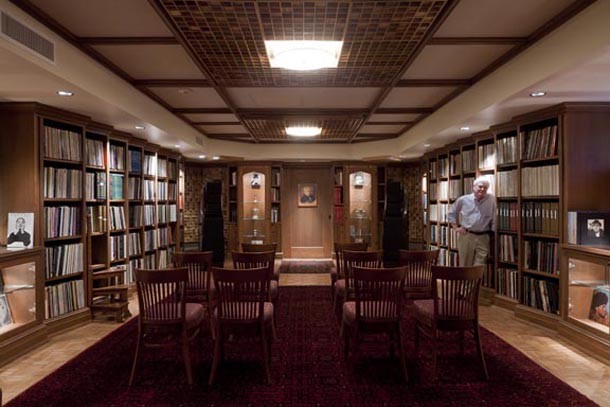 Contact information for the Director of the Ralston Listening Library:
Thomas Carlson
Professor of English
The University of the South
931.598.1346
tcarlson@sewanee.edu