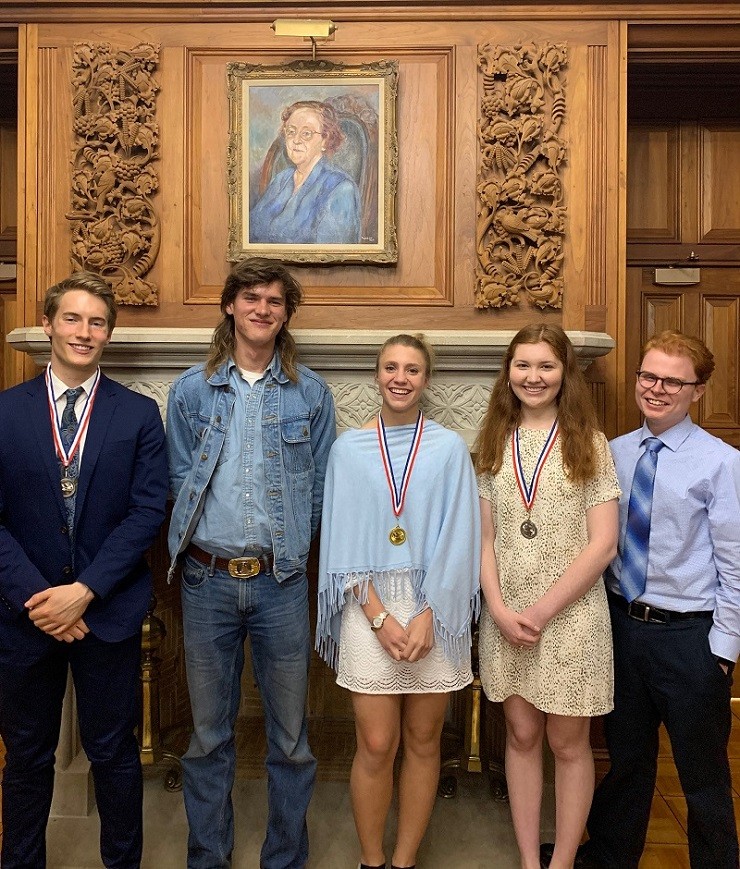 Fifteen finalists participated in four public speaking contests in the 2019 Festival of Speaking & Listening, held on April 23, 24, and 25.
On the first evening, six finalists participated in the "Speaking Science to the Public" Contest. The finalists spoke about a topic of scientific significance and addressed their presentation to an "educated but non-expert audience." Kaylee Pierson, a senior majoring in Natural Resources and the Environment, won first place for her presentation "Distribution of Surface Plastic Debris in the Eastern Pacific Ocean from an 11-year Data Set." Senior Forestry major Thomas Hatling won second place for his presentation "Effects of Repeated Prescribed Fires on the Structure, Composition, and Regeneration of Mixed-Oak Forests in Ohio." Ansley Elizabeth Murphy, a senior Biology major, took third place with her presentation "The Importance of Bees." The talented group of finalists also included sophomore Carl Failing (Biochemistry), senior Ashley Fox (Natural Resources and the Environment), and senior Anna Threlkeld (Geology). Failing presented "A Nuclear Export Signal Is Essential for the Cytosolic Localization of the Ran Binding Protein, RanBP1," Fox presented "Dye Tracing in Lost Cove," and Threlkeld presented "Embrace the Pressure: Dating the Earliest Meteorite Impacts on Earth with Zircons."

Professors Kristen Cecala (Biology), Karen Kuers (Forestry), and Chris Shelley (Biology) served as faculty mentors for the six participants, with Cecala, Kuers, and Clint Smith (Biology) serving as "science consultants" for the judging panel. Dean Marichal Gentry (Vice President for Student Life & Dean of Students), Professor Alison Miller (Art and Art History), and Professor Betsy Sandlin (Spanish) served as the contest judges. For Gentry, judging the contest reinforced just "how difficult it is to turn highly scientific material into a speech that a non-scientist can understand." All the more difficult, he stressed after the judging deliberations, was selecting a single winner.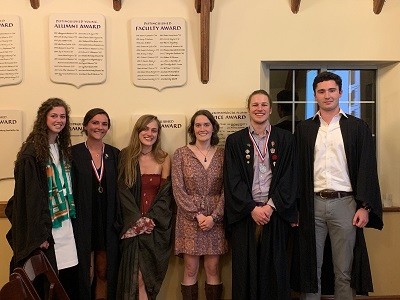 The second evening showcased two contests in "Public Speaking in a Non-English Second Language." The Beginning Language Contest required speakers to deliver a short excerpt of a poem, speech, play, monologue, fairytale, or editorial in a non-English language that is not their first or primary language. Sophomore Kadie Hicks (Classics) took first prize for delivering the poem "Catullus 5" in Latin and first-year student Tu "Scarlett" Pham won second place for her recitation of "Su Shi" in Chinese. The Advanced Language Contest focused on the theme of an important historical, literary, or cultural figure from the target language culture(s). Junior Andrew Hupp (Politics) delivered "The Influence of Éric Rohmer" in French and won first place. Sophomore Ivana Porashka (Philosophy and French) claimed second place for "Le Mozart Noir Ou Le Blanc Saint-George," which she also delivered in French. Professors Julian Ledford (French), Chris McDonough (Classical Languages), Laurie Ramsey (French), and Yanbing Tan (Chinese) served as "language consultants" for the judging panel, which included Professors Richard Apgar (German), Mark Preslar (Russian), and Associate Dean Elizabeth Skomp (Russian). Of the Advanced Contest, Tan explained that in addition to displaying their well-earned competencies in grammar and pronunciation, the speakers "also spent hours on researching their subjects." "This Festival really provides a great learning opportunity for our students," she noted.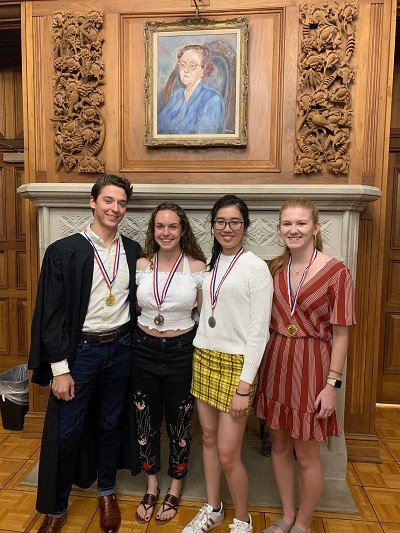 The Festival culminated in the Public Speaking Contest on April 25. The Contest featured five finalists delivering persuasive speeches advocating change or alteration in existing attitudes, values, beliefs, and actions (policy changes, reconsideration of issues, public deliberation) on a highly controversial public issue. All five finalists were selected by class vote from the Advent 2018 and Easter 2019 sections of RHET 101: Public Speaking taught by Professors Melody Lehn, Sean O'Rourke, and Warren Swenson (School of Theology).

First-year student Mary Watkins (Biology) took first prize with her speech "Toddlers, Tiaras, and Trauma," while sophomore Buck Allen (Psychology) claimed second place with his speech "Sugar: Not So Sweet" and first-year student Kendall Stallings (English) won third place with her speech "Victims of Their Own Success: The Plague of Anti-Vaccination Sentiments in the Age of Modern Medicine." First-year students Elijah Grenier (Environmental Arts and Humanities) and Bahley Minor (Politics) rounded out the slate of terrific finalists with their respective speeches "Boy Scouts in Uncharted Territory" and "The Harms of Televangelism."

Dr. Sylvia Gray (Sewanee's Title IX Coordinator), Summer Menefee (Class of '19), and Dean Terry Papillon (Classical Languages) served as the contest judges. Menefee, a Center for Speaking & Listening tutor and winner of the 2018 Public Speaking Contest, found that the speeches were well-researched and that the speakers demonstrated "a clear passion for their subjects." "I feel lucky I could be involved two years in a row," she remarked.

Next year's Sewanee Festival of Speaking & Listening is tentatively slated for 27-29 April 2020, and the application process for participating will begin early in the Easter 2020 semester. Please direct questions about the contests to the Festival Co-Directors: Professor Sean O'Rourke (Rhetoric & American Studies), the Director of the Center for Speaking & Listening (sporourk@sewanee.edu) or Professor Melody Lehn (Rhetoric and Women's & Gender Studies), the Assistant Director of the Center for Speaking & Listening (mjlehn@sewanee.edu).

Learn more about the Festival of Speaking & Listening on the Sewanee Center for Speaking & Listening website.