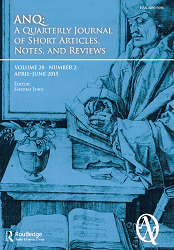 Sewanee Classics Professor Chris McDonough has recently published two articles:
"Making Fun: The Satiric Impulse in Nina Paley's Sita Sings the Blues and Seder-Masochism" appeared in Bright Lights Film Journal. He looks at the bitterly funny animated work of cartoonist Nina Paley, likening its satiric intent to the works of Horace and Juvenal.
"'[Stabs Himself. Thus die I, thus, thus, thus!': A Forgery, Virgilian Allusion, and Schoolboy Joke in A Midsummer Night's Dream" is a long name for a rather short piece which deals with a veiled reference to the death of Dido in Shakespeare. It came out in ANQ: A Quarterly Journal of Short Articles, Notes, and Reviews.
Chris McDonough holds the Alderson-Tillinghast Chair of Humanities at the University of the South in Sewanee, Tennessee, USA. He is currently finishing a book for Edinburgh University Press called Pontius Pilate On-Screen: Sinner, Soldier, Superstar.