Engaging Students of Concern
If a student approaches you to talk about a personal problem or you want to try to help a distressed student, here are some tips:
Request to talk with the student in private.
Use a genuine, caring tone and words to help students speak about issues that may be confusing or embarrassing.
Do not assure confidentiality (although you can assure the student that you will share information only with those who need to know).
Take time to explore the ways in which the student may get the support necessary for change. Be aware that support comes from a variety of areas for students, and each student differs in terms of what she or he needs when facing distress. Students may identify a need for increased support from family and friends or from a therapist or clergy member.
Never exceed your training. Refer the student to additional resources if necessary.
Consult with the Dean of Students' Office, your supervisor, or your department chair about your concerns.
For more tips on how to engage a student of concern, please check out the Dean of Students' Office web page under Faculty and Staff Resources.
When and Where to refer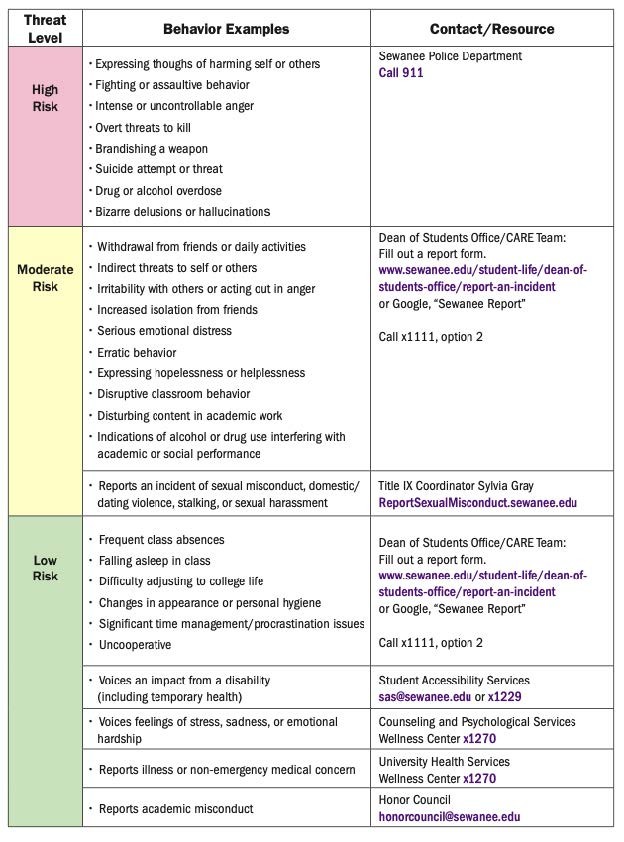 CARE Folder