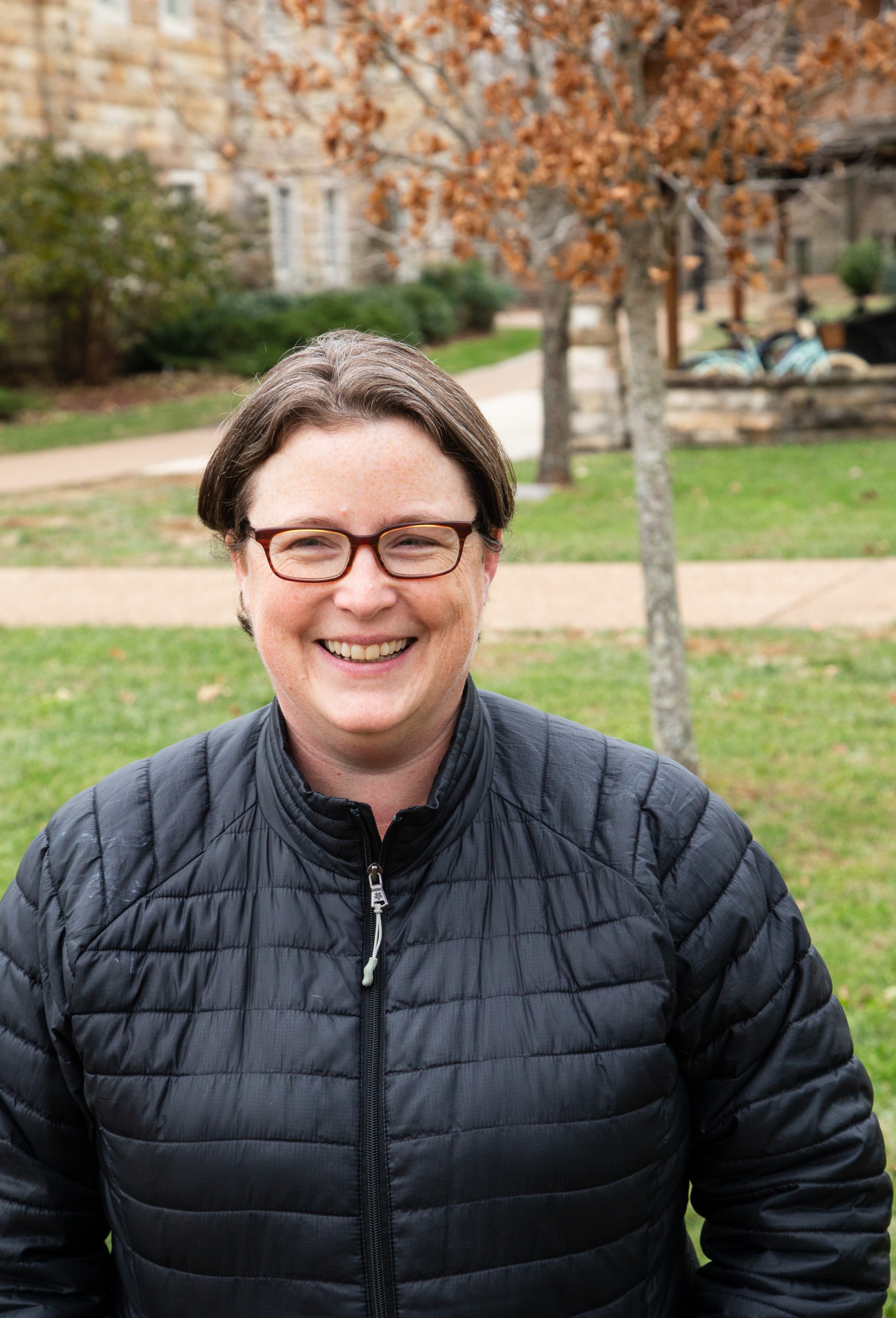 Betsy Sandlin, Associate Dean for Inclusion and Faculty Development
---
Betsy Sandlin, a Spanish professor at Sewanee, is in her fifteenth year of teaching on the Mountain. Raised in a small town in Kentucky, Sandlin admits that Sewanee is very similar in a lot of ways—the small size, the close-knit community, and the rural surroundings are all reminiscent of her hometown. In other ways, though, Sewanee is breaking the small-town mold and becoming a place where inclusivity and diversity is paramount.
Sandlin is the co-director of Sewanee's Center for Teaching. It is a resource and a space for faculty to brainstorm and work together and promote healthy conversations in the classroom.
"I'm really proud of the work the Center is doing," Sandlin says. "My personal quest and goal for the Center has been to focus on the classroom—to view it as a microcosm, a playground, a laboratory, a place where conversation & mistakes can happen in a safe way. We need to build community, build trust, and establish guidelines in the classroom. How do we make sure that all voices are present? The mistake is thinking that these things happen naturally. It actually takes work, and that's what I tell faculty."
Sandlin has gone through her own metamorphosis of sorts. She grew up in a place where diversity was nonexistent. It wasn't until she learned a new language and began to travel that she recognized the dangers of being uneducated about differences that exist in the world.
"I really believe that the lack of diversity around me hindered my education," Sandlin says. "I was a little narrow-minded, and I didn't realize it. I was a strategic student and knew how to do well & get As, but it wasn't until I started learning Spanish and traveling that I realized that people lived differently than I did. That sudden understanding felt like my eyes and my mind being opened. I wish I had experienced that sooner. Language is the filter through which we see the world, and I was experiencing something altogether different."
When Sandlin first arrived at Sewanee, there were no courses being taught about US Latinx authors. Creating this course was her biggest priority, and the classes have filled to capacity each time since then.
"Students want to experience their own identity in the classroom," Sandlin says. "It makes them feel comfortable."
It took Sandlin a while to reach a point where she could be authentic in the classroom as well.
"I've learned to be honest about the fact that I was a first gen college student," Sandlin explains. "That formed my identity and continues to. I tell students about this journey on the first day of classes now. This is me. I grew up in a poor, working class family. That has opened up conversations as well. When I first came here I didn't feel like I could talk about that; I pretended that affluence was normal. Then I decided to be authentic."
Sandlin continues to be a role model for her students, championing initiatives in and out of the classroom.
"I love seeing all the clubs and task forces around campus. We are wrestling with issues, and for a while it was just conversation. Now, I think there are real, concrete things happening. We are turning a corner."