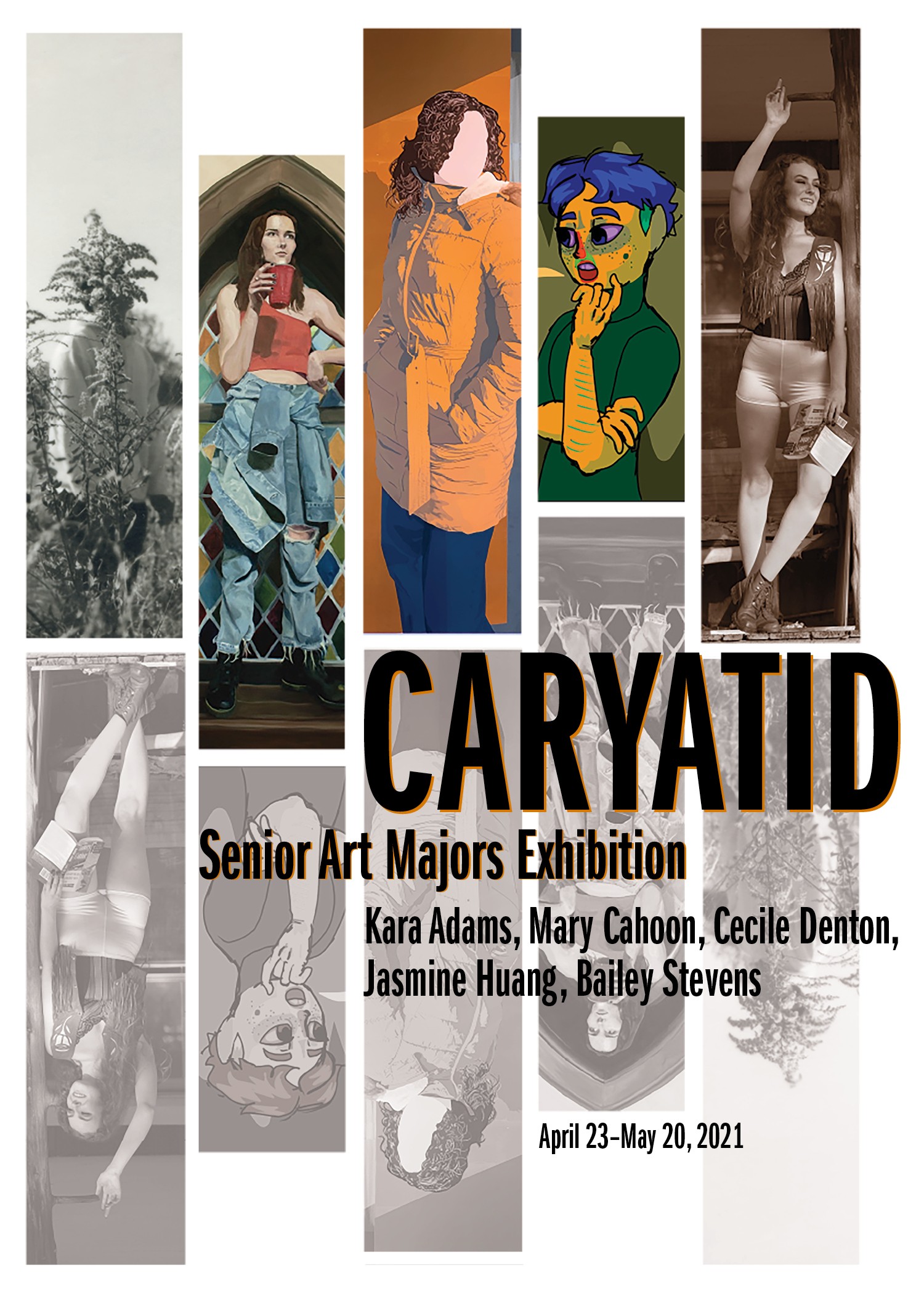 The University Art Gallery is delighted to present the thesis work of Sewanee's graduating senior art majors: Kara Adams, Mary Cahoon, Cecile Denton, Jasmine Huang, and Bailey Stevens in the exhibition Caryatid. The exhibition will be open through Thursday, May 20.
Caryatid examines pillars of identity in photographs, digital illustration, and painting.
Kara Adams and Jasmine Huang's photographs explore the themes of family, relationships, and environment. With images of her hometown and loved ones, Adams depicts an intimate portrait of life in the rural South. Huang investigates relational distance in platinum-palladium prints, in photographs that play with vulnerable and guarded moments, and that suggest moments of connection with the environment
Cecile Denton and Mary Cahoon use digital illustration to explore complex emotions. Denton merges faceless figures with black and white photography to communicate feelings of unease and longing, and to invoke suppressed identities. Viewed on digital monitors, Cahoon's work explores the emotions of doubt and anxiety, and the experience of rapidly changing chaotic thoughts.
Combining hand-painted tarot cards and monumental paintings, Bailey Stevens plays with the cyclical nature of being embedded in social culture. Monumental paintings of figures are grounded in the present, while small-scale tarot cards refer to the future, and the inevitable repetition of patterns.
Together, the artists ask viewers to consider multiple experiences of self: intimate, familiar, uncertain, bounded, navigated, performed.
---
To protect the health of those on and off our campus, in-person visits to the exhibition are reserved for students, faculty, and staff of the University already on campus.
If Caryatid is not where you live, please enjoy the exhibition and its associated events remotely by means of the links below:
Video tour of C'21 Senior Exhibit Caryatid in our University Art Gallery.