Eleven members of the Class of 2021 were initiated into Phi Beta Kappa.
Eleven members of the Class of 2021 have been elected to membership in Phi Beta Kappa, joining eight classmates who were elected in the fall semester. An initiation ceremony was held on Friday, March 12. The socially-distanced initiation was held in Spencer Hall's Harris Commons, with students' family members and some chapter members watching online.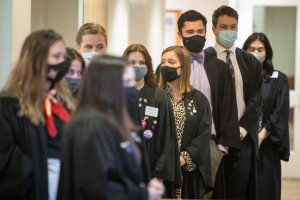 Election to Phi Beta Kappa is perhaps the most prized honor a college student can receive. Students who have demonstrated exceptional academic excellence become eligible for election after completing at least six consecutive semesters. Phi Beta Kappa was founded in 1776 at the College of William and Mary; the Sewanee Chapter, Beta of Tennessee, was established in 1926.
Congratulations to Sewanee's newest members:
Marjan Maria Ata, economics and politics major, Nashville, Tennessee
Adelle Gay Dennis, history major, Aiken, South Carolina
Ryan Andrew Dix, economics major, Lone Tree, Colorado
Hayden Margaret Dunbar, English major, Birmingham, Alabama
Erin Bishop Elliott, English and music major, Madison, Connecticut
Carl William Walker Failing, biochemistry major, Indianola, Mississippi
Alexa Shea Fults, politics major, Morrison, Tennessee
Emily Hunter Green, biology major, Gruetli Laager, Tennessee
Katherine Dyer Griffin, psychology major, Dalton, Georgia
Kcenia Rose Kloesel, history and Russian major, Houston, Texas
Abigail Gage Wrather, chemistry major, Houston, Texas
Previously elected members of the Class of 2021 were: Hayden Orville Everett, Greer Marie King, Barbara Anne Ramsey, Maxwell Ward Saltman, Máté István Szurop, India Elaine Tisdale, Mandy Moe Pwint Tu, and Alicia Sarah Faye Wikner.
Additional students in the Class of 2021 will be elected to Phi Beta Kappa before Commencement. Each year the Sewanee chapter elects a total of approximately 10 percent of the senior class to membership in Phi Beta Kappa. Two percent of the class generally is elected at the beginning of the first semester, on the basis of six semesters' work; additional members are elected at the beginning of the second semester and during Commencement Weekend.