FOLLOW US ON INSTAGRAM: @SEWANEESPEAKINGANDLISTENING
Suggested Syllabus Statement
The Center for Speaking & Listening is located in duPont Library on the main floor in the Learning Commons. Peer tutors are available for appointments to help you prepare and practice individual and group presentations, poster presentations, interviews, debates, simulations, dialogues, and other kinds of speaking and listening endeavors and projects. Morning, afternoon, and evening appointments are available on Sunday‒Thursday. You can register and make an appointment online here: https://sewanee.mywconline.net/. Learn more about the Center for Speaking & Listening here: https://new.sewanee.edu/academics/center-for-speaking-listening/.
Center for Speaking & Listening Hours
Appointments at the Center for Speaking & Listening are available on Sunday (1:00‒4:00pm and 7:00‒10:00pm) and Monday‒Thursday (10:00am‒12:00pm, 1:00‒4:00pm, and 7:00‒10:00pm).
Making Appointments Early
While we have no formal policy or limitations for how far in advance students must make an appointment, we encourage faculty to think about setting parameters tailored to your course schedule, assignment, and goals for having students visit our Center for tutoring. As a rule, we recommend students will get the most out of peer tutoring at least one week before their assignment so that there is ample time to revise, rehearse, make follow-up appointments, and consult with their professors with any questions that may emerge during tutoring sessions.
Using Center for Speaking & Listening Rooms in duPont Library
The Center has four semi-private practice rooms that students and guests may reserve for work and rehearsal. Please remind your students to always follow current COVID protocols if they plan to use the Center for Speaking & Listening space to work on assignments for your classes.
Using SWIVL Technology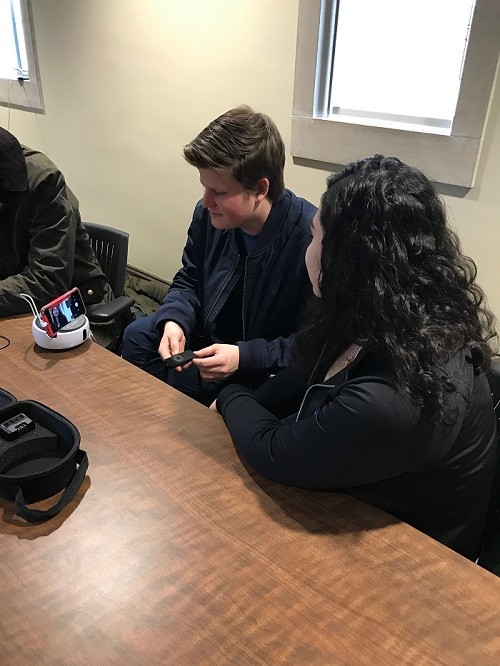 Speakers can record, view, save, and share presentations using SWIVL technology. SWIVL is a small and secure unit that pairs with your personal device so that you retain ownership of all recorded content. Center tutors can help you and your students navigate SWIVL and units are available for check out at the Circulation Desk.
Our Tutors
About
Representing diverse majors and minors across the arts, humanities, sciences, and social sciences, our staff of twenty-one trained tutors are equipped to help their peers across academic disciplines, courses, and assignments. In addition to their work at the CS&L, our tutors are highly active on Sewanee's campus as leaders, volunteers, and fellows in the Student Government Association, the Honor Council, the Student Conduct Board, the Bonner Leadership program, the Posse Scholars program, the Arcadian program, and various athletic, Greek, musical, scientific, and theatrical organizations, programs, and groups. Several tutors are also fluent in second (and even third) languages, including Chinese, German, Italian, and Spanish. On the CS&L webpage, we feature short bios of our tutors highlighting their areas of interest and expertise, along with their language proficiencies. We encourage you to consult and make use of this page as you refer your students to the Center (and to specific tutors) for tasks, questions, and assignments in your courses.
Training
All CS&L tutors have completed comprehensive and rigorous vetting and training. Tutors must all successfully complete RHET 101: Public Speaking and most also take additional lower and upper-division coursework in rhetoric, including courses such as RHET 110: Argumentation & Debate, RHET 201: Introduction to Rhetoric, and RHET 401: Speakers' Rights and Responsibilities. The semester before they begin working in the Center, incoming tutors take the semester-long survey course RHET 220: Teaching Speaking & Listening. In this course, students explore the techniques, strategies, and precepts peer and professional tutors may employ to help student speakers and listeners attain their goals. In RHET 220, tutors are trained to maintain confidentiality and professionalism at all times, and practice through appointment simulations with the Center directors and current tutors. Students gain further hands-on experience by shadowing experienced tutors in real appointments and creating a portfolio of observations, reflections, and recommendations that help shape our Center's policies, procedures, and initiatives. At the end of the course, tutors present their portfolios to the class. The CS&L directors team-teach RHET 220 every semester.
Scheduling a Class Visit to the Center for Speaking & Listening
If you would like to arrange a visit with your class to the CS&L during our regular hours of operation, simply make an appointment with a tutor on a day and time when your class meets and leave a "note" in the appointment box for the tutor with instructions as to what your class is, the time your class will be coming, how many students are expected, how much time you have reserved, what you would like them to cover in the tour, and any other important information you feel the tutor should know in advance. You may also wish to email the tutor directly (copying on the Center Directors) to confirm the tour, provide special instructions, or ask questions. We encourage you to join your class if you are sending them to the Center for a tour and overview of resources. Pending tutor availability, we are happy to arrange a visit outside of CS&L hours. Please email the Center Directors as early as possible to inquire about setting up a class visit: sporourk@sewanee.edu (Sean O'Rourke) or mjlehn@sewanee.edu (Melody Lehn).
Requesting Proof of a Student Visit to the Center
If you have a speaking and/or listening assignment in your course and you require your students to visit the Center as a part of that assignment, we can help your student provide you with proof of the visit. After each appointment, our tutors complete a brief post-appointment report that is automatically sent to the student via email through our online scheduling system. If you would like a copy of that report, you can simply require your students to submit an electronic and/or hard copy of that report to you upon receipt. We discourage students from asking their tutors to email you directly with proof of a CS&L visit. If you ever have a question about a student visit, please email the Center Directors.
How Speaking and Listening Tutors Can Help You
The Center for Speaking & Listening endeavors to serve as a resource for faculty as well as students. If you would like to refine or rehearse a teaching demonstration, public lecture, conference presentation, keynote address, community talk, or any other kind of speaking and listening idea or project, come visit us! We are eager to hear your ideas and offer constructive feedback related to aspects of your argument, organization, language, delivery, audience adaptation, and more. You can also check out SWIVL units from the library circulation desk if you'd like to record, view, save, and share your presentation.