TRAINING SCHEDULE AND TRAINING OPTIONS for employees
pre-scheduled,

1-hour

ZOOM

TRAINING SESSIONS for new employees ARE AVAILABLE AT THE FOLLOWING DATES and TIMES (in CEntral TIME).

individual registration is required for all trainings!:
*ALL NEW FACULTY & STAFF EMPLOYEES SHOULD AIM TO COMPLETE THEIR
REQUIRED

TITLE IX TRAINING IMMEDIATELY. if you have been unemployed with Sewanee for more than one year, and you are returning, then you are considered to be a new employee!*
Wednesday, October 26, 2022 from 3pm - 4pm via Zoom. Link sent prior to training. CLOSED.
Wednesday, November 30, 2022 from 3pm - 4pm via Zoom. Link sent prior to training.

CLOSED.

Wednesday, December 14, 2022 from 3pm - 4pm via Zoom. Link sent prior to training. CLOSED.
Wednesday, January 11, 2022 from 3pm - 4pm via Zoom. Link sent prior to training.

CLOSED.

Wednesday, February 1, 2022 from 3pm - 4pm via Zoom. Link sent prior to training.
Wednesday, March 1, 2022 from 3pm - 4pm via Zoom. Link sent prior to training.
Wednesday, April 5, 2022 from 3pm - 4pm via Zoom. Link sent prior to training.
Wednesday, May 3, 2022 from 3pm - 4pm via Zoom. Link sent prior to training.
*There are no 1-hour pre-scheduled face-to-face Zoom trainings in the summer term; trainings must be scheduled as needed. The new training schedule is typically posted after Labor Day each year.
In order to track attendance, all employees must

register individually for training.

You cannot attend training without registration.

The face-to-face training is only needed once.
Frequently asked questions:
What happens after I complete the required registration for the face-to-face training via zoom?
Within 24 hours following your registration, you will receive a pre-test from "survey monkey." You must complete the pre-test to confirm your registration for the training. You cannot attend the training without registering and completing a pre-test. Any one-on-one appointments will be cancelled if there is no registration on file. Following the face-to-face ZOOM training (which is 1-hour), you will also receive a post-test. The post-test is open-book and is identical to the pre-test. You must complete the post-test and meet the minimum score of 80% for your training to be counted as complete.
WHAT IF I HAVE PROPERLY REGISTERED FOR a face-to-face zoom TRAINING, BUT I NOW NEED TO EDIT MY TRAINING DATE?
Please log back in to your Sewanee google account. Click on the link to the registration form which can be found above or in your prior registration notice provided to you by email. Once you click on the link, a new page will populate that says "You've already responded." If you look a few sentences below this statement, you will see the option to "Edit your response." Click on the option to edit your response. This will take you back to your original registration form where you can make changes and updates. See picture below.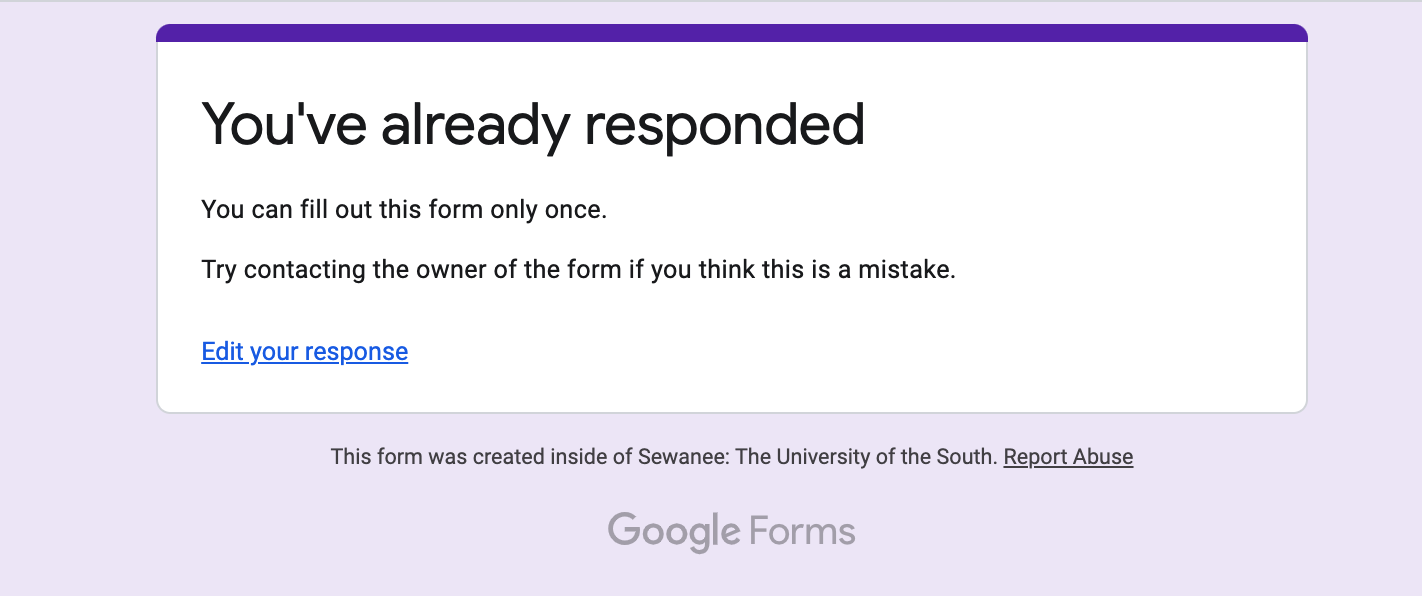 WHAT IF I CAN'T MAKE any of THE PRE-SCHEDULED TRAININGs listed above, i NEED A different time, or i would like to go ahead and set up an individual, a DEPARTMENT, OR A GROUP TRAINING?
If you signed up for a pre-scheduled training above and you must be absent or need to reschedule - it's okay! Simply return to your registration form in the same manner as the first time, click the "edit" option, and choose a new date. The edit icon may be in the top or bottom corner of the page. Keep in mind that all new (and current employees) will want to complete their face-to-face Zoom Title IX training as soon as possible or by the end of the current semester.
If you can't make any of the times listed for the prescheduled trainings or you need a different time, then please follow the information listed below.

If you wish to schedule an individual, group, department or other special training, please contact Dr. Gray directly to work out your scheduling details or you may schedule your own 1-hour one-on-one training time by clicking [here].

Select the Zoom option for location!

Deans, Directors, Managers, or other leadership may use the same scheduling link for group or department trainings; however, there should only be ONE contact person who will be responsible for choosing the group or department date. That person is also responsible for ensuring the attendance and individual registration of their self and/or the participants who will be present at their group or department training.

Where necessary, the contact person will also be responsible for securing

a location large enough for social distancing that has a projector and screen if an in-person training is requested.

Unless an in-person training is requested, all trainings will take place over Zoom. The Zoom link will always be provided by the Title IX Office once the preferred individual, group, or department date is confirmed. If an in-person training is requested, p

lease ensure that you and/or all participants within your group know that they must wear a mask during the training session.
*Special Note: It is ideal for department trainings to be set up by the department chair so that the information is communicated by the leadership of that area.
I know that the face-to-face zoom training is 1-hour and is only needed once, but will i have to take this same training again in the next year? are there additional title ix training expectations after this year?
There are additional Title IX Training expectations that are annual. Once you've completed a face-to-face Zoom training as a new employee, you will not need to do it again. Your next annual Title IX training will still be online, but it will be a direct module. The training will come from a platform call "Vector" instead of SurveyMonkey. All employees will continue to receive annual Vector Training for as long as they are employed. The Title IX Office offers other trainings that are announced to campus throughout the year, but are not required. Annual Title IX Training is required!
WHAT IF I need a different training than what is listed above
Contact Dr. Sylvia Gray at titleix@sewanee.edu to inquire about other trainings and how to register.