WELCOME TO THE SEWANEE SYMPHONY ORCHESTRA
DYNAMIC LEADERSHIP: MEET THE SSO'S NEW CONDUCTOR
The Music Department is thrilled to announce the hiring of Dr. Tiffany Lu to conduct the Sewanee Symphony Orchestra and to teach in the department. Dr. Lu earned her doctorate in 2019 and comes to Sewanee with extensive conducting experience. She currently serves as conducting associate of the Pierre Monteux School and Music Festival (Maine) and assistant conductor with the Prince George's Philharmonic (Maryland). In a just-concluded five-year stint as music director of the Wilmington Community Orchestra, Lu won praise for groundbreaking and creative programming. Her past conducting posts include guest or assistant slots with the Capital City Symphony, Symphony New Hampshire, and the Millikin-Decatur Symphony Orchestra. She was Conducting Fellow with the Allentown Symphony in 2019 and 2020. She also has professional experience as a violinist, music librarian, and recording producer.

A native of Tampa, Florida, and most recently resident in the D.C.-Maryland region, Lu holds degrees from Princeton University, Ithaca College, and the University of Maryland. Asked about her thoughts on coming to Sewanee, she says, "This is a tremendous time to be entrusted with leadership. It is a privilege to be able to explore the acts of building trust and growing a community through the act of communal music-making. I hope to do so courageously and graciously, and can't wait to join the Sewanee team." For both faculty and students of the Music Department, the feeling is entirely mutual!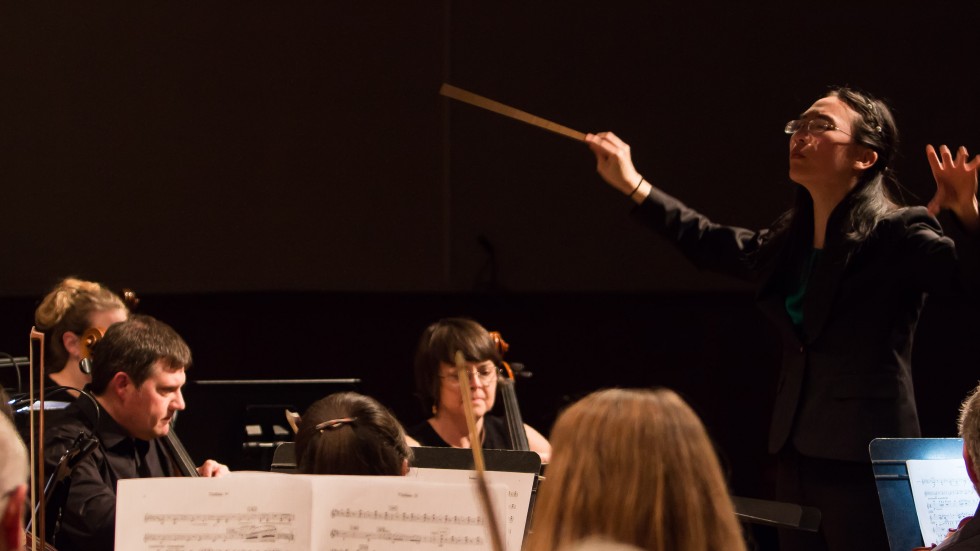 SSO: Our Vision and History
The Sewanee Symphony Orchestra (SSO) was founded in 1987 to assemble a symphony orchestra within a liberal arts community. The SSO has grown to the point where, today, it is able to present a full range of the symphonic repertory and include a wide variety of musical styles and genres. As a key component of the liberal arts environment, the orchestra not only collaborates with other music ensembles but also often participates in campus-wide interdisciplinary projects.
Our orchestra is a vivid reflection of our community. While the majority of orchestra consist of undergraduate and graduate students, it is common for students see their chemistry teacher playing the bassoon, the Dean of the college seated in the clarinet section, a French professor leading the second violins, or a former Vice-chancellor playing with the cello section. Additionally, the SSO is open to exceptionally talented members of our community.
The SSO, as an artistic and academic undertaking, follows an innovative model of music apprenticeship in which students learn from colleagues and faculty every time they rehearse or perform. During rehearsals and concerts, several music faculty members and guest artists not only lead different sections of the orchestra but actively work mentoring, inspiring, motivating, and helping students to improve as musicians and members of an artistic community. Our artists also work individually with the students in private lessons and sectional rehearsals.
We strive to maintain an unconditional commitment to high performance standards and consistent support for the creation of new repertoire. We also believe in music's ability to impact positively our community and contribute to social transformation. During each season, the orchestra commissions and premiers at least one new work and performs an outreach concert for nearly 600 elementary school students with limited access to music instruction. Multiple local donors in our community as well as grants from the Mellon Foundation have supported these outreach initiatives.
The SSO is a student lead organization with faculty oversight provided by the Artistic Director through the innovative Artistic Leadership Program (ALP). ALP is a model program focused on providing Sewanee students with twenty-first century transferable skills, which benefit them in the pursuit of other academic or extra-curricular activities. In addition to performing, our students are also leaders of all aspects of production, marketing, promotion, and library organization. Members of ALP also coordinate and design new strategies to further the artistic goals of our orchestra.
Due to a generous grant from the Hugh Caldwell Trust, the Orchestra is frequently able to perform with distinguished guest artists. In recent seasons, the Orchestra has been joined by pianist Michael Gurt (gold medalist of the Gina Bachauer Competition), Astrid Schween (cellist of the Lark Quartet), and Baritone Reggie Smith (winner of the 2014 Metropolitan Opera Competition).