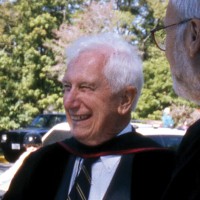 Professor Emeritus Joseph Cushman, who taught in the History Department from 1968 to 1990, has created a fund that will provide two scholarships each year for outstanding Sewanee history majors. The fund is a testament to what one person can do with a good idea, unflagging dedication, and a little help from his friends.
Cushman began accumulating funds for the scholarship some 20 years ago, eventually saving about $60,000 toward his goal of $100,000. Three years ago, friends, colleagues, former students, and classmates heard about his plan and many decided to get involved. Since then the fund has more than doubled in size. The goal has now been moved to $200,000. With an endowment of that size, the Department of History will be able to award two scholarships each year, one to a rising junior and one to a rising senior. The department has decided that the scholarship will be named in honor of Cushman.
"The members of the Department of History are very grateful to Joe for his dedication to the department as well as to the college," says Professor of History Harold Goldberg. "And we could not think of anyone more deserving than Joe Cushman to be honored with the naming of a scholarship that rewards hard work and good character."
The generosity of classmates, friends, colleagues, and former students has surprised Cushman. It has not surprised those who have known him for long, including former student and current Vice President for University Relations Rob Pearigen. "In class, Professor Cushman often talked about 'giants that roamed the earth' — individuals who, by their vision, intelligence and personality, influenced the course of history. Joe Cushman is one of those giants in the University's history. For those of us privileged to enroll in his classes and to know him personally, fond memories abide and our perspective on the past, present, and future is enriched."
The scholarship fund is still short of its overall goal. Contributions from former students, classmates, and friends are welcome. For more information on contributing to the Cushman Scholarship, please call the Office of University Advancement at 800. 367.1179.