"It's easier to have a discipline of giving a little bit every month."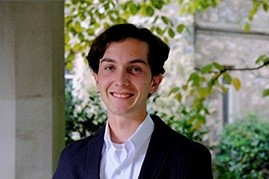 As an Episcopalian, Ethan White, C'21, found himself drawn to Sewanee during his college search as soon as he set foot in All Saints' Chapel and experienced the way it occupied such a prominent space both on the Sewanee's physical campus and in the life of the University.
Ethan credits the skills he honed and the community he found at Sewanee for his current position at St. Stephen's Episcopal Church in Richmond, Virginia. There, he provides programs and outreach to teenagers and younger children in need of support. "I think Sewanee taught me how to be a community builder and organizer and to engage people in a community setting with the church at its core."
Now, when Ethan looks back on his time at Sewanee, he is filled with gratitude. "There were so many faculty, staff, and students who went out of their way to support my experience, which led to where I am now," he says. "It made sense for me to use some of the financial resources I'm earning to give back in some capacity."
Ethan supports Sewanee regularly with a recurring gift of $50 per month. While he designates his monthly contribution to the University Choir, a program that had an immense impact on his Sewanee experience, Ethan encourages all alumni and friends of the University to give back to a program or initiative that they are passionate about.
When asked about his advice to other young alumni who might not know where to start when giving back to Sewanee, his suggestion is simple: "start small, but make it a habit." Recurring giving on a monthly basis provides an easy way to make a big impact. Ethan explains that he equates his gifts to tithing in the church, saying "I decided I wanted to make Sewanee a part of that commitment. Sewanee took a chance on me and gave me so many opportunities that led to where I am now. I just want to ensure that people in future classes can keep having those same opportunities."
---
To set up a recurring gift to Sewanee, visit support.sewanee.com or contact Whitney Franklin at wpfrankl@sewanee.edu.
---
Reporting by Natalia Evans, C'26