Olivier Mbabazi and Angus Pritchard have been awarded prestigious Watson Fellowships for the coming year.
Olivier Mbabazi and Angus Pritchard, both C'22, have been awarded the prestigious Thomas J. Watson Fellowship for 2022-23. They bring the total of Sewanee's Watson Fellows to 53.
Mbabazi and Pritchard join 40 other students, hailing from eight countries and 21 states, who were chosen this year as Watson Fellows. Selected from colleges and universities across the United States, winners of the fellowship receive a stipend supporting 12 months of independent study and travel outside the United States. Read the full Watson Foundation press release.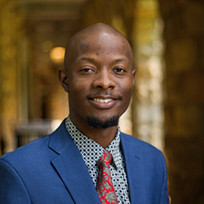 Olivier Mbabazi is a double major in art and French and French studies from Rwanda. His project, "Art and Human Resilience" will examine how diverse communities create and cope with the past to build their futures. Born in the forests of the Congo, Mbabazi makes art and serves his community as a way to process the past and keep himself grounded. He plans to travel to Cape Verde, Mali, Mongolia, Bhutan, Papua New Guinea, France, and Mexico to study how communities within these countries coexist and observe the role art plays in their lives, documenting his explorations through journaling and drawing.
Mbabazi is a musician and songwriter. He is co-director of Sewanee's Bonner Program Business Development and Marketing Team; a member of the 213A Community Business Leaders Program; a Beecken Scholar of the Babson Center for Global Commerce; and the winner of a Rwanda Government Music Scholarship.
Angus Pritchard is a biology major in the ecology and biodiversity track from Decatur, Georgia. His project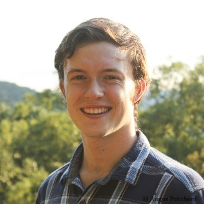 "Iconic Birds Through the Eyes of Community Leaders" will trace the bird species he has observed throughout his life to reevaluate his understanding of global conservation. For his project, he hopes to travel to Peru, Paraguay, the South Georgia Islands, Antarctica, New Zealand, Papua New Guinea, and Indonesia, meeting with conservationists, researchers, local bird experts, and community leaders to gain a global vision of the role that humans play within the ecosystems of iconic bird species.
At Sewanee, Pritchard is a Sewanee Outing Program leader, a bluegrass banjo player, a Benedict Scholar, and a Herbarium Fellow. He is also an avid birder, with Sewanee's 13,000 acres offering the perfect place to enjoy his passion.
Since 1985, when Sewanee was selected as one of the Watson institutions, the University has produced 53 fellowship recipients, including most recently Bramwell Atkins and Mandy Moe Pwint Tu, both C'21. The Watson Foundation selects fellows based on qualities of leadership, imagination, independence, integrity, resourcefulness, and responsibility.
The Watson Fellowship offers college graduates of unusual promise a year of independent, purposeful exploration and travel—in international settings new to them—to enhance their capacity for resourcefulness, imagination, openness, and leadership and to foster their humane and effective participation in the world community.
(Header photo by Brett Zeck on Unsplash)