Bramwell Atkins and Mandy Moe Pwint Tu have been awarded prestigious Watson Fellowships for the coming year.
Bramwell Atkins and Mandy Moe Pwint Tu, both C'21, have been awarded prestigious Thomas J. Watson Fellowships for 2021-22. They bring the total of Sewanee's Watson Fellows to 51.
Atkins and Tu join 40 other students, hailing from eight countries and 22 states, who were chosen this year as Watson Fellows. Selected from colleges and universities across the United States, winners of the fellowship receive a stipend supporting 12 months of independent study and travel outside of the U.S. (The Thomas J. Watson Foundation is working with this year's fellows to defer travel if needed due to the coronavirus pandemic.)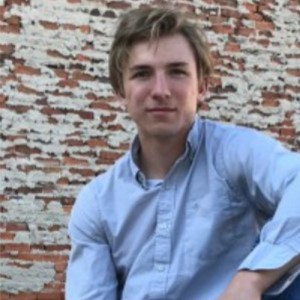 Bramwell Atkins is a classical languages and English major from Colorado Springs, Colorado. His project, "How Can We Sing?: The Music of Displaced People," will explore the power of music. How can a form so accessible, requiring something as simple as a few guitar chords, save a person's life, or preserve a suffering group's identity? He plans to travel to Canada, Russia, Laos, Vietnam, Greece, and Germany in order to immerse himself in those cultures and their unique forms of musical expression—and most important, to connect with residents by playing music with them.
At Sewanee, Atkins has run cross-country and track and field, served as the community service coordinator for PRE Orientation, and has played for several musical events and put on a musical of his own.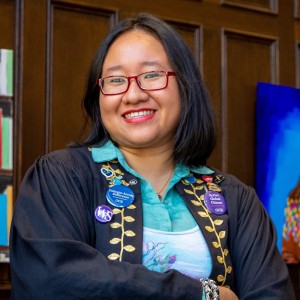 Mandy Tu is an English major from Yangon, Myanmar. Just as Atkins has played the piano as far back as he can remember, Tu has wanted to be a writer since childhood. Her project, "Voices in Verse: Poetry in the Postcolonial State," will take her to the Bahamas, Jamaica, Singapore, Malaysia, South Africa, Nigeria, and the U.K., where she will explore the role of poetry and creative writing in the lives of women poets in countries previously colonized by Great Britain. How are they are connected by the shared experiences of being women living in a previously colonized country, and using poetry to find their voices?
Tu is president of the Order of the Gown, and served for two years as president of the student Organization for Cross-Cultural Understanding.
Since 1985, when Sewanee was selected as one of the Watson institutions, the University has produced 51 fellowship recipients, including most recently Wilder McCoy, C'20. The Watson Foundation selects fellows based on qualities of leadership, imagination, independence, integrity, resourcefulness, and responsibility.
The Watson fellowship offers college graduates of unusual promise a year of independent, purposeful exploration and travel—in international settings new to them—to enhance their capacity for resourcefulness, imagination, openness, and leadership and to foster their humane and effective participation in the world community.
(Header photo by Brett Zeck on Unsplash)