Twelve members of the Class of 2022 were initiated into membership in Phi Beta Kappa during a ceremony on February 9.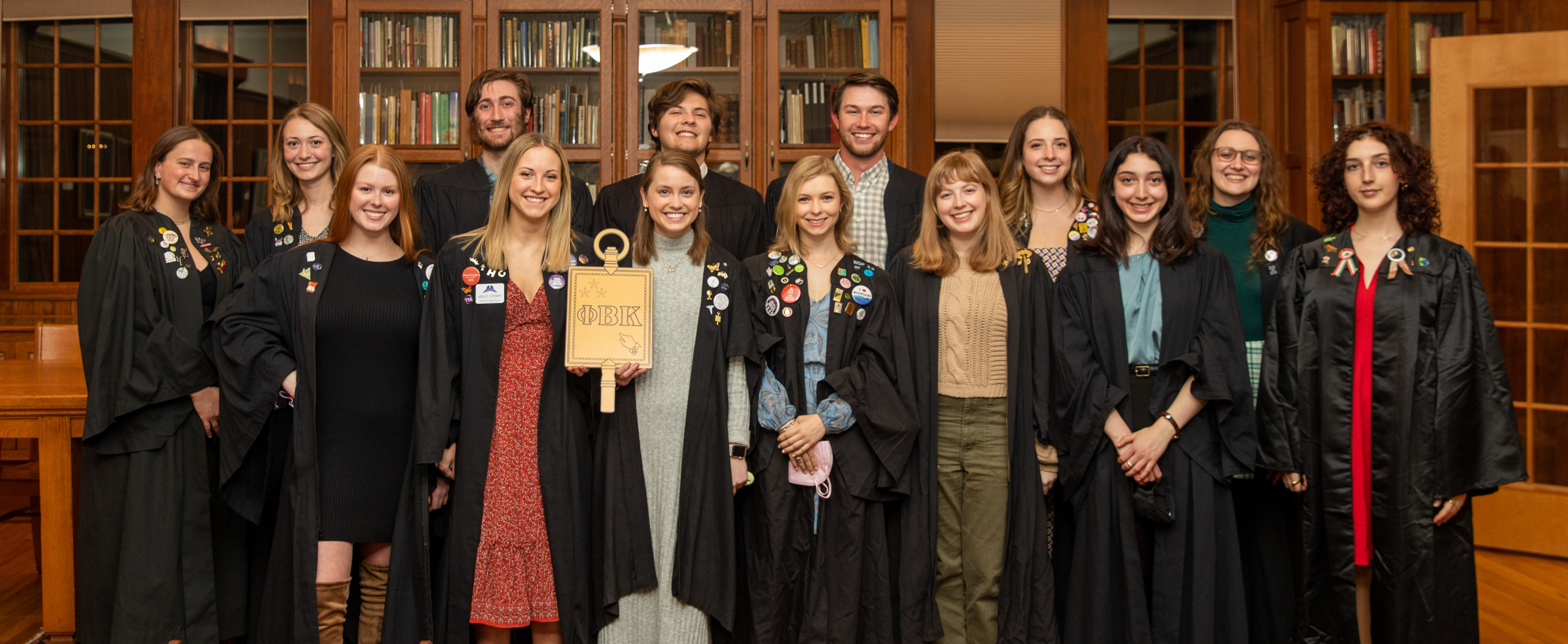 Twelve members of the Class of 2022 have been elected to membership in Phi Beta Kappa, joining eight classmates who were elected in the fall semester. An initiation ceremony was held on Wednesday, Feb. 9, and included two fall semester electees who were away from campus last semester.
The initiation in the University Archives was followed by a reception with the members of the chapter and with other faculty members invited by the students. The reception in Convocation Hall was hosted by Vice-Chancellor Nancy Berner.
Election to Phi Beta Kappa is perhaps the most prized honor a college student can receive. Students who have demonstrated exceptional academic excellence become eligible for election after completing at least six consecutive semesters. Phi Beta Kappa was founded in 1776 at the College of William and Mary; the Sewanee Chapter, Beta of Tennessee, was established in 1926.
Congratulations to Sewanee's newest members:
Gillian Claire Campbell, politics major, Lewisville, Texas
Lillian Grace Eells, history major, Crestwood, Kentucky
Rachel Rose Falcon, history major, Phoenix, Arizona
Avery Lewis Frank, economics and politics double major, Clinton, Tennessee
Nathaniel Phillip Klein, theatre major, Arlington, Virginia
Sullivan Patrick McCreery, economics major, Tyler, Texas
Molly Catherine Morgan, geology major, Montgomery, Texas
Emily Grayson Perry, biochemistry major, Richmond Hill, Georgia
Peri Renee Prestwood, biochemistry major, Soddy Daisy, Tennessee
Lucille Jane Rudman, biology major, Fort Walton Beach, Florida
Claire Alese Smith, anthropology major, Madison, Mississippi
Ashley Helen Stewart, economics major, Belvidere, Tennessee
Previously elected members of the Class of 2022 were: James Forrest Collins, Allison Leigh Jones, Hanna Marie Judycki, Mason Scott Liles, Lucy Jordan Smith, Cade Edward Sterling, Szonja Hanna Szurop, and Mary Caroline Watkins.
Additional students in the Class of 2022 will be elected to Phi Beta Kappa and initiated during Commencement Weekend. Each year the Sewanee chapter elects a total of approximately 10 percent of the senior class to membership in Phi Beta Kappa. Two percent of the class generally is elected at the beginning of the first semester, on the basis of six semesters' work; additional members are elected at the beginning of the second semester and during Commencement Weekend.