Sewanee's outstanding community engagement efforts recognized with Carnegie Classification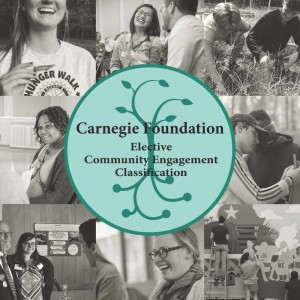 The Carnegie Foundation has selected the University of the South for its 2020 Community Engagement Classification, a designation that indicates institutional commitment to community engagement. The classification was assigned after an extensive review of the college's serious and sustained commitment to community engagement. Sewanee is one of only 18 U.S. liberal arts colleges focusing on the arts and sciences to receive this designation in 2020. A total of 119 institutions were classified.
"The Carnegie Foundation has acknowledged Sewanee's excellent alignment among campus mission, culture, leadership, and resources, and its deep and significant commitment to community engagement," said Vice-Chancellor and President John M. McCardell. "The dynamic and innovative work of the Office of Civic Engagement since its inception in 2015 has benefited the communities in which it works around the world, but especially here on the South Cumberland Plateau. My wife Bonnie and I are delighted to have played a role in supporting the University's community engagement mission, and look forward to its momentum continuing."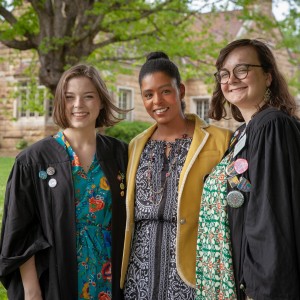 Sewanee civic engagement programming seeks to engage with and benefit local communities. Partnering with the South Cumberland Community Fund in an innovative university-community collaboration, the Office of Civic Engagement supports an award-winning Americorps VISTA Program, a grants program, and a Sewanee student philanthropy program that distributes up to $30,000 per year to local organizations. (Left, philanthropy interns in 2018 with Nicky Hamilton, director of community development)
"This recognition by the Carnegie Foundation acknowledges the success of our unique model of cooperation with the University, a partnership between an institution of higher education and a rural philanthropic organization," said Sheri Lawrence, the South Cumberland Community Fund board chair. "Together, we are achieving our mission of building on the strength of the area's people, communities, and natural setting by enhancing community capacity and collaboration, and supporting innovative ways to solve community problems."
More than 80 percent of Sewanee students participate in some form of community service before they graduate. Director of Civic Engagement and Professor of Philosophy Jim Peterman points out that "the hallmark of Sewanee's civic engagement is the way in which it seeks to achieve its mission: 'To cultivate knowledge, resources, and relationships to advance the economic, social, and environmental well-being of our communities.' We envision," he said, "a Sewanee committed to active global citizenship, where community members, students, staff, and faculty work together for meaningful change."
In serving its civic engagement mission, Sewanee's programs are wide-ranging. In addition to its robust community-engagement offerings, Sewanee seeks to build the capacity of students, faculty, and staff to engage in understanding across differences through dialogue and civil discourse, and sponsors a non-partisan democratic engagement initiative that seeks to foster voting and a campus culture of civic responsibility.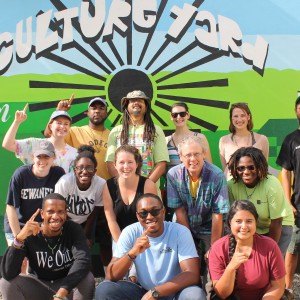 Furthering the University's civic mission in partner communities, students work in 75 local, academic-year internships to support Sewanee's network of community partner organizations. In addition, Sewanee offers long-term projects in Costa Rica, Ecuador, Haiti, Jamaica, Miami, and New Orleans as part of its "alternative break" program. For students looking for intensive summer work experience, the Canale Summer Civic Engagement internships, the Ministry and Service internships, and the VISTA Summer Associate internships offer service opportunities locally, domestically, and internationally.
Faculty and students work in 24 academic courses per year to integrate academic learning with community benefits—the heart of Sewanee's academic civic engagement work. For students interested in developing leadership skills and academic expertise in relation to their intensive community engagement projects, the Civic and Global Leadership Certificate program offers two academic tracks and culminates in a senior capstone project.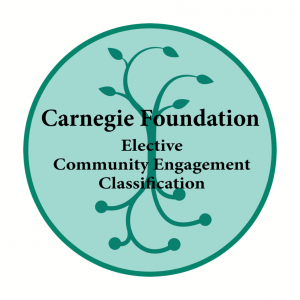 The Carnegie Community Engagement Classification has been the leading framework for institutional assessment and recognition of community engagement in U.S. higher education for the past 14 years. The classification is awarded following a process of self-study by each institution, which is then assessed by a national review committee led by the Swearer Center for Public Engagement at Brown University, the administrative and research home for the Carnegie Community Engagement Classification.
About the Carnegie Foundation for the Advancement of Teaching
The Carnegie Foundation for the Advancement of Teaching aims to build a field around the use of improvement science and networked improvement communities to solve long-standing inequities in educational outcomes. The foundation, through the work of the Carnegie Commission on Higher Education, developed the first typology of American colleges and universities in 1970 as a research tool to describe and represent the diversity of U.S. higher education. The Carnegie Classification of Institutions of Higher Education, now housed at Indiana University Bloomington's Center for Postsecondary Research, continues to be used for a wide range of purposes by academic researchers, institutional personnel, policymakers and others.
About the Swearer Center for Public Service
In 1986, Brown University President Howard Swearer founded one of the first public service centers in the nation, now named for him: the Swearer Center for Public Service. The Swearer Center is a hub of community, scholarship and action at Brown University. Through innovative programs and fellowships that reach across Rhode Island and around the globe, the Swearer Center connects people to co-create knowledge and positive social change, advances the field of engaged scholarship, and integrates social innovation with community engagement. In 2017, the Swearer Center became the administrative and research home of the Carnegie Community Engagement Classification.