Sewanee senior Klarke Stricklen is one of 32 American students chosen as Rhodes Scholars for 2022, making her the University's 27th Rhodes Scholar—and the first African American to be selected from Sewanee.
The awards, announced Nov. 21, provide all expenses for two or three years of study at Oxford University in England. The winners were selected from 826 applicants endorsed by 247 different colleges and universities. The scholars will enter Oxford next fall.
Stricklen is an American Studies major and African American Studies minor from Chattanooga. She was named a Truman Scholar last spring. Her honors thesis concentrates on Black reparations by arguing for the moral responsibility of higher educational institutions with ties to the slave trade and slavery. At Oxford, she plans to pursue an MSc in Economic and Social History.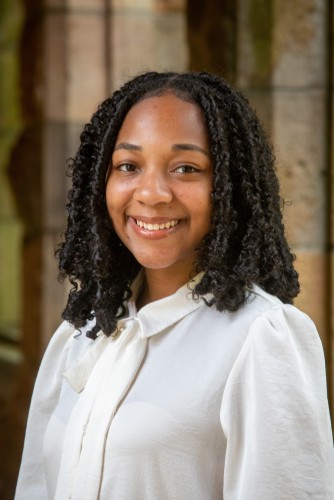 On campus, Stricklen has been a student research assistant for the Roberson Project on Slavery, Race, and Reconciliation, and a member of the Roberson Project working group, the campus chapter of NAACP, and Bairnwick Women's Center. She is a member of Omicron Delta Kappa and history honor society Phi Alpha Theta, and received the Davis Family Scholarship for leadership and community service and the Isabel Caldwell Marks Memorial Scholarship. She previously interned in the office of the U.S. Attorney for the District of Columbia.
"I am so excited to be named a U.S. Rhodes Scholar-elect. My journey in this endeavor has challenged me and pushed me to be a better student, leader, and friend," said Stricklen. "I am grateful to my village for supporting me every step of the way and know that I would not be here had it not been for the people in my life who have continuously taken the time to pour into me."
"Klarke embodies Maya Angelou's idea that 'History, despite its wrenching pain, cannot be unlived, but if faced with courage, need not be lived again.' Through her important work with the Roberson Project, she has helped to uncover and contextualize the University's historical entanglements with slavery and its legacies," said Vice-Chancellor Reuben Brigety. "While working to understand the University's past, Klarke has also led efforts to move the University community toward a better version of what it could be."
"As the first African American to achieve this honor at the University of the South, I am thankful to every Black student, faculty, and staff member who came before me and paved the way for my success. Thank you to the University of the South and especially Vice-Chancellor Reuben Brigety for supporting my candidacy, continuously investing in my success, and pushing me to be a better leader," Stricklen said. "I look forward to joining my Rhodes classmates at Oxford next fall and embarking on an educational journey grounded in remembrance and reparations."
See more about Sewanee's Rhodes Scholars.
Elliot F. Gerson, American Secretary of the Rhodes Trust, described this year's class of Rhodes Scholars as "inspiring young leaders," adding, "We are confident that their contributions to public welfare nationally and globally will expand exponentially over the course of their careers in varied sectors and disciplines."