Klarke Stricklen, C'22, an American Studies major and African American Studies minor, has been named one of only 62 new Truman Scholars.
Klarke Stricklen, C'22, an American Studies major and African American Studies minor from Chattanooga, has been named a Truman Scholar. Stricklen is in excellent company; only 62 new Truman Scholars were selected from a record 845 candidates nominated by more than 300 colleges and universities.
Chosen after a grueling application and interview process, Truman Scholars demonstrate outstanding leadership potential, a commitment to a career in government or the nonprofit sector, and academic excellence. They will receive funding for graduate studies, leadership training, career counseling, and special internship and fellowship opportunities within the federal government.
"I am very pleased to be accepted into the class of 2021 Truman Scholars," said Stricklen. "The road to this great accolade was not easy and the work ahead will be even more challenging, but if there is one thing that I have learned from this journey, it is that even in times of great distress, we must persevere."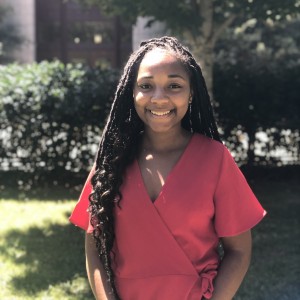 On the Sewanee campus, Stricklen has been a student research assistant for the Roberson Project on Slavery, Race, and Reconciliation, and a member of the Roberson Project working group, the campus chapter of NAACP, and Bairnwick Women's Center. "Through every hardship that I have faced, the courage of my ancestors has given me the strength to carry on. As a descendant of enslaved persons and a student at the University of the South, an institution investigating and reckoning with its history with slavery, I share this honor and moment with all of the Black students, faculty, staff, and community members who paved the way for me to be in this space," she said. "I am thankful to the University of the South and my village of supporters who have guided me throughout this journey and I look forward to my next chapter."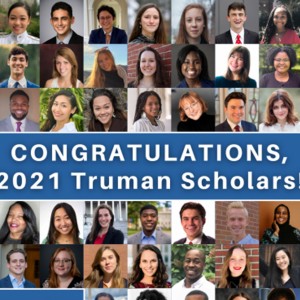 The Truman Scholarship continues the legacy of the 33rd U.S. president by supporting and inspiring the next generation of public service leaders. This year's class of Truman Scholars were recommended by 17 independent selection panels based on their academic success and leadership accomplishments, as well as their likelihood of becoming public service leaders. They have been recognized by the Truman Scholarship Foundation as future "change agents" who have the passion, intellect, and leadership potential that in time should enable them to improve the ways that public entities, whether government agencies, nonprofit organizations, educational institutions, or advocacy organizations, serve the public good.