To conclude an academic year like no other, Sewanee held a College Commencement like no other.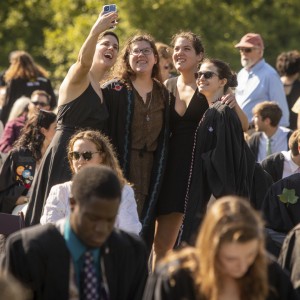 To conclude an academic year like no other, Sewanee held a College Commencement like no other on Saturday, May 22. The 370 graduates from the College and a limited number of guests were at their seats on Hardee-McGee Field when music began and the faculty procession entered the stadium. Brass players from Nashville and Murfreesboro came to Sewanee to provide the music for the outdoor Commencement service, accompanied by Assistant University Organist Zachary Zwahlen on piano and conducted by University Choirmaster Geoffrey Ward.
The sunny morning ceremony began with a welcome from University Chaplain Peter Gray, who quoted the prophet Isaiah: "I am doing a new thing; now it springs forth, do you not perceive it? I will make a way in the wilderness and rivers in the desert." In the first of the day's many references to the challenging year just past, Gray said, "I don't know what you call the last 14 months, but I'm going to call it a wilderness. To be here, in person, with loved ones … it feels like a river has sprung up in the desert."
The College's two salutatorians, Hayden Orville Everett, an English and mathematics major from Tennessee, and Maxwell Ward Saltman, a history major from Massachusetts, shared the giving of the traditional salutatory in Latin, addressing the vice-chancellor, faculty, and the audience before concluding with the University motto "Ecce Quam Bonum."
Vice Provost Scott Wilson announced the awards and honors, including fellowships for two members of the faculty. Kati Curts, assistant professor of religious studies, and Jason Rosenberg, assistant professor of music, were awarded Kennedy Fellowships, given to support professional development of faculty members early in their careers.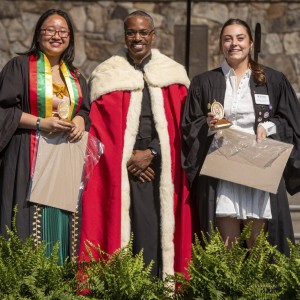 After announcing awards for academic excellence in various disciplines, athletic achievement, and community service, the vice provost then asked Alexa Shea Fults and Mandy Moe Pwint Tu (right) to come forward to receive the 2021 Algernon Sydney Sullivan Medallion for character, leadership, and service to the University and the Sewanee community. Fults, from Tennessee, and Tu, from Myanmar, received loud applause from the faculty, their classmates, and the family members in attendance as Vice-Chancellor Reuben Brigety presented the awards, "the most distinguished award for a graduating senior."
See the complete list of 2021 awards and prizes. An initiation ceremony was held May 21 for the 19 newly elected members of Phi Beta Kappa.
As there were two salutatorians in this unusual year, so there were two valedictorians. Dana Garcia, a psychology major from Lake Worth, Florida, and Matthew David Holcomb, an economics major from Charlotte, North Carolina, each gave a valedictory oration.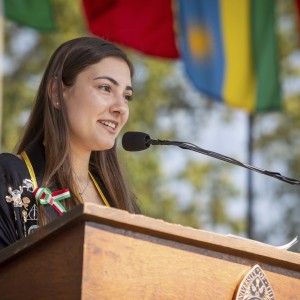 Dana Garcia began her valedictory address by calling it an "absolute miracle" that the Class of 2021 and their families were together for the occasion after a difficult year, and expressed pride that her classmates had overcome the hardships they faced. She reflected on the fragility of the world, and the powerful motivators of fear and ignorance. "It is up to you to educate yourself and those around you," she said to her classmates. They are leaving Sewanee with the knowledge of how to be better people.
As a woman, a first-generation college student, a Latina, and an immigrant, "I let myself doubt my place here," Garcia said. She flourished with the help of others—professors, friends, role models. "I can assure you that anything is possible."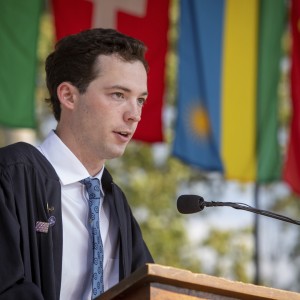 In his address, Matthew Holcomb also noted the uncertainty and sacrifices of the past year. To remain on campus together during a pandemic, as well as in each individual's life, "what has led us here is that we set a goal. ... While we were steady and objective with the actions it took to accomplish this goal, we always kept an open mind. We were quick to pivot in response to new information, and we were swift in dealing with whatever came our way." He asked his classmates to stop and savor this moment; to embrace whatever emotions they had; "and most importantly, just be grateful."
Holcomb reminded the members of the class that they each will leave with a part of Sewanee—the education, memories, friendships, and experiences. "And whatever uncertainty we face or goal we set out to accomplish, I'll put my money on this class, and on the piece of Sewanee that each of you are taking along for this ride." (Read the address.)
The ceremony included the conferring of an honorary doctor of humane letters on retired Admiral James G. Stavridis, who delivered a commencement address that combined humor, recent history, and advice for making tough decisions under pressure. He shared stories of two naval leaders who were faced with critical decisions that resulted in very different personal outcomes for those leaders. The admiral encouraged the graduates to consider the outcomes, but not to be paralyzed by them. And he urged them to remain calm, rather than emotionally involved, for the best result.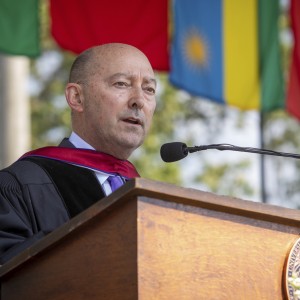 Echoing Garcia's address, Stavridis said, "Now is when you own your education." It's up to the graduates to continue to learn, to continue to read and to ask hard questions. "Above all, as you exit this spectacular, idyllic place, ask yourself, 'What are my values?'" he said. "Hold tight to your values when those moments come" of being faced with a sudden critical decision—and those moments will come. He concluded with the Navy wish of "Godspeed and open water" to the Class of 2021. (Read the Commencement address.)
Following the address, Dean of the College Terry Papillon read each graduate's name and the vice-chancellor presented each diploma on the stage. The backdrop for the presentations was an array of the flags of each of the 10 countries represented in the College graduating class: Switzerland, Mexico, Estonia, Zimbabwe, Rwanda, Indonesia, Hungary, Union of Myanmar, China, and the United States.
Before reading the University's charge to the "chosen and now honored youths," Vice-Chancellor Brigety spoke very briefly to the class. He recited a quotation that hung on his wall as a midshipman, and urged each graduate to particularly embrace the final words:
"Watch your thoughts, they become words;
watch your words, they become actions;
watch your actions, they become habits;
watch your habits, they become character;
watch your character, for it becomes your destiny."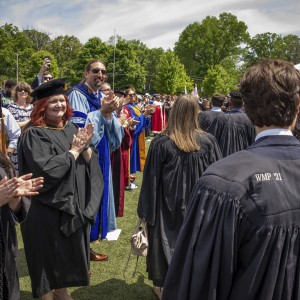 After the singing of the alma mater, the faculty procession led the way off Hardee-McGee Field in order to create the traditional faculty applause line for the Class of 2021.
See photos and watch the Commencement video.