Fifteen members of the Class of 2022 were initiated into membership in Phi Beta Kappa during a ceremony on May 7.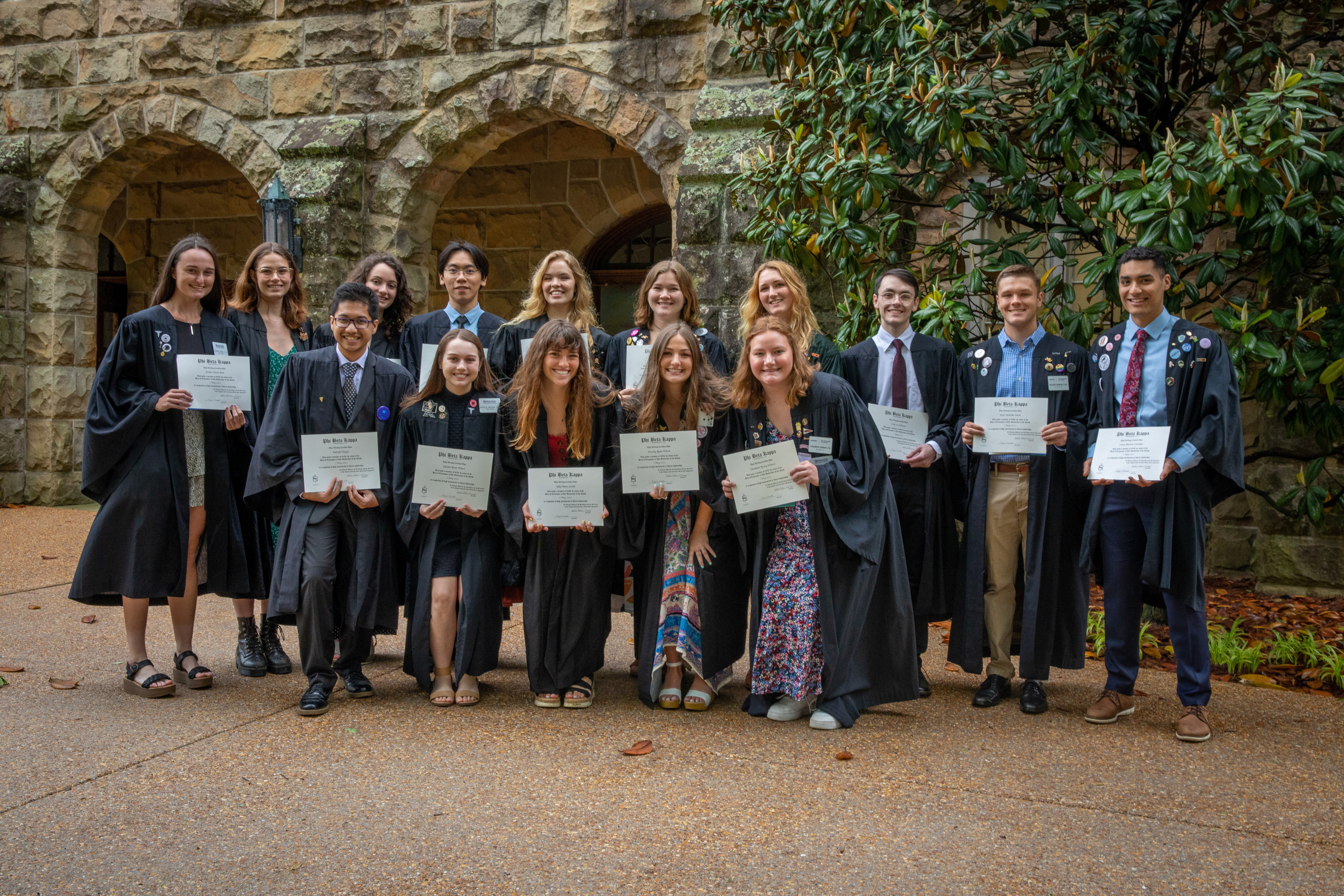 Fifteen members of the Class of 2022 have been elected to membership in Phi Beta Kappa, joining 23 classmates who were elected in the fall and winter semesters. The initiation ceremony in Convocation Hall followed the University Baccalaureate service.
Election to Phi Beta Kappa is perhaps the most prized honor a college student can receive. Students who have demonstrated exceptional academic excellence become eligible for election after completing at least six consecutive semesters. Phi Beta Kappa was founded in 1776 at the College of William and Mary; the Sewanee Chapter, Beta of Tennessee, was established in 1926.
Congratulations to Sewanee's newest members:
Isabel Taylor Root a politics major from Charleston, South Carolina
Eleanora Wren Boyd-Owens an environmental studies: arts and humanities major from Shelburne Falls, Massachusetts
Hoang Minh Le a mathematics major from Quang Ninh, Viet Nam
Jordan Nicole Besh a biochemistry and neuroscience major from Charlotte, North Carolina
Ashraful Haque a physics major from Silver Spring, Maryland
Cody Lee Johnson a computer science major from Centerville, Tennessee
Phoebe-Agnès Sinclair Mills an art and philosophy major from Chattanooga, Tennessee
Alice Murray Belshaw a music major from Greenwich, Connecticut
Natalie Renee Wilson a biology major from Rickman, Tennessee
Lucas Martins Carvalho an international and global studies and politics major from Belford Roxo, Brazil
Sophia Kramer Smith an English major from Charlotte, North Carolina
Peter Nicholas Irwin a mathematics major from Duluth, Georgia
Nika Marie Gorski a biochemistry major from Weeki Wachee, Florida
Elizabeth Kersey Johnson a chemistry major from Springdale, Arkansas
Pressley Ryan Wilson an anthropology and religious studies from Chattanooga, Tennessee
Previously elected members of the Class of 2022 were; Gillian Claire Campbell, James Forrest Collins, Lillian Grace Eells, Rachel Rose Falcon, Avery Lewis Frank, Allison Leigh Jones, Hanna Marie Judycki, Nathaniel Phillip Klein, Mason Scott Liles, Sullivan Patrick McCreery, Molly Catherine Morgan, Emily Grayson Perry, Peri Renee Prestwood, Lucille Jane Rudman, Claire Alese Smith, Lucy Jordan Smith, Cade Edward Sterling, Ashley Helen Stewart, Szonja Hanna Szurop, and Mary Caroline Watkins.
Each year the Sewanee chapter elects a total of approximately 10 percent of the senior class to membership in Phi Beta Kappa. Two percent of the class generally is elected at the beginning of the first semester, on the basis of six semesters' work; additional members are elected at the beginning of the second semester and during Commencement Weekend.