A Fall Convocation on Friday, Sept. 17, celebrated the induction of new members into the Order of the Gown during Family Weekend.
The University of the South held a Fall Convocation on Friday, Sept. 17, to induct about 340 new members into the Order of the Gown during Family Weekend. Conductor and recording artist JoAnn Falletta received an honorary doctor of music degree and gave the convocation address.
Academic awards and prizes were announced by Provost Nancy Berner (see the full list). Professor David Haskell was named the William R. Kenan Professor of Biology. Berner also announced the recent election of eight new members to Phi Beta Kappa.
Grammy Award-winning conductor JoAnn Falletta serves as music director of the Buffalo Philharmonic Orchestra and the Connie and Marc Jacobson Music Director Laureate of the Virginia Symphony Orchestra. Falletta is a long-time conductor of the Sewanee Summer Music Festival, and will return for another season during the summer of 2022. She is hailed for her work as a conductor, recording artist, and audience builder. A champion of American composers, she has introduced more than 500 works by American composers, including more than 140 world premieres.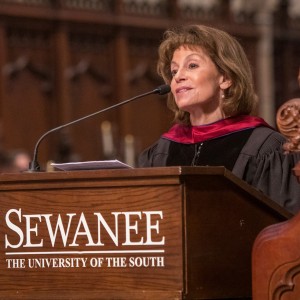 In her address, Falletta reflected on the ways the past 18 months have reminded us all of our interconnectedness, and noted that students might feel overwhelmed by a sense of responsibility as they go into the world. "You are undaunted," she said however. "We will look to you for your values and courage."
As students think of their own particular futures and their own success, Falletta asked them to remember the distinction between "success" and "excellence." Success, she said, reflected cultural goals, while excellence comes from the pursuit of quality in work and in life. Personal excellence—how we each measure up to our own potential—is available to each of us. In her own area of expertise, Falletta said that even the greatest of composers were often not thought of as "successful" during their lifetimes, though today they are regarded as models of excellence.
Following the address, Alexis McKnight, president of the Order of the Gown, made brief remarks urging the new members of the Order to exercise both the privilege and the duty of wearing the gown. "Commit yourself to creating a better Sewanee," she said. McKnight then announced the names of the new members as each stood to be recognized before leaving the Chapel for the gowning itself, which took place in the Quad so that multiple family members could participate.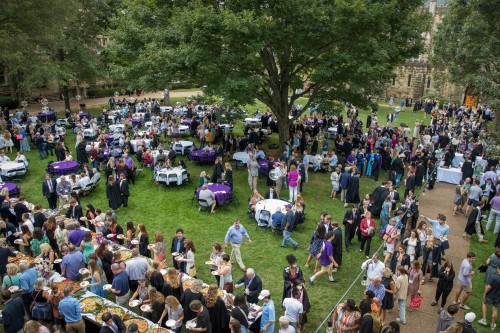 When everyone had reconvened in the Quad, the alma mater was sung and Vice-Chancellor Brigety formally admitted the new members to the Order of the Gown. Students and families enjoyed a picnic celebrating Family Weekend and the achievements of the students.