The University of the South's 2018-19 academic year comes to a close May 10, 11, and 12 with three ceremonies marking graduation weekend on the Mountain.
A Convocation for Conferring of Degrees for the School of Theology will be held Friday, May 10; the University Baccalaureate on Saturday, May 11; and a Convocation for Conferring of Degrees for the College and the School of Letters on Sunday, May 12. All the ceremonies will begin at 10 a.m. in All Saints' Chapel and will be live-streamed for those unable to attend.
Sunday, May 12, the Commencement ceremony will be held at 10 a.m. in All Saints' Chapel and on the Quad for the College of Arts and Sciences and the School of Letters (tickets required). More than 400 students will graduate from the College and 16 will receive master's degrees from the School of Letters. A luncheon honoring the graduates will follow.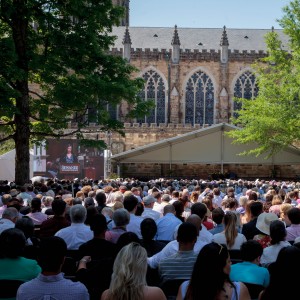 As is tradition, the sound of bells will mark the start of the ceremony as the procession of faculty walk into All Saints' Chapel. In 2018, the presentation of diplomas took place on the Quadrangle in order to accommodate the increasing number of graduates, and the same process will be in place for 2019. Families and guests seated on the Quad will see the conferral live, and the entire service on closed-circuit TV.
Awards and honors will be announced, concluding with the Algernon Sydney Sullivan Medallion for character, leadership, and service to the University and the Sewanee community—the university's highest award.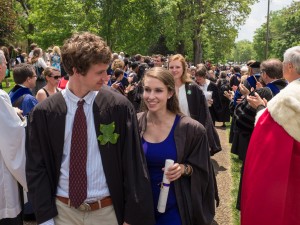 The valedictory address will be followed by the awarding of degrees, and Vice-Chancellor John McCardell will read the University's charge to the graduates. The traditional Sewanee recessional takes the new graduates through faculty members who line the sidewalk outside the Chapel—and takes them into an outpouring of applause and cheers. The graduates, families, and guests will be able to continue their celebration during a luncheon honoring the Class of 2019.
Honorary degrees will be presented during the School of Theology Commencement and during Saturday's Baccalaureate ceremony.