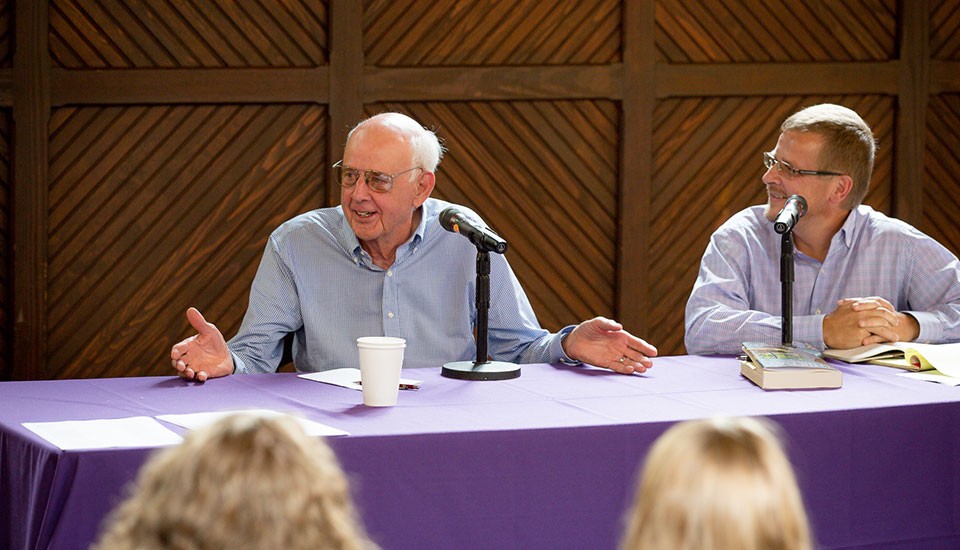 Wendell Berry Teaches Freshmen the Importance of Place
First-year students in this year's FYP program enjoyed a two-day master class with America's preeminent novelist/poet/environmentalist/farmer.
---
G uerry Auditorium was buzzing with uncharacteristic energy for a late afternoon on a late August Thursday. The excitement took many forms—squeals and hugs between old friends along with introductions and handshakes among new ones. Most students hadn't yet returned to campus, but the 150 students participating in the third iteration of Sewanee's Finding Your Place (FYP) first-year program and hundreds of other visitors were gathered to hear from one of the country's preeminent men of letters. Wendell Berry was in Sewanee to give a reading.
Professor of Geology Bran Potter introduced Berry as a "thoughtful, passionate, and sometimes angry man" who happens to be a novelist, poet, and farmer. "He has much to teach us," Potter said. "His is the work of a dedicated, stubborn, sensitive, and brave soul. It is, at first impression, intimidating, but with time and effort becomes rewarding and reassuring to many of his readers."
Over the next hour, Berry read two connected short stories that illustrated some of his key beliefs through the story of several generations of family farmers in Kentucky. He also offered answers to questions from the audience that ranged from his literary influences to what he sees as the future of a country that he believes has grown detached from the land and its family farms.
Berry's writings wrestle with themes of family and the importance of place, and it was this focus on place that led to an invitation to visit Sewanee during FYP. "Given the aims of our common course material, it is hard to name a more compelling witness than Wendell Berry for what it means to live not only in a place but into a place," says Professor of English John Gatta, who is teaching a section in this year's FYP. "Our enrolled students, who were also assigned to read samples of his writing, are, at this juncture, just starting to learn how Sewanee, too, might become a home place in their lives."
During his reading and a panel discussion for FYP the next day with Duke Divinity School Professor Norman Wirzba, Berry talked about place, stressing the importance of the connection between land and people. "If you want people to love their country, let them own a piece of it," he said.
Berry's ideas about becoming a part of a place left an impression on many FYP students. "We had spent the previous 10 days getting to know the land," says FYP participant Natalie Robbins, C'19. "But he reminded us that knowledge for a place is nothing without love for it, too." —Jane Izard, C'02